Cybercriminals claiming to be Citibank posed threat to bank accounts
Phishing scams are becoming more intricate day by day
A fraudulent website claiming to be Citibank posed a threat to scores of consumers by trying to gain access to their bank accounts.
Cybercriminals were using a phishing site to convince consumers they were logging in to a legitimate Citibank login page, according to BleepingComputer, a resource site for answering computer, security and technical questions. The fake site was shut down immediately after it was discovered, Citibank said.
The site, which was discovered by MalwareHunterTeam, appeared to be an authentic-looking Citibank login page with a "convincing" domain name, update-citi.com, the report said.
Ticker
Security
Last
Change
Change %
C
CITIGROUP, INC.
68.24
+1.30
+1.94%
JEFF BEZOS IPHONE HACK: WHAT WE KNOW SO FAR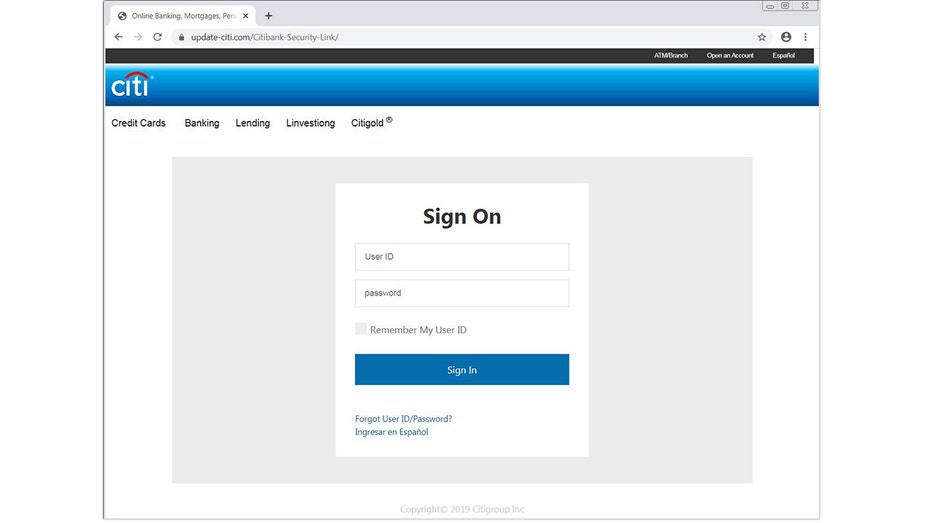 If a consumer were to log in to the phishing site, they would be presented with various forms requesting personal information such as their full name, date of birth, address, the last four digits of their Social Security number, their debit card number, debit card expiration date and security code.
IBM CEO: CYBERSECURITY A GREAT OPPORTUNITY FOR VETERAN EMPLOYMENT
Once submitted, the private information was sent directly to the attacker's server, which would then verify the information is authentic, the report says.
"It is believed, but not confirmed, that during this period the phishing page will attempt to login to Citibank using the credentials provided by the victim," said the founder of BleepingComputer, Lawrence Abrams. "This is done in the background similar to this Steam phishing scam"
JEFF BEZOS IPHONE HACKING: HOW TO PROTECT YOUR PHONE FROM CYBER HACKERS
If the scammers were able to access a user's Citibank account with a one-time PIN authentication, it would trigger Citibank to send the code to the victim's cellphone number. Since the code will come from Citibank's servers it will further authenticate the phishing site, BleepingComputer reported.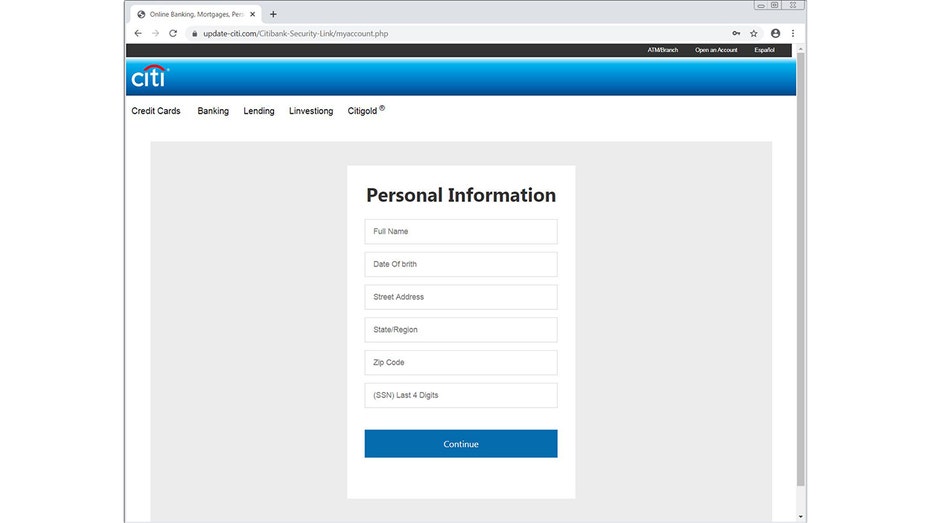 Once scammers attained the user's personal information, they would have had full control over the victim's account to steal money, change an address on the account, or even open other accounts under a new name, according to the report.
GET FOX BUSINESS ON THE GO BY CLICKING HERE
The website was shut down immediately after it was discovered, a spokesperson for Citibank told FOX Business Friday.
"We encourage our customers to be alert to all types of fraud scams, including suspicious websites and emails, and provide them with detailed information about how to recognize and protect themselves and report such scams," a Citibank spokesperson said. "We proactively review customer accounts for fraudulent activity and take appropriate action to protect our customers."
HOW TO PROTECT YOURSELF FROM AN ONLINE DATING SCAM, DUPING VICTIMS OUT OF MILLIONS
Citibank is the latest major U.S. company to be targeted by scammers. On Wednesday, FedEx warned consumers about a scam involving fraudulent text messages and emails on Twitter.
"Phishing scams are becoming more intricate day-by-day by using convincing domains and automated procedures," Abrams said. "Due to this, everyone must pay close attention to the URLs that they submit their personal information.