Jobs Move Cracks Door Open for Apple Rival Samsung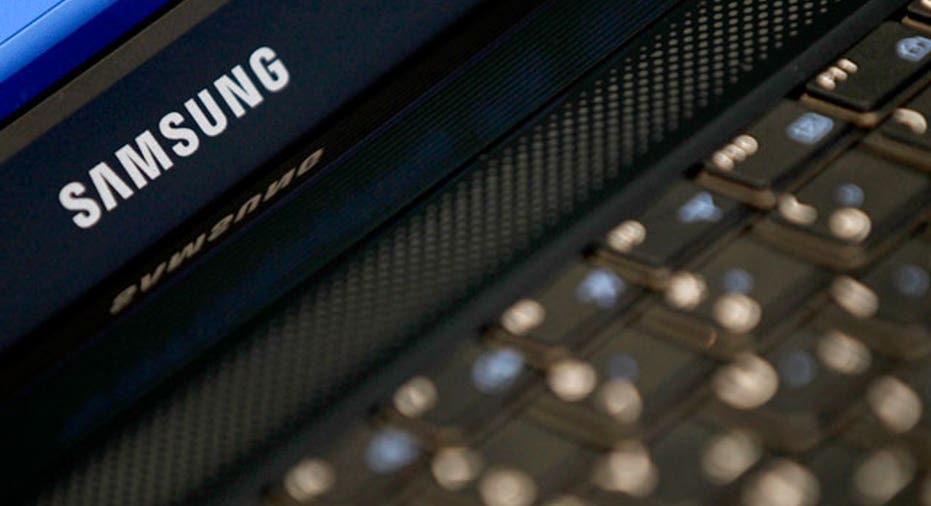 The resignation of Apple Inc CEO Steve Jobs has opened the door for rival Samsung Electronics at a crucial time in the battle for smartphone supremacy in salesrooms and courtrooms around the world.
Jobs passed the reins to his right-hand man Tim Cook on Wednesday, saying he could no longer fulfill his duties, raising fears the health of the Silicon Valley icon had worsened.
While Apple and analysts highlighted Cook's experience, as well as Jobs' new role as chairman and the company's extensive management bench, his departure will cause ripples across the Pacific at South Korea's Samsung.
More than any other firm, Samsung's fortunes are tied to Apple, both as a competitor and supplier of components.
The companies are fierce rivals, with Samsung's Galaxy range of smartphones and tablet computers running on Google's Android operating system seen as the main competitor to Apple's game-changing iPhones and iPads.
"Even before Steve Jobs' (resignation), Samsung was getting more and more optimistic that they can actually take on Apple in the smartphone arena," said Mark Newman, a former director of strategy at Samsung, where he worked for six years.
"The game is really now Samsung's to lose ... They are picking up market share because of the change in dynamics in the smartphone industry," added Newman, now a senior analyst for global memory and consumer electronics at Sanford C. Bernstein.
BOOMING MARKET
The Korean giant has taken big strides and is backing itself to unseat Apple.
Samsung this week unveiled four new cheaper smartphones targeting fast-growing emerging markets -- again setting it on a collision course with Apple, which sources say is readying a cheaper, 8 gigabyte iPhone.
When Samsung group executives asked Hong Won-pyo, executive vice president of Samsung's mobile division, at their weekly meeting on Wednesday if Samsung could overtake Apple in the smartphone market any time soon, he told them he was confident, according to a person at the meeting. Hong was speaking just hours before Jobs made his announcement to quit as CEO.
Apple and Samsung are now scrapping for top spot in the smartphone market, having overtaken the market leader for the past decade, Finland's Nokia, in the second quarter.
Samsung's smartphone sales soared more than 500 percent in the second quarter, easily eclipsing Apple's 142 percent growth, though Apple sold about 1 million more units. Nokia sales fell 30 percent.
News of Jobs' move helped Samsung shares rise 2.4 percent in Seoul on Thursday. The broader Korean market was up 0.6 percent.
"Investors were concerned that Apple would encroach into Android's turf, but Jobs' exit offers opportunities for Samsung to expand its smartphone market share at a time when Nokia is struggling," said Jeon Nam-joong, a fund manager at Consus Asset Management, which owns shares in Samsung.
Samsung has already stormed past its Asian rivals. Its market value of around $110 billion is comfortably more than Sony, Toshiba and Panasonic combined.
However, Samsung is still less than half Apple's size, which at close to $350 billion has it competing with Exxon Mobil for the world's most valuable company.
Both Samsung and Apple will face increasingly stiff competition from upstart rivals in China and Taiwan, however.
Huawei Technologies Co Ltd and ZTE Corp, China's top two telecommunications equipment makers, are stealing a march both in traditional network gear and, increasingly, high-end phones.
SOFTWARE PUSH
Samsung still trails Apple badly in tablet sales. Apple racked up 14 million iPad sales in the first half, versus analysts' sales estimates of about 7.5 million Samsung tablet products for all of 2011.
Some expect that dominance to fade against rivals such as Samsung and LG Electronics
"Apple's earnings will peak out with smartphones and tablets," said Jung Kyun-sik, a fund manager at Eugene Asset Management in Seoul, who argued the company didn't have great products to take on the baton from the iPhone and iPad.
"Samsung and LG have been in the mobile hardware manufacturing industry over a decade and they'll lead the pack once Apple peaks out."
Samsung may also move more aggressively in closing the gap in software, one of its weakest links. Samsung Chairman Lee Kun-hee recently asked the firm's top managers to come up with various measures including M&A to raise its software prowess, according to South Korean media.
Lee, Korea's wealthiest man, is the second generation to run the sprawling Samsung empire which dominates the Korean corporate landscape. Like Jobs, Lee is seen as something of a visionary with an obsession for perfection. He once had a pile of substandard mobile phones piled up and burned in front of his employees to improve quality.
He has also been obsessed with raising Samsung's competitiveness by deepening its patent pool, talent and software abilities and might be tempted to look more closely for opportunities to take on Apple in earnest.
But the South Korean conglomerate also supplied Apple with about $5.7 billion in components last year, some 4 percent of Samsung's total sales.
Apple's portion grew to 5.8 percent of Samsung's sales in the first-quarter, driven by booming iPad and iPhone sales, which Samsung supplies chips for, along with Toshiba.
LEGAL BATTLES
Samsung's strength, unlike Apple, has not been in innovation but in being fast and cheap to the market with everything from TVs to chips and phones. That has created tension with Apple, which has complained Samsung's Galaxy range slavishly copies its iPads and iPhones.
Samsung and Apple, along with many of the other players in the fast-growing mobile devices market, are now engaged in costly and acrimonious patent and copyright battles around the globe.
Just on Wednesday, Apple won a preliminary injunction in a Dutch court stopping Samsung from marketing three smartphone models in some European companies.
"It's difficult to gauge precisely what the impact will be as our relationship with Apple is very complicated and intertwined with so many parts of our business," said a senior executive at Samsung's general management division, who requested anonymity, given the sensitivity of the matter.
Bernstein's Newman agreed.
"It's a very complex relationship and I think that it's very important to note that not only are they competitors, fierce rivals in the market place, but they need each other. I would say that Apple needs Samsung more than Samsung needs Apple."
While few expect Jobs' lesser role to imminently derail the Apple juggernaut, the history of Sony, a company once worshipped by Jobs, is worth remembering.
In the late 1970s, co-founder Akio Morita was firmly at the helm of Sony and the Japanese electronics innovator was wowing consumers and investors with its groundbreaking Walkman music player.
But as an aging Morita's influence waned, the fortunes of Sony also began to fade. It lost its cutting edge design and attitude and made a series of bad investments.
How far a once-innovative Sony had fallen behind was made clear when Jobs' Apple stole Sony's music player mantle with its iPod digital player in 2001.
Back in 2000, Sony's market value had been more than seven times Apple's. Today, Sony's market value is only one seventeenth of Jobs' creation.
(Additional reporting by Ju-min Park and Hyunjoo Jin in SEOUL, Tim Kelly and Ayai Tomisawa in TOKYO, Clare Jin in TAIPEI, Cathy Yang in HONG KONG; Writing by Lincoln Feast; Editing by Dean Yates)