Home Depot's Bernie Marcus: Rate hikes will wreck economy
Home Depot co-founder Bernie Marcus and President Trump see eye to eye when it comes to the Federal Reserve Chairman Jerome Powell's pace of rate hikes. Marcus is worried that it will derail the booming economy.
"Why would you want to cool the economy at this point?" he asked FOX Business' Neil Cavuto on Friday.  "It's almost as though you're driving your car and you're putting your foot on the brakes while you're trying to put [your] foot on the gas."
With that comes more evidence that the U.S. economy is on fire. U.S. employers added a better-than-expected 250,000 jobs in October, and unemployment remained at 3.7 percent, the lowest rate in nearly 50 years. Further, wages rose 3.1 percent -- the highest it's been since the Great Recession.
In addition, the strong jobs report raised concerns among some investors that the report would give the Federal Reserve more incentive to become more aggressive in raising interest rates. And Marcus said the threat alone is enough to "knock down the markets."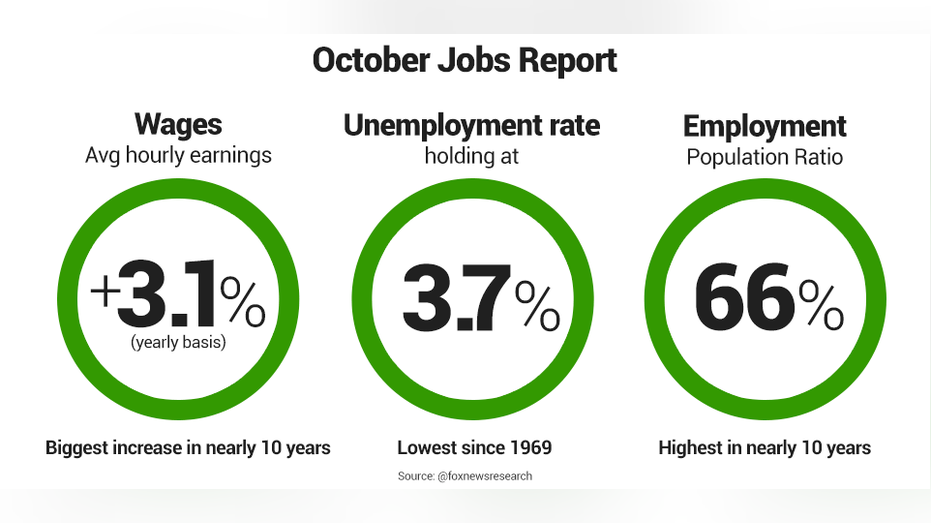 The Fed in September raised interest rates for a third time this year and signaled it would raise borrowing costs again in December.
The Fed raises interest rates to prevent the economy from growing too fast and as a result causing inflation.
The current inflation rate in the U.S. is 2.3 percent, as of October, according to the U.S. Labor Department and Marcus said that is "no reason to raise the rates."
"If they continue, he's talking about 3 percent, he's talking about raising it past that, sure it's going to have an effect on the economy," he said. "The cost of money. The cost of borrowing will go up. It's going to have an effect on housing. It's going to have an effect on car loans. Everything out there. If you want to put a damper on the economy, this is a good way to do it."
The Federal Reserve has hiked interest rates eight times since 2015.