Jobs blowout with 250,000 added in October, soaring past expectations
U.S. employers added a better-than-expected 250,000 jobs in October, soaring past expectations for an increase of 190,000 jobs in the last jobs report before the midterm elections and on the heels of an incredibly volatile month for the stock markets.
The unemployment rate remained at 3.7 percent, the lowest rate in nearly 50 years, while the labor force participation rate increased to 62.9 percent from 62.7 percent during the month. Average hourly earnings meanwhile rose by five cents to $27.30, or 3.1 percent year-over-year, the highest it's been since the Great Recession.
"We saw better-than-expected payroll gains at 250,000 jobs, surging wages and increased labor force participationm," Mark Hamrick, a senior economic analyst for Bankrate.com said. "That's a kind of an economic trinity that we haven't often seen during this economic expansion."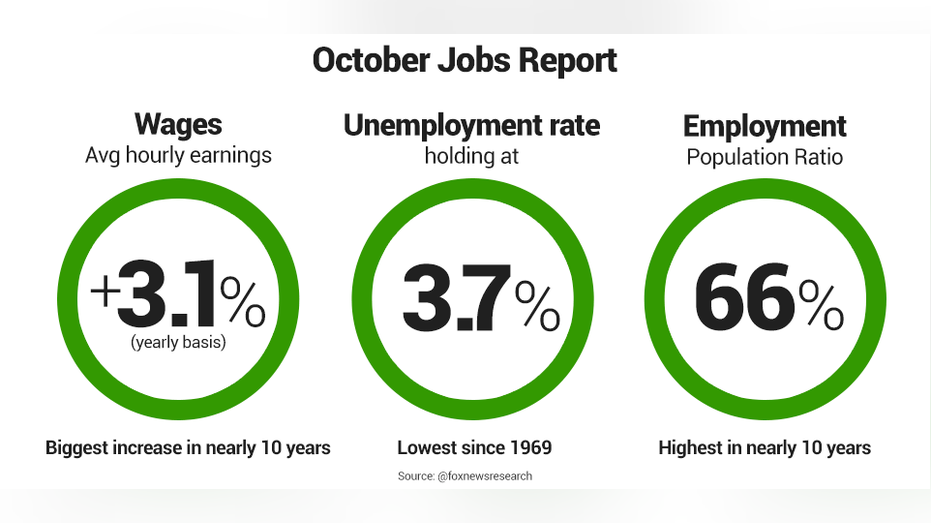 Analysts anticipated that unemployment would hold steady at 3.7 percent -- a 49-year low -- while forecasting the creation of 190,000 jobs, according to economists polled by Refinitiv (formerly Thomson Reuters). That level of job creation would have been a marked improvement over September, when the economy added a paltry 134,000 jobs.
Economists noted that while Hurricane Florence -- which swept through the Carolinas in September -- dampened job activity in the leisure and hospitality category, Hurricane Michael had little effect on job numbers in October.
"It is possible that we recaptured some of the jobs not reported present in the September numbers," Hamrick noted.
The jobs numbers come on the heels of a report Wednesday from payroll processing firm ADP, which revealed that 227,000 private sector jobs were added in October, up from 218,000 in September.
The jobs report comes after U.S. stocks were hammered throughout the month of October, with the tech-heavy Nasdaq Composite falling roughly 9 percent over the month as weak earnings reports hurt industry leaders such as Amazon and Google's parent company, Alphabet. Markets are also contending with rising concern about Federal Reserve interest rate hikes, an escalating U.S.-China trade war and impending November midterm elections that are just days away.
In a tweet on Friday, President Trump touted the figure, urging Republicans to vote in Tuesday's elections that will decide the fate of who controls the House and Senate.