CEOs, business groups condemn Capitol Hill protests, violence and urge peace
JPMorgan's Jamie Dimon, IBM's Arvind Krishna, and Apple's Tim Cook among executives speaking out
Business leaders from Wall Street to Silicon Valley joined trade groups across the nation in calling for an end to the protests and violence on Capitol Hill in response to Congress' certification process of Electoral College votes.
The National Guard, working with local law enforcement, remained on the scene Wednesday evening.
"I strongly condemn the violence in our nation's capital. This is not who we are as a people or a country. We are better than this," JPMorgan Chase chairman and CEO Jamie Dimon wrote in a statement Wednesday.
Ticker
Security
Last
Change
Change %
JPM
JPMORGAN CHASE & CO.
139.13
-1.19
-0.85%
"Our elected leaders have a responsibility to call for an end to the violence, accept the results, and, as our democracy has for hundreds of years, support the peaceful transition of power. Now is the time to come together to strengthen our exceptional union."
Blackstone CEO and longtime Trump ally Stephen Schwarzman was "shocked and horrified" at the "mob's attempt to undermine our constitution" and is calling for a peaceful transition of power.
"The insurrection that followed the President's remarks today is appalling and an affront to the democratic values we hold dear as Americans," Schwarzman said in a statement to FOX Business. "As I said in November, the outcome of the election is very clear and there must be a peaceful transition of power."
IBM's Arvind Krishna issued a similar call, condemning the "unprecedented lawlessness."
Ticker
Security
Last
Change
Change %
IBM
INTERNATIONAL BUSINESS MACHINES CORP.
135.30
+0.91
+0.68%
"These actions have no place in our society and they must stop so our system of democracy can work," Krishna tweeted.
Apple CEO Tim Cook said that today's violence "marks a sad and shameful chapter in our nation's history."
Ticker
Security
Last
Change
Change %
AAPL
APPLE INC.
143.00
-2.93
-2.01%
"Those responsible for this insurrection should be held to account, and we must complete the transition to President-elect Biden's administration," Cook added. "It's especially when they are challenged that our ideals matter most."
BlackRock chairman and CEO Larry Fink condemned the violence on the Capitol in the "strongest possible terms," calling the event "an assault on our nation, our democracy, and the will of the American people."
Ticker
Security
Last
Change
Change %
BLK
BLACKROCK INC.
747.86
-11.32
-1.49%
"The peaceful transfer of power is the foundation of our democracy," Fink said. "We are who we are as a nation because of our democratic institutions and process."
Pfizer CEO Albert Bourla called the violence "deeply disturbing."
Ticker
Security
Last
Change
Change %
PFE
PFIZER INC.
43.55
-0.24
-0.55%
"So many people dream of living in a country governed by the rule of law. America must continue to be that place," Bourla said. "Now is the time to come together, find ways to understand our differences and solve the problems we face constructively. Whether we are Republicans or Democrats, conservatives or liberals, we all have a role to play in making this democracy work. We look forward to better days."
General Motors CEO Mary Barra said the peaceful transition of power is a "cornerstone of American democracy" and that the violence at the Capitol "does not reflect who we are as a nation."
Ticker
Security
Last
Change
Change %
GM
GENERAL MOTORS CO.
36.29
-1.66
-4.37%
"It's imperative that we come together as a country and reinforce the values and ideals that unite us," Barra added.
Disney CEO Bob Chapek called Wednesday's events a "sad and tragic day for our country, one unlike any other in our history."
Ticker
Security
Last
Change
Change %
DIS
THE WALT DISNEY CO.
107.59
-1.95
-1.78%
"What we saw was an egregious and inexcusable assault on America's most revered institution and our democracy," Chapek said in a statement. "Thankfully the democratic process that we hold dear ultimately prevailed. Now, more than ever, it is imperative that we come together as a nation- united by our shared values, including decency, kindness, and respect for others."
"We should seize this opportunity, and move ahead with optimism and hope for a better, brighter future for all of America," he added.
ELON MUSK RESPONDS TO CAPITOL RIOTS WITH DIG AT FACEBOOK
Wells Fargo CEO Charlie Scharf said in a statement that the behavior in Washington, D.C. is "unacceptable and completely undermines who we are as a nation.
"I urge an immediate end to this violence. We must embark on the peaceful transition of power to President-elect Biden, a hallmark of our republic, Scharf continued. "I encourage our leaders to come together to address the divisions in our society, ensure faith in our system and respect the electoral process. We must now all work together on the pressing issues and challenges we face."
Ticker
Security
Last
Change
Change %
WFC
WELLS FARGO & CO.
46.29
+0.17
+0.37%
Barstool Sports president Dave Portnoy said that 95% of Americans are "normal" and that it's the "extreme right" and "extreme left" that "suck."
"Both sides filled with lunatics, crazies and morons," Portnoy added. "And almost all politicians are hypocrites who manipulate these idiots for personal gain."
Ticker
Security
Last
Change
Change %
CRM
SALESFORCE INC.
164.75
+0.23
+0.14%
Salesforce CEO Marc Benioff said our leaders "must call for peace and unity now," noting there is "no room for violence in our democracy."
Sundar Pichai, the chief executive of Alphabet, Google's parent company, called the events "shocking and scary for all of us" in an email to employees that was obtained by The New York Times.
Ticker
Security
Last
Change
Change %
GOOGL
ALPHABET INC.
96.94
-2.43
-2.45%
"The lawlessness and violence occurring on Capitol Hill today is the antithesis of democracy and we strongly condemn it," Pichai said.
Citigroup CEO Michael Corbat said he is "disgusted by the actions of those who have stormed the U.S. Capitol in an effort to disrupt the certification of the Electoral College."
Ticker
Security
Last
Change
Change %
C
CITIGROUP INC.
51.75
-0.11
-0.21%
"While these scenes are very difficult to watch, I have faith in our democratic process and know that the important work of Congress will continue and that people will be held accountable for their actions," Corbat added. "I pray this situation can be resolved without further bloodshed."
Cisco CEO Chuck Robbins said it is "time to recognize the legitimate democratic process, ensure a peaceful transition of power, and come back together as one nation."
Ticker
Security
Last
Change
Change %
CSCO
CISCO SYSTEMS INC.
48.22
-0.29
-0.60%
Starbucks CEO Kevin Johnson said the company condemns "all acts of violence and expressions of hate. Johnson also called on his employees to care for one another and to "help unite our communities and our country."
"It's not about red or blue," Johnson said, "but rather a moment to reflect on what it means to come together as Starbucks partners, as we have done in the past, and make a positive contribution at a time when humanity needs some hope, optimism, and civility – humanity needs some inspiration and nurturing."
Ticker
Security
Last
Change
Change %
SBUX
STARBUCKS CORP.
108.40
-0.62
-0.57%
Ford CEO Jim Farley said the automaker "condemns the violent and antidemocratic actions today"
"These were destructive acts against our shared principles and beliefs of a peaceful transition of power," he added. "We commit to working together, with respect and empathy, to uphold core American values."
Ticker
Security
Last
Change
Change %
F
FORD MOTOR CO.
12.89
-0.38
-2.86%
Paypal CEO Dan Schulman called the violence "both shocking and disturbing" adding it "violates the very foundation of our democracy."
Ticker
Security
Last
Change
Change %
PYPL
PAYPAL HOLDINGS INC.
79.64
-2.19
-2.68%
"I urge leaders from both sides of the aisle to take a stand and call for the violence to end," he added in the statement posted to LinkedIn. "Now, more than ever, we need to foster an environment of inclusion and healing, where we listen to each other, respect each other, and keep our country as a beacon for democracy."
Bank of America CEO Brian Moynihan said Wednesday's "appalling" events "underscore the urgent need for all Americans to united behind one of our most cherished principles: the peaceful transition of power that has happened without interruption since our country's founding."
"We must move forward together peacefully, respectfully, and with a singular shared focus of American ideals," Moynihan added.
Ticker
Security
Last
Change
Change %
BAC
BANK OF AMERICA CORP.
35.30
-0.15
-0.42%
Goldman Sachs CEO David Solomon called for Americans to begin "reinvesting in our democracy and rebuilding the institutions that have made America an exceptional nation."
Ticker
Security
Last
Change
Change %
GS
THE GOLDMAN SACHS GROUP INC.
357.46
+3.76
+1.06%
"For years, our democracy has built a reservoir of goodwill around the world that brings important benefits for our citizens," Solomon wrote in a LinkedIn post. "Recently, we have squandered that goodwill at an alarming pace, and today's attack on the U.S. Capitol does further damage. It's time for all Americans to come together and move forward with a peaceful transition of power."
JPMORGAN CEO JAMIE DIMON CONDEMNS CAPITOL HILL VIOLENCE
Visa CEO Al Kelly Jr. said in a memo to employees that the violence on Capitol Hill is "one of the lowest points in our 245-year history as a nation."
"Absolutely no facts since the election have surfaced to suggest that Biden's victory is not totally legitimate," the credit card executive wrote. "I am shocked and saddened by what I've seen today. We at Visa stand 100% behind the results of the election and the collective voices of the citizens of this country. We are fully supportive of a smooth transition of power which has been the case for almost two and a half centuries."
Kelly Jr. added that during this "time of anxiety for the country and the world", he continues to have "tremendous faith in the resilience of our United States institutions."
"I hope that the healing and rebuilding that we need begin now," the statement concluded.
Ticker
Security
Last
Change
Change %
V
VISA INC.
229.10
-2.34
-1.01%
Tim Ryan, the chief executive of the accounting firm PwC, formerly known as PricewaterhouseCoopers, addressed his 50,000 staff members during a previously planned webcast as the Capitol was stormed, prompting him to tell employees what was happening.
"As many of you have seen, our Capitol building has been stormed by protestors that are resisting our democratic process and are threatening violence," Ryan told employees, according to the company. "I think it is safe to say that this is a surreal day that will go down in our country's history and it is devastating to watch these events unfold right before our eyes...I understand that this is an upsetting and scary situation on a number of levels, and I want you all to know that me and your other leaders are here to support you."
The Business Roundtable, a trade group representing 15 million U.S. employees and $7 trillion in U.S. revenues led by Walmart CEO Doug McMillon, called the protests "the result of unlawful efforts to overturn the legitimate results of a democratic election," and urged elected officials, including President Trump, to "put an end to the chaos and to facilitate the peaceful transition of power."
Ticker
Security
Last
Change
Change %
SP500
S&P 500
4027.96
+10.19
+0.25%
WMT
WALMART INC.
142.15
-1.15
-0.80%
Microsoft President Brad Smith retweeted the organization's statement, adding that "this is a day to speak up for our Constitution and its values."
Ticker
Security
Last
Change
Change %
MSFT
MICROSOFT CORP.
242.71
-5.45
-2.20%
American Express Chairman and CEO Stephen J. Squeri, another member of the Business Roundtable, reiterated the organization's statement and called the actions by protesters an "egreious assault on our democracy."
Ticker
Security
Last
Change
Change %
AXP
AMERICAN EXPRESS CO.
172.66
+0.35
+0.20%
U.S. Chamber of Commerce CEO Thomas Donohue said the "attacks against our nation's Capitol Building and our democracy" must end, urging Congress to gather again Wednesday evening to conclude their "Constitutional responsibility to accept the report of the Electoral College." Donahue added that the Chamber of Commerce extends its "respect and appreciation to all of the law enforcement officials who are protecting our government, our elected officials and our fellow citizens."
CLICK HERE TO READ MORE ON FOX BUSINESS
Meanwhile, the National Association of Manufacturers President and CEO Jay Timmons, whose organization represents more than 12.1 million manufacturing workers and contributes $2.35 trillion to the U.S. economy annually, released a lengthy statement blasting President Trump for "adding fuel to the distrust that has enflamed violent anger" and called on Vice President Mike Pence to invoke the 25th Amendment to "preserve democracy."
"This is not law and order. This is chaos. It is mob rule. It is dangerous," Timmons said. "This is sedition and should be treated as such."
Timmons added that any elected leader defending Trump's actions are "violating their oath to the Constitution and rejecting democracy in favor of anarchy" and that anyone "indulging conspiracy theories to raise campaign dollars is complicit."
"This is not the vision of America that manufacturers believe in and work so hard to defend," the statement continued. "Across America today, millions of manufacturing workers are helping our nation fight the deadly pandemic that has already taken hundreds of thousands of lives. We are trying to rebuild an economy and save and rebuild lives. But none of that will matter if our leaders refuse to fend off this attack on America and our democracy—because our very system of government, which underpins our very way of life, will crumble."
GET FOX BUSINESS ON THE GO BY CLICKING HERE
Protesters from a pro-Trump rally -- where President Trump spoke outside the White House -- descended on the Capitol Wednesday to protest the certification of Electoral College results, before clashing with police.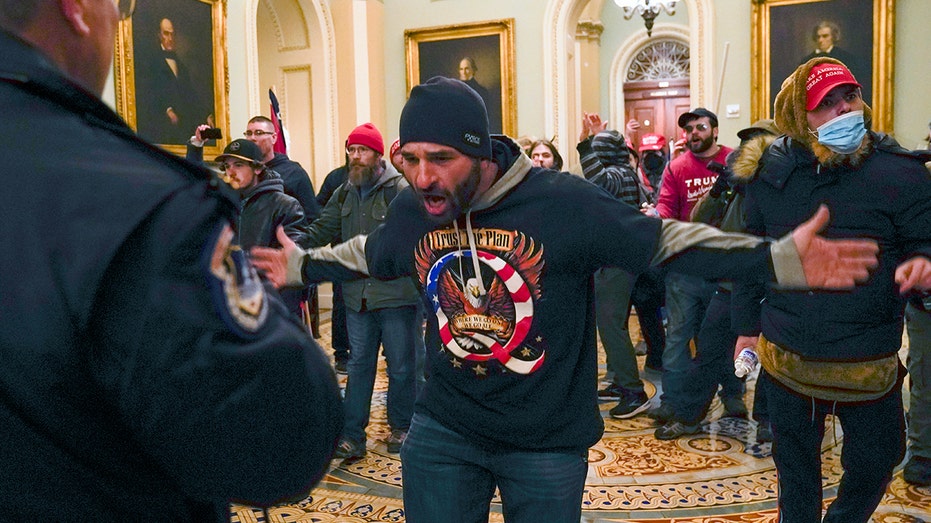 The certification process was then halted after protesters stormed the Capitol Building, prompting a lockdown of Congress and evacuation of lawmakers. Protesters reportedly smashed glass doors and authorities drew their weapons at one door. One individual has also reportedly died after being shot inside the Capitol.
President Trump issued a taped video statement, telling his supporters to "go home now" and calling for peace.
"We have to have peace, we have to have law and order we have to respect our great people in law and order," Trump said. "We don't want anyone hurt."
However, Trump also continued his repeated unsubstantiated claim that the election was "stolen." The message has since been flagged by Twitter as 'disputed' and cannot be replied to, retweeted, or liked due to a risk of violence. Meanwhile, Facebook has removed the video from its platform altogether as part of "appropriate emergency measures."
"We removed it because on balance we believe it contributes to rather than diminishes the risk of ongoing violence," Facebook's vice president of Integrity, Guy Rosen, tweeted.
The Capitol Building has been secured and cleared of protesters, according to authorities. House Speaker Nancy Pelosi said Congress "will move forward with the certification of President-elect Joe Biden's election" Wednesday evening.
A curfew by Virginia Gov. Ralp Northam is now in effect in the cities of Alexandria and Arlington until 6 a.m. Thursday with "limited exceptions." Anyone who doesn't comply will be arrested. In addition, the National Guard has been deployed and a state of emergency has been issued as officials continue to respond to the situation.
Fox News' Danielle Wallace and Adam Shaw contributed to this report.