'Comfortably Smug' Twitter account suspended for 'harassment'
The account is popular among young conservatives
Twitter suspended an account popular among young conservatives Monday for violating the site's "abuse and harassment" policies.
The social media site temporarily suspended the account called Comfortably Smug run by Shashank Tripathi four days after suspending the account for financial website ZeroHedge.com on Jan. 31 for the same reason.
Twitter suspended Tripathi's account after he tweeted, "Where's Hunter, fat???" in response to another tweet about 2020 presidential candidate Joe Biden's grandchildren being in Iowa for the caucuses.
Ticker
Security
Last
Change
Change %
TWTR
TWITTER, INC.
71.69
+2.12
+3.05%
"Smug Industries," another Twitter account related to Tripathi's Comfortably Smug account that sells "Smug"-related gear, tweeted, "Smh the Biden campaign got Smug locked up until the Iowa caucuses start tonight," with a screenshot of a suspension notification from Twitter to Tripathi.
The tweet was a reference to a moment on Biden's campaign trail when he appeared to address an audience member at one of his events by saying, "Look, fat." It has since been removed from the site.
ZEROHEDGE: TWITTER BAN OVER CORONAVIRUS ARTICLE 'ARBITRARY AND UNJUSTIFIED'
Twitter's policies state that it might temporarily limit a user's ability to tweet, retweet or like content for up to 12 hours "if it seems like an otherwise healthy account is in the middle of an abusive episode," according to its website.
FACEBOOK TO REMOVE CORONAVIRUS MISINFORMATION
"It's alarming to see an organization that pretends to promote free and fair dialogue around elections put a finger so heavily on the scale in favor of the Biden campaign the day of the Iowa Caucuses," a spokesman for Smug Industries told The Daily Caller.
"Twitter's election interference and blatant effort to repeatedly silence conservative critics is sure to have a chilling effect on the critical discourse and civic engagement that makes America the country it is," the spokesman added.
Smug Industries later tweeted a quote from Tripathi that reads, "I will say this. Being locked up has given me time to reflect and do some reading," along with a photo of Senate Majority Leader Mitch McConnell's book, "The Long Game."
Rep. Paul Gosar (R-Ariz.) tweeted about the suspension, writing, "Twitter allows Iran's Ayatollah and Louis Farrakhan on their platform, but [Comrotably Smug] get[s] banned? Give me a break."
A number of Tripathi's other followers tweeted their outrage at the social media site for the decision, and it didn't take long for users to connect the suspension with Twitter's permanent ZeroHedge ban.
ZeroHedge called its permanent suspension from Twitter on Friday "arbitrary and unjustified" after the site posted a link to an article on the origin of China's new coronavirus outbreak.
The article --- published Wednesday, titled, "Is This The Man Behind The Global Coronavirus Pandemic?" --- shared the name and personal information of a Chinese doctor and researcher at the Wuhan Institute of Virology and linked him to a theory claiming the new virus is an engineered bioweapon.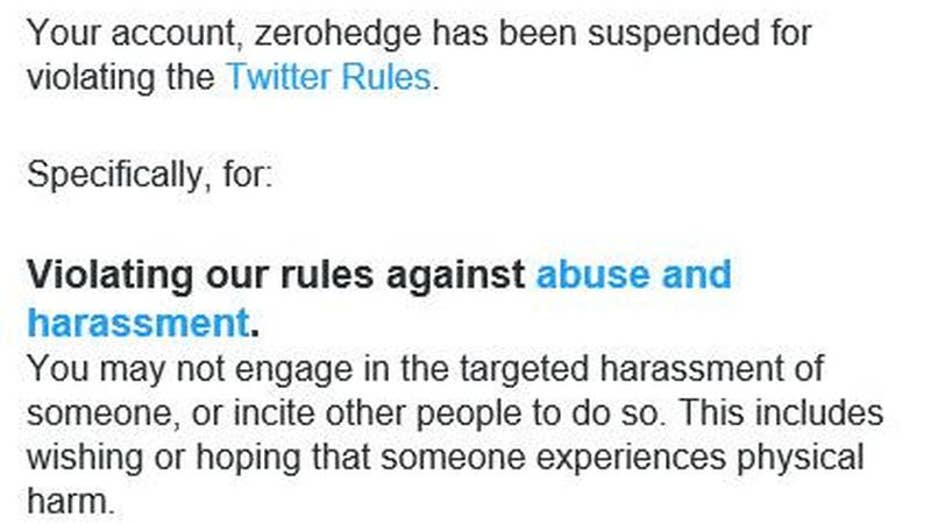 The bans come as social media platforms have been trying to fight misinformation on the virus and the 2020 presidential election.
GET FOX BUSINESS ON THE GO BY CLICKING HERE
Twitter has reportedly been steering users toward more credible sources when they search for trending words and phrases related to more serious topics of interest that, if misunderstood or misreported, could cause potential harm.
Facebook said last week it would remove false content or conspiracy theories flagged by leading global health organizations and health authorities — an unusual move for the social media site, which normally labels false information rather than outright removing it.
"We are confident that we did not violate any of the stated Twitter terms: We neither incited harassment nor did we 'dox' the public official, whose contact information is as of this moment listed on the Wuhan institute's website," ZeroHedge told FOX Business. "As such, we find the suspension arbitrary and unjustified and potentially motivated by reasons other than the stated ones."