Apple's gigantic pile of cash keeps shrinking
Apple's treasure trove of cash continued to shrink in the third quarter.
The tech giant on Tuesday said it ended the third quarter with $210.6 billion in cash, down 6.6 percent from the prior quarter and 15.7 percent year-over-year.
And although its cash pile is more than 26 percent below its first-quarter 2018 peak of $285.1 billion, Apple still has more cash on hand than any other company in the United States.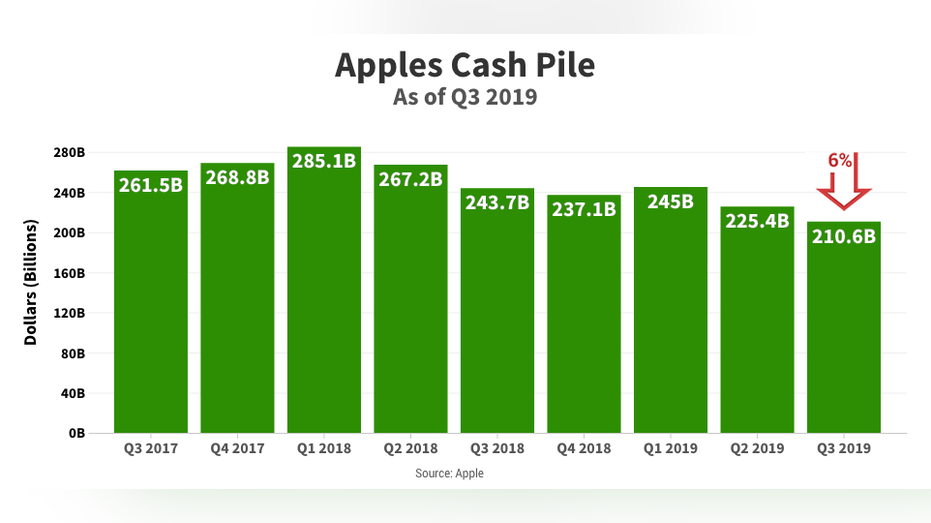 Microsoft, which is No. 2, said earlier this month it had $133.8 billion in its coffers.
So what has Apple been spending its cash on?
On Tuesday's earnings call, CEO Tim Cook said the company "returned over $21 billion to shareholders during the quarter, including $17 billion through open market repurchases of almost $88 million Apple shares and $3.6 billion in dividends and equivalents."
Apple has also been spending money on ramping up its services business and making acquisitions.
In May, Cook said Apple buys a company every few weeks. Last week, Apple purchased Intel's smartphone-modem chip business for $1 billion.
And while most of its deals as of late have been relatively small, Wall Street is speculating a big deal may be on the horizon.
"Apple generates more cash than some countries and in our opinion the trifecta of buybacks, dividends, and more aggressive M&A will be the strategy for Cook & Co. going forward," Wedbush managing director Dan Ives told FOX Business. "We believe Cupertino is poised to get more aggressive on M&A with its latest $1 billion Intel 5G acquisition the tip of the iceberg in our opinion with more content acquisitions potentially on the horizon."
CLICK HERE TO GET THE FOX BUSINESS APP
Apple on Tuesday evening released strong third-quarter results that topped Wall Street estimates. Shares were up more than 4 percent ahead of Wednesday's opening bell. It was poised to open with a market value of just under $1 trillion.