Here's what 5G cell service will bring to Super Bowl LIV
Verizon has partnered with the city of Miami and the NFL to bring 5G, or fifth-generation, wireless cell service to Super Bowl fans for the first time ever.
The wireless carrier has been working to bring Verizon 5G ultra-wideband technology to Miami for nearly two years. It has also brought 5G to 34 cities, 17 NFL stadiums and five indoor arenas, Verizon spokesperson Lauren Schulz, who is helping with Verizon's rollout of 5G at the Super Bowl, told FOX Business.
Verizon Chief Development Officer Nicola Palmer recently said the company spent invested $80 million in the city of Miami, as well as its Hard Rock Stadium, during a live panel discussion about the Super Bowl 5G experience posted to Twitter on Thursday.
"We love to bring technology to life for our customers and, certainly, NFL fans," Palmer said. "So, when we think about what this next generation of technology will do ... it is so transformational."
BIGGEST SUPER BOWL LIV ENDORSEMENT, SPONSORSHIP DEALS
"This is not something that just we do one-and-done. This is about moving the whole industry forward with the latest technology," she said, adding that the experience will help educate the public and businesses and highlight "what the future can be with 5G."
Verizon has helped upgrade both its 4G and 5G networks in Miami's airports, downtown shopping centers and even the Hard Rock Stadium parking lot. These enhancements will also be available to Verizon customers at the stadium's concourses and ticketing booths. That way, fans with 4G and 5G phones will be able to participate in the company's advanced game-day service, Schultz said.
But many Americans still aren't sure what 5G is exactly or how it will advance Super Bowl fans' football-watching experience.
HOW TO LEGALLY BET ON SUPER BOWL LIV
Simply put, 5G is the latest generation of wireless technology after 4G, which came after 3G and 2G and so on. With each new generation of wireless comes faster internet service, better video quality and more advanced app capabilities. Tech experts expect 5G to play a large role in artificial intelligence (AI), such as self-driving cars that can't operate on 4G networks.
Verizon is implementing this technology at this year's Super Bowl game to deliver a more immersive experience for spectators.
The carrier and the NFL teamed up to create an app called NFL OnePass, which uses augmented reality to deliver a new viewer experience for Verizon customers with 5G phones. Augmented reality is a type of interactive experience that superimposes computer-generated images onto a user's real-life camera view.
ANTI-5G GROUP PLANS NATIONAL PROTEST
This will allow users to watch a live game like they would on TV, where producers can edit footage. Verizon customers with 5G will be able to zoom in, reverse and slow down plays in near-instant time. Customers will also be able to view the game from five different angles so they can effectively watch the game from anywhere in their own seats with near-instant stats while the game is live, Schultz said.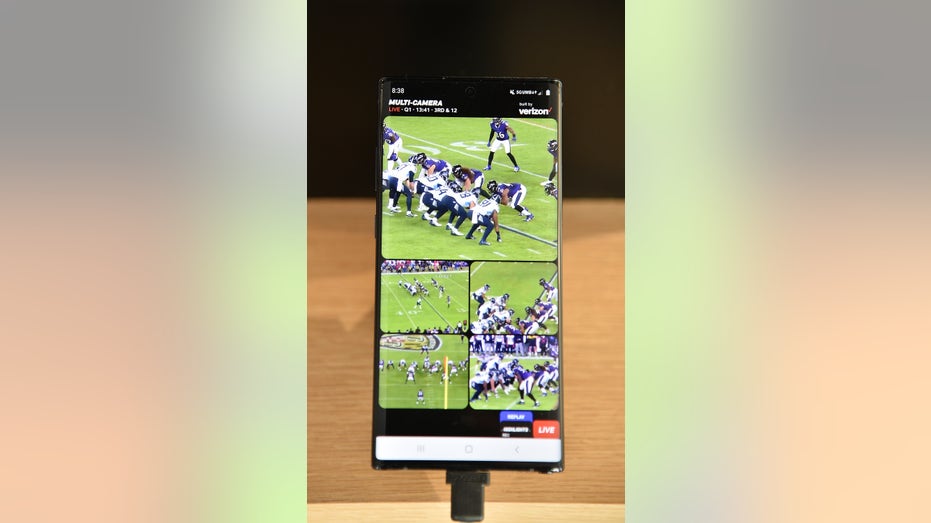 Additionally, the NFL OnePass will use augmented reality so customers can scan their phone screens around the stadium, and computer-generated images will appear letting them know where bathrooms are located and which have the shortest lines, where concession stands are and what type of food they sell, where souvenir booths are located and which jerseys they sell, as well as the fastest way to find one's car in the parking lot.
GET FOX BUSINESS ON THE GO BY CLICKING HERE
People can test-drive 5G phones at Verizon's 5G Stadium at Super Bowl Live in Bayfront Park. Schultz said NFL players have tried the devices out for themselves and many of them expect 5G to improve the nature of practices through virtual reality (VR) training and enhanced video to watch and manipulate performances.
Schultz also said there will be one camera at the game that will be connected to Verizon's 5G network. The camera will use the network to display the game or the audience on live TV at least once, she said, but it won't be used for the live game throughout the day.
"We talk about the fourth industrial revolution and how 5G can usher in something of that magnitude, and I will admit to you that as an engineer when we first started thinking about that term and equating it to 5G, I thought, 'Well that's a little bit dramatic, isn't it?'" Palmer said during Thursday's panel.
"But when you think about the examples that were just outlaid here, and you think about augmented reality, virtual reality, AI and all the other technology that on this sort of capability, there is not an industry that will not be touched and reshaped by 5G. The possibilities are endless," she concluded.
CLICK HERE TO READ MORE ON FOX BUSINESS
This article has been updated to change "seven indoor arenas" to "five indoor arenas." It has also been updated to say "NFL players" visited the Verizon booth, not Chiefs and 49ers specifically.