Trump Super Bowl ad drops
It is one of two 30-second Trump 2020 ads that will air on Super Bowl Sunday, likely costing a total of $10 million
President Trump's 2020 campaign on Thursday released one of two ads that will air on Super Bowl Sunday.
The 30-second, $5 million ad titled, "Stronger, Safer, More Prosperous," shows clips of the president from the 2016 election up until now and lists his accomplishments.
"Just as the Super Bowl crowns the greatest football team, nothing says 'winning' like President Donald Trump and his stellar record of accomplishment for all Americans," Trump 2020 campaign manager Brad Parscale said in a statement. "With an incredible economy, historically low unemployment, and a policy of putting America first, President Trump is most certainly Keeping America Great."
It then highlights wage growth and decreasing black and Hispanic unemployment rates. The country's economic success has been a significant talking point for the Trump campaign in its fight to win over more voters in 2020.
10 OF THE BIGGEST SUPER BOWL AD SPENDERS OF ALL TIME
"With President Trump in office, he is improving the lives of ALL Americans. Under President Trump, the economy is booming, historic tax cuts were passed, trade deals have been renegotiated, and African-American, Asian American, and Hispanic American unemployment are all at RECORD LOWS!" the video's description reads.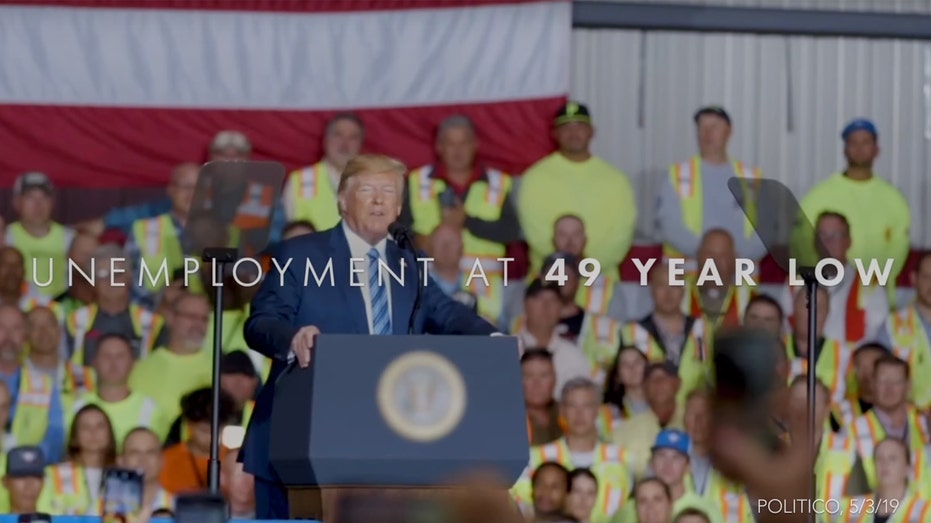 The second 30-second ad will not be released prior to the Super Bowl, the campaign said.
Executives at Fox, which is broadcasting the game on Sunday, previously said they have been seeking "north of $5 million" per 30-second ad.
Democratic presidential candidate Michael Bloomberg also unveiled one of his single biggest ad purchases to date on Thursday with a 60-second spot that will air during the Super Bowl.
GET FOX BUSINESS ON THE GO BY CLICKING HERE
An estimated 111 million Americans tuned in for the game in 2018, making it one of the most-watched sporting events of the year. And according to Nielsen, an astonishing 70 percent of American homes with televisions watched the game in 2017.
Fox Corp. is the parent company of FOX Business and Fox News.
CLICK HERE TO READ MORE ON FOX BUSINESS
Megan Henney contributed to this report.