Hurricane Dorian: Waffle House Index flashing red in South Carolina
The Waffle House Index is flashing red as Hurricane Dorian nears South Carolina.
"We have two restaurants right now that are closed - one's in Charleston and the other's in Johns Island," Pat Warner, Waffle House director of PR and external affairs, told FOX Business from the company's storm command center on Thursday. These are the first two closures caused by Hurricane Dorian, and are indicated red on the Waffle House Index.
Warner said 10 additional resturants in the Charleston area are still open, but operating without power. They're using the limited no-power menu, and are tagged yellow by the index. In total, Waffle House has about 25 restaurants in the Charleston area. The remaining ones are operating at full capacity and are coded green.
As for when the restaurants will reopen, Warner says that depends on three variables.
"That's a decision we make on the ground," Warner said. "Do we have the people, do we have the utilities, and what is the food situation."
Dorian on Wednesday weakened to a Category 2 storm, but regained strength and was a Category 3 storm as it hovered off the South Carolina coast on Thursday.
The National Hurricane Center warns Dorian's eye is just off the coast and could potentially make landfall before "brushing past Cape Hatteras."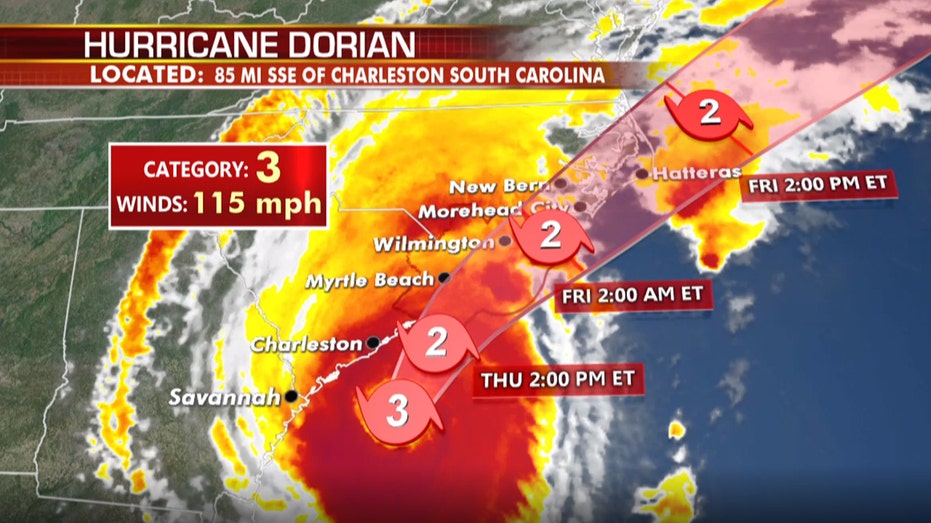 Federal Emergency Management Agency (FEMA) officials keep a close eye on the Waffle House Index, which was started with Hurricane Charley during the 2004 season and assigns color codes to measure the state of areas impacted by a storm.
CLICK HERE TO READ MORE ON FOX BUSINESS
"Waffle House became almost like a rough guidepost," former FEMA director Craig Fugate, the creator of the index, told FOX Business. "If it was open and had a full menu we probably weren't in the worst-hit areas yet."