Coronavirus: Retailers cash in on virus-themed medical masks, T-shirts and merch
Knockoff Gucci masks, coronavirus protection kits and T-shirts are being sold online
As stores around the United States sell out of medical face masks amid the deadly coronavirus, some retailers are aiming to cash in on the flu-like health epidemic.
Coronavirus protection kits, T-shirts and face masks with knockoff logos from designers like Gucci and Supreme are being sold on e-commerce sites like Etsy and Amazon for hundreds of dollars as sellers capitalize on the pneumonia-causing virus that continues to spread globally.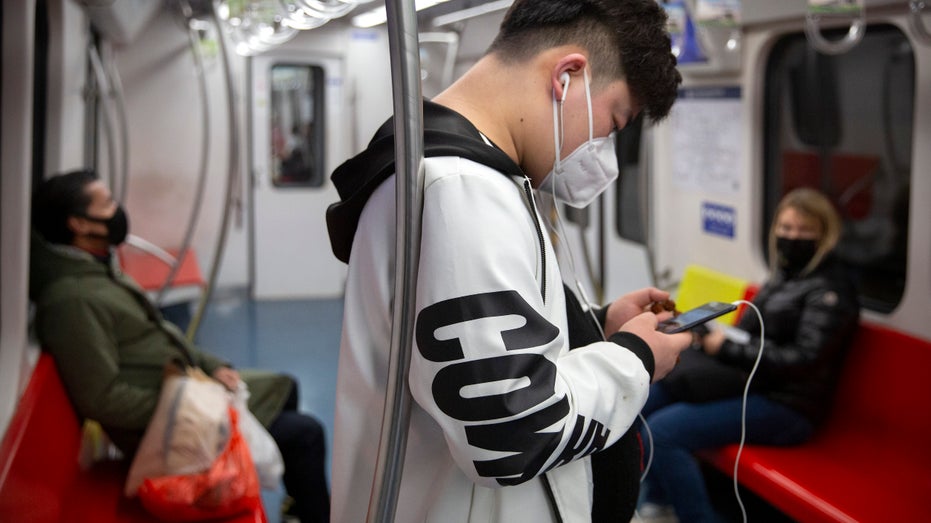 There have been more than 2,500 confirmed cases of the coronavirus and 81 deaths globally, with five cases in the U.S., according to data from Johns Hopkins University researchers. Many of them are in mainland China. The virus was first detected in Wuhan, however, outbreaks have also hit 13 other countries, including Thailand, South Korea, Japan, France, Canada and Australia. China imposed a travel ban, and the Centers for Disease Control in the US said it is taking "aggressive public health measures" like health screenings at airports to halt the disease from spreading.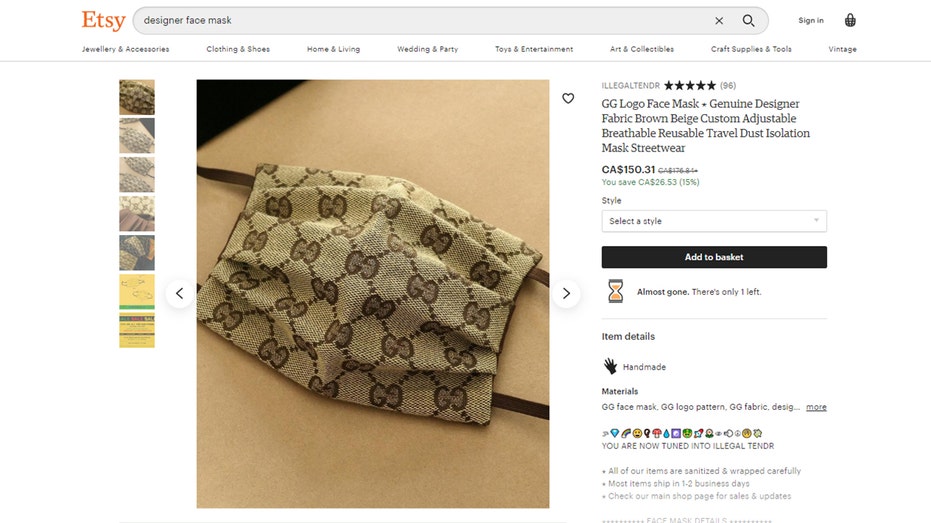 On eBay, a coronavirus virus protection kit advertised as providing "full-body protection" complete with an N95 mask, goggles, disposable coveralls, gloves and anti-bacterial wipes is available for $21.99. And e-commerce retailer Etsy has a $16.50 T-shirt that says "I Survived Coronavirus 2020"  in nearly a dozen different colors. The T-shirt is described as being "an instant favorite in every nurse's wardrobe." A women's T-shirts that say "Warning Coronavirus" is on sale on Amazon for $19.99 and another unisex T-shirt is being sold on the e-commerce giant that features an image of a man pointing a gun that reads: "Coronavirus? 2020 Not in my Town."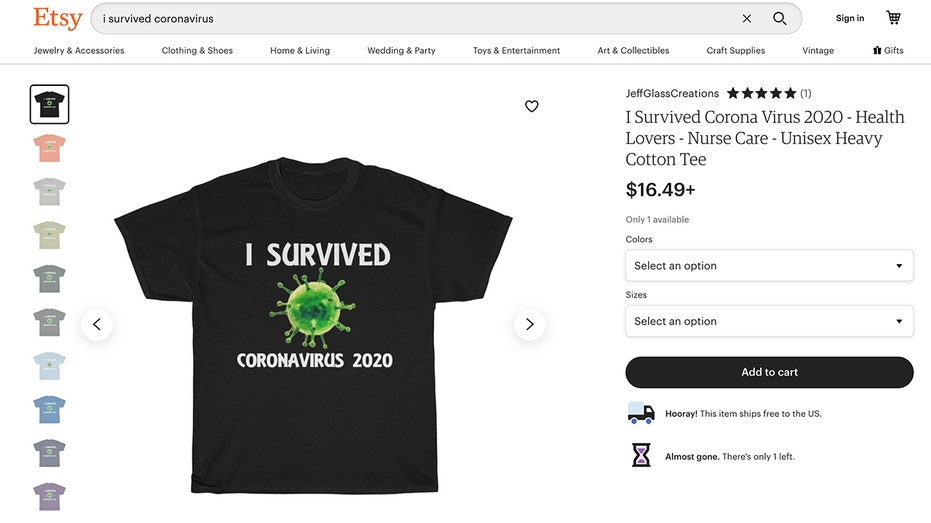 CHINA VIRUS OUTBREAK RAMS GLOBAL TOURISM, COSTING BILLIONS
"It's unethical, but I'm not surprised," Chuck Welch, founder of Rupture Studio, a New York-based creative consultancy, told FOX Business. "We're in a reaction age. When a trend or an outbreak happens, people jump on it for good or bad. People capitalize on that attention. We're an attention economy and retailers are going to go and turn that into dollars."
"It's unethical, but I'm not surprised,"
Dozens of face masks that appeared to have logos from designers are on sale on Etsy. A face mask with the Gucci logo is selling for $110 on the site, while a mask with the Supreme logo is on sale for $13.99. Gucci confirmed that the facemask using its logo was not an official Gucci product. Etsy and Amazon did not immediately return a request for comment. Supreme declined to comment on the mask.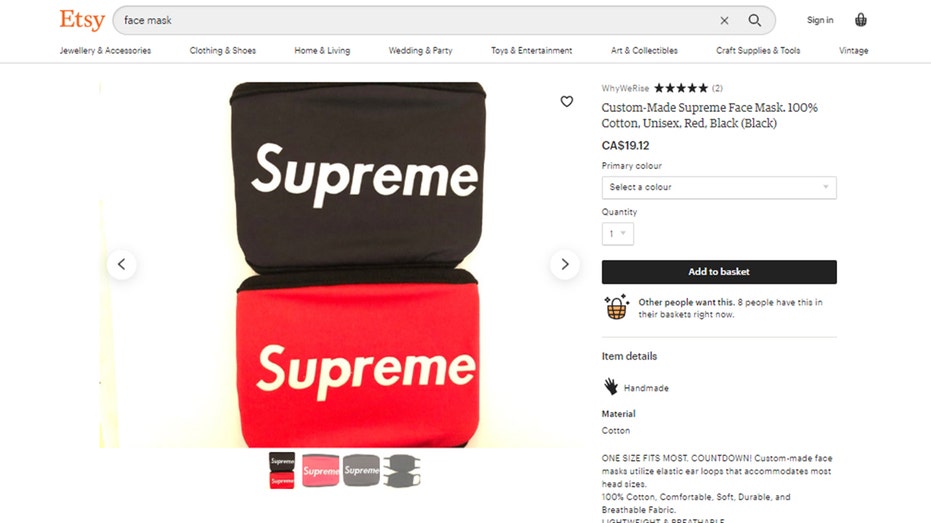 Face mask shortage
While some retailers aim to cash in on merchandise related to the deadly virus, pharmacies and drugstores around the country are scrambling to stock up on medical face masks. Mom and pop pharmacies around Chinatown in New York are experiencing a shortage of medical masks with increased demand as customers take caution against the pneumonia-causing virus with symptoms of coughing, fever and difficulty breathing.
"Manufacturers are scrambling to make enough masks," a store owner at Alisson Pharmacy, a drugstore in the Chinatown neighborhood of Manhattan, said Monday, declining to give FOX Business his name. He said wholesale distributors have nearly tripled the cost of a box of medical masks, which can cost upward of $5 wholesale for a box of 50. Mannings Pharmacy, another drugstore in Chinatown, also said it sold out of the facemasks.
Ticker
Security
Last
Change
Change %
HON
HONEYWELL INTERNATIONAL, INC.
232.88
+2.39
+1.04%
APT
ALPHA PRO TECH
10.47
+0.88
+9.19%
LAKE
LAKELAND INDS
25.83
-0.02
-0.08%
NVAX
NOVAVAX INC.
184.00
-5.01
-2.65%
A number of other medical supply stores around the country have run out of medical mask suppliers. Stores in central Texas are also struggling to provide masks after it was reported that a Texas A&M student could have caught the coronavirus following a trip to Wuhan, China, CNN reported.
Stock for medical mask makers Alpha Pro Technology and Lakeland Industries surged Monday, along with diagnostic test kit producer Meridian Bioscience and drugmakers Novavax and NanoViricides.
STOCKS SLAMMED AS CORONAVIRUS SPOOKS MARKETS
Should you be wearing a medical face mask? 
Person-to-person spread of the coronavirus can occur when someone infected with it sneezes or coughs while in close contact with others, similar to how influenza and other respiratory pathogens spread, according to the CDC. Person-to-person spread of the virus in the U.S. has not yet been detected, according to the CDC.
While medical facemasks are designed to catch contaminants, doctors say wearing one will not necessarily prevent contracting the virus.
CORONAVIRUS: WUHAN MAYOR WILLING TO RESIGN IF IT HELPS CONTAIN OUTBREAK
"I don't think it's necessary for people to wear a facemask as they go about their daily activities. Even with five confirmed cases in the U.S., the risk of acquiring coronavirus is still quite low at this time," Dr. Robert Glatter, an emergency physician at Lenox Hill Hospital in New York City said.
GET FOX BUSINESS ON THE GO BY CLICKING HERE
"While it's not harmful to wear one, it's also not a very effective means of prevention," he explained. "Simple measures such as hand washing, minimizing contact with others, avoiding touching your nose, mouth and eyes as well as practicing proper cough etiquette are more important ways to minimize transmission."
Surgical masks are provided for patients who show flu-like symptoms or may have recently traveled to Wuhan, Glatter said.