Selling Heats up on Wall Street; Dow Slides 200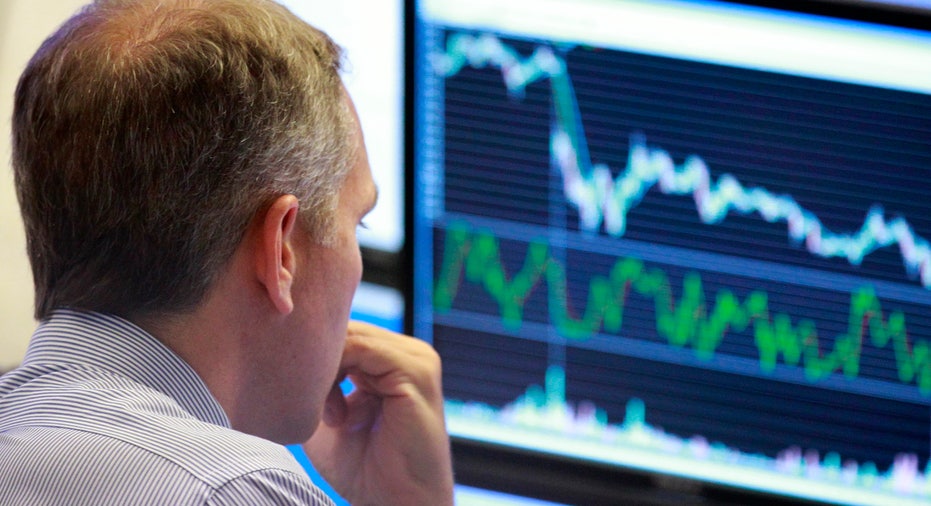 FOX Business: The Power to Prosper
Wall Street turned sharply lower on Monday afternoon after a slew of news regarding big-name companies, coupled with continued fears over Greece's ability to stave off a default, spooked market participants, setting off a broad flight from equities.
Today's Markets
As of 3:19 p.m. ET, the Dow Jones Industrial Average dipped 202 points, or 1.9%, to 10,712, the S&P 500 slid 25.2 points, or 2.3%, to 1,106 and the Nasdaq Composite fell 65.9 points, or 2.7%, to 2,350.
A slew of big-name companies were pummeled in afternoon trading on Monday. Financials were under particularly strong selling pressure, with Bank of America (NYSE:BAC) and Citigroup (NYSE:C) tumbling more than 8%. Morgan Stanley (NYSE:MS) saw its shares thrashed again, recently falling close to 6%, amid concerns over its exposure to euro zone debt.
In a sign of the renewed worries, yields on government debt fell on Monday as traders piled back into the perceived safe haven.  The benchmark 10-year note recently yielded 1.800% from 1.919%. The VIX, seen as a fear gauge, climbed 3.5%.
AMR (NYSE:AMR), the parent company of American Airlines, saw its shares plunge more than 30%, setting off numerous single-stock circuit breaker on the New York Stock Exchange as well.  Single-stock circuit breakers were implemented to halt trading on particular securities for a period to prevent panic buying or selling.
The American economy will also come into focus this week, with the monthly unemployment report on tap for Friday.
The Institute for Supply Management Manufacturing PMI gauge rose to 51.6 in September from August, topping estimates of 50.5, and marking to the twenty-sixth straight month of expansion for the manufacturing sector.  The ISM data are considered to be a key barometer of the manufacturing sector, and can impact a wide swath of stocks like General Electric (NYSE:GE) and Boeing (NYSE:BA).
The report comes on the heels of a considerably better-than-expected report from the Chicago area.
Construction spending, meanwhile, jumped 1.4% in August, easily topping estimates of a fall of 0.3%.
Many automakers reported sales on the day.
Chrysler's sales jumped 27% in its best September performance in four years, driven by broad gains across all of its brands. General Motors (NYSE:GM) saw its sales accelerate by 20%, and Ford (NYSE:F) saw 9% gains.  All of the "big three" automakers saw growth in their SUV and pickup truck lines as consumers ramp up for the winter driving season.
The specter of a Greek default has rattled the markets for months.  The embattled country needs billions of euros in rescue funding from international lenders to pay the next tranche of debt that comes due this month.  However, weakening economic conditions, and political uncertainty across the euro currency bloc have paved a perilous path for Greece.  Indeed, according to a draft budget approved by Greece's cabinet Sunday, the country's deficit is forecast to weigh in at 8.5% of economic output in 2011, well higher than targets of 7.6%.
Austerity measures aimed at slicing the deficit are key factor in whether the European Union and International Monetary Fund will act to provide Greece with the next aid tranche.  With the last inspection of Greece by the so-called "troika" completed over the weekend, euro zone finance ministers are meeting in Luxembourg on Monday to discuss the next steps for Greece, however, market participants widely don't expect any specific decisions to be made on Monday.
European markets were slammed by the Greek troubles, with the Euro Stoxx 50 falling more than 2%, and big french banks like BNP Paribas (NYSE:BNPQY) sustaining losses of as much as 5%.
Wall Street is coming off of its worst quarter since the financial crisis in 2008, with the Dow shedding 1,501 points, and the S&P 500 and the Nasdaq both plunging more than 12%.  Many of the same fears that ruled the day last quarter are still present as the markets kick off the last quarter of the year.
In the foreign exchange market, the euro slid 0.9% against the U.S. dollar, while the greenback rose 0.76% against a basket of world currencies.
Energy futures were mixed after sustaining heavy losses last quarter.  Light, sweet crude fell $1.92, or 2.5%, to $77.22 a barrel.  Wholesale RBOB gasoline climbed a penny to $2.63  a gallon.
In metals, gold soared $35.40, or 2.2%, to $1,658 a troy ounce.
Corporate News
Yahoo! (NASDAQ:YHOO) shares soared on a report from the Wall Street Journal that Alibaba's Chairman Jack Ma said he is "very interested" in the search company.
Pharmaceutical Product Development (NASDAQ:PPDI) agreed to be taken private by Group and Hellman & Friedman in a $3.9 billion all-cash deal.
Foreign Markets
The Euro Stoxx 50 fell 1.9% to 2,138, the English FTSE 100 dipped 1% to 5,076 and the German DAX tumbled 2.3% to 5,376.
In Asia, the Japanese Nikkei 225 shed 1.8% to 8,545 and the Chinese Hang Seng plunged 4.4% to 16,822.