GM to make Chevy Blazer SUV in Mexico
General Motors confirmed that it will build the new Chevrolet Blazer in Mexico, sticking with its initial plans amid uncertainty over global trade.
The automaker unveiled the Blazer, a midsize SUV, on Thursday. Its debut was met with criticism by the United Auto Workers union, which issued a statement saying it was "disappointing" that Chevy's newest SUV will be built in Mexico.
"GM employs over 15,000 production workers in Mexico, pays the workers less than $3 per hour and exports over 80% of the vehicles to the U.S. to sell here," the UAW said. "This is all happening while UAW-GM workers here in the U.S are laid off and unemployed."
A GM spokesperson said automakers make decisions on production locations years in advance, and the decision to build the Blazer in Mexico was made several years ago based on available factory capacity at the time.
"We remain committed to investing and growing jobs in the U.S. Since 2009, GM has announced investments of more than $22 billion in the United States," the spokesperson added. "We remain committed to working with the administration on a modernized NAFTA."
The Blazer's debut coincides with escalating threats of tariffs between the U.S. and major trade partners, including China. Mexico, Canada and the European Union are pursuing retaliatory tariffs after President Trump imposed levies on imported steel and aluminum. The Trump administration is also pushing for a revamped North American Free Trade Agreement (NAFTA) in negotiations with Mexico and Canada.
On Friday, Trump threatened to slap the EU with a 20% tariff on European-made vehicles shipped to the U.S., unless the EU agrees to remove its own import duties. German automakers are backing an effort to set U.S. and EU car tariffs to 0%. The U.S. currently imposes a 2.5% tariff on EU cars, while the EU charges 10% on American cars.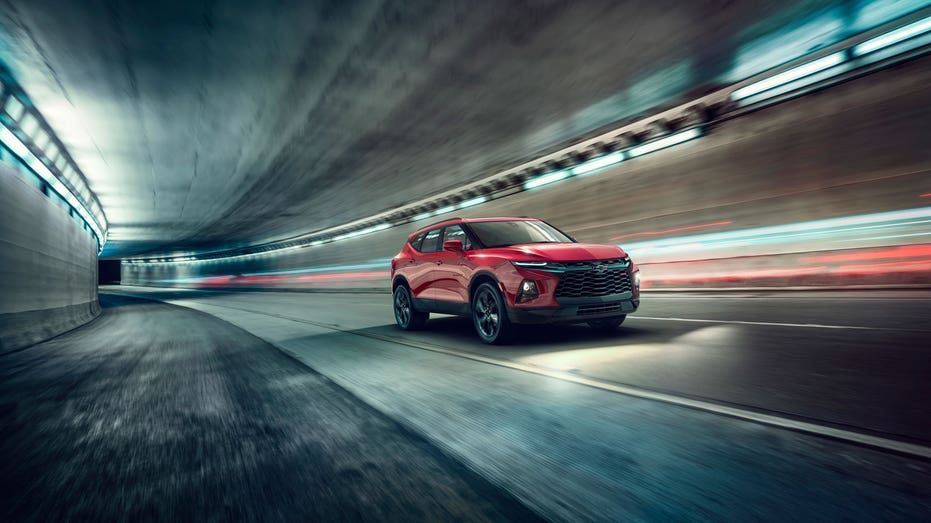 Trump has been critical of GM, Ford and other automakers for building vehicles in Mexico that are later sold in the U.S.
GM manufactures a variety of models south of the U.S. border. The Blazer will be built at GM's Ramos Arizpe assembly plant, where the company also produces the Equinox small SUV and Cruze compact car.
The 2019 Blazer is scheduled to go on sale early next year. GM is resurrecting the iconic nameplate as a midsize crossover.