Banks take beating amid stock and bond carnage
U.S. banks and brokers took a beating as investors worried that their tailwind of rising interest rates may get clipped.
Financial stocks ended as the worst performing group in the S&P 500, led by shares of JPMorgan, Citigroup, Bank of America and Wells Fargo. While regional banks, a snapshot of local economies, dived in sympathy.
The headwinds are two-fold: Bond yields declined on fresh concerns the U.S.-China trade truce is too fluid. The yield on the benchmark 10-year treasury fell to 2.91 percent, the lowest level since September. Plus fears that a recession could be more likely are rising after the 3-year and 5-year Treasury yields inverted on Monday for the first time since 2007.
Ticker
Security
Last
Change
Change %
JPM
JPMORGAN CHASE & CO.
137.46
+0.52
+0.38%
C
CITIGROUP INC.
44.70
+0.10
+0.22%
BAC
BANK OF AMERICA CORP.
28.26
-0.05
-0.18%
WFC
WELLS FARGO & CO.
40.98
-0.25
-0.61%
XLF
FINANCIAL SELECT SECTOR SPDR ETF
32.10
-0.01
-0.03%
KRE
SPDR SERIES TRUST S&P REGIONAL BKG ETF
40.21
-0.08
-0.20%
While trade is and has been a major macro economic theme, Tim Anderson, Managing Director, MND Partners, tells FOX Business bonds are the bigger problem right now. "It has to be the flattening of the yield curve. Given that a flat curve, or god forbid an inverted curve takes away from the "easy" money that banks make" he said.
Banks make more money when rates are rising because they earn higher fees from products such as mortgages and credit card APRs which move in tandem with rates. That said Anderson is keeping his cool. "I do not believe we're going into a recession next year even if the yield curve inverts. I just think there are other structural factors in play" he advised.
As for fears that the U.S.-China trade truce won't produce results, Top White House trade advisor Peter Navarro, urged investors to take it slow before jumping the gun. "I think what markets have to do is give this process the requisite time. It is silly for the markets to react to rumors in the air" he said during an interview on FOX Business.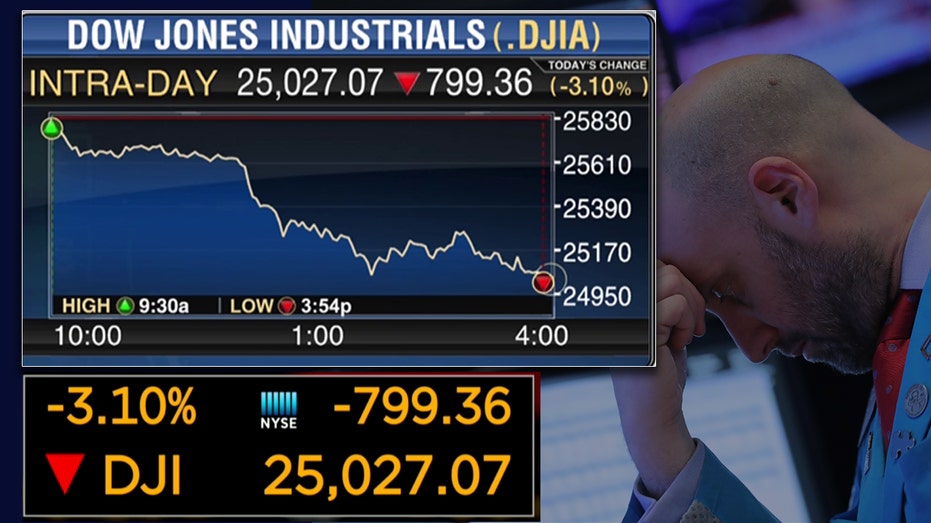 The broader U.S. stock averages lost over 3 percent apiece in afternoon trading on Tuesday. The Dow Jones Industrial Average fell 799.36 points. Trading across all exchanges was heavy with 8.9 billion shares trading hands, above the 6.9 billion daily average.
Ticker
Security
Last
Change
Change %
SP500
S&P 500
4205.52
+0.07
+0.00%
I:DJI
DOW JONES AVERAGES
33042.78
-50.56
-0.15%
I:COMP
NASDAQ COMPOSITE INDEX
13017.425569
+41.74
+0.32%
The Federal Reserve has raised interest rates three times this year and a fourth hike is expected later this month at the conclusion of the two-day meeting on Dec. 19. While Fed Chair Jerome Powell suggested last month that policymakers could temper their rate hike plans for 2019, investors remain cautious on trying to game the Federal Reserve, especially as the bulk of economic data continues to show an improving economy. On Friday a fresh check on the health of the U.S. job market will be released. The unemployment rate remains at 3.7 percent, the lowest level since 1969 and there are more jobs open than available workers to fill them. 
Powell's less hawkish tone came after weeks of Fed bashing by President Trump. The Fed Head was set to deliver testimony on Wednesday before the Joint Economic Committee, but the event was cancelled to observe former President George H.W. Bush's state funeral.
Many government offices are closed, along with the U.S. stock market and other businesses. The New York Stock Exchange historically closes to honor the passing of U.S. Presidents but has also issued rare closures for other events. 
Suzanne O'Halloran is Managing Editor of FOXBusiness.com and is a graduate of Boston College. Follow her on Twitter @suzohalloran