At least 4 injured after battery catches fire on United flight from San Diego
Four patients were transported to the hospital following the incident
A United Airlines flight from San Diego to Newark was forced to return to San Diego International Airport shortly after takeoff because of an external battery device that caught fire on the flight.
The San Diego Fire Department (SDFD) reported on Twitter that an external battery pack caught fire, but the flight crew prevented it from spreading further through the airliner's cabin by placing a fire bag over it. SDFD evaluated all passengers and crew following the incident and said that four patients were transported to the hospital while two others opted not to be transported.
"This morning, United Airlines flight 2664 departed San Diego International Airport heading to Newark. Shortly after departure, the aircraft declared an Alert 2 which indicates a major difficulty with the aircraft, in this case there was an electrical device fire in the cabin," Sabrina LoPiccolo, a spokesperson for San Diego International Airport, told FOX Business. " The aircraft landed safely at San Diego International Airport where emergency crews responded to the aircraft and assisted passengers."
FAA FACES SCRUTINY FROM LAWMAKERS AFTER RECENT NEAR MISSES: 'ALARM BELLS SHOULD BE GOING OFF'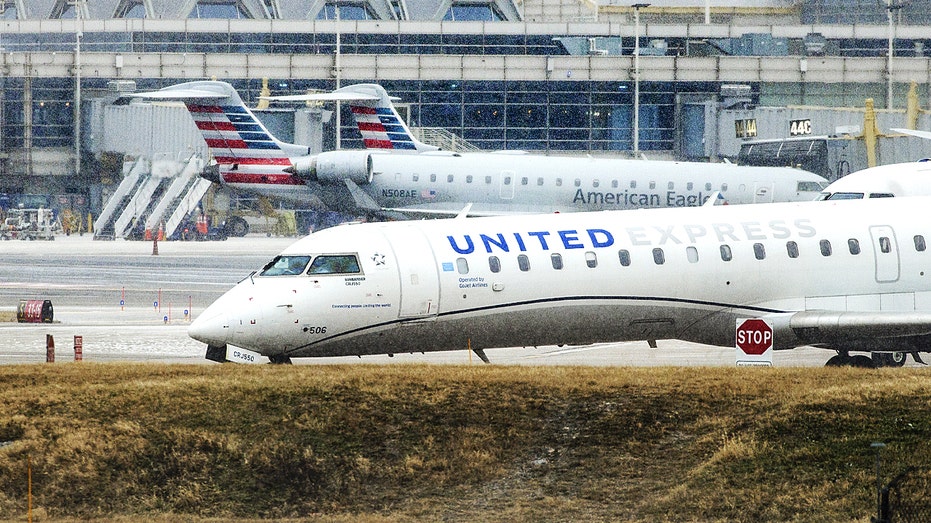 LoPiccolo noted that no other operations at the airport were impacted by the incident.
United Airlines provided the following statement to FOX Business: "United flight 2664 safely returned to San Diego after a customer's battery pack ignited. Our crew acted quickly to contain the device and medical personnel met the aircraft upon arrival at the gate. Four flight attendants were taken to the hospital as a precaution and two customers were evaluated onsite. We thank our crew for their quick actions in prioritizing the safety of everyone on board the aircraft."
The Federal Aviation Administration (FAA) requires lithium batteries be stored in carry-on baggage only. 
GET FOX BUSINESS ON THE GO BY CLICKING HERE
The rule applies to spare or uninstalled lithium-ion batteries and lithium metal batteries, including power banks and cell phone battery charging cases. It also covers lithium metal and spare rechargeable lithium-ion batteries for personal electronics such as cameras, cell phones, laptops, tablets, watches, calculators, and more.
This article has been updated to include a comment from United Airlines.