United Airlines to require passengers to take health self-assessment before boarding
Health self-assessment is part of the airline's CleanPlus program, a partnership with Clorox and the Cleveland Clinic
United Airlines is mandating passengers complete a health self-assessment prior to boarding in order to mitigate the spread of COVID-19 on flights.
UNITED AIRLINES, CLOROX PARTNER ON CORONAVIRUS CLEANING INITIATIVES TO PROTECT PASSENGERS 
The airline's "Ready-to-Fly" checklist, which is based on recommendations from the Cleveland Clinic, asks customers to confirm they have not been diagnosed with COVID-19 in the 21 days prior to flying and have not experienced any virus-related symptoms within 14 days of their scheduled flight.
"United's 'Ready-to-Fly' wellness checklist sets clear guidelines on health requirements for our customers and helps minimize the risk of exposure during the travel experience," said Pat Baylis, the airline's corporate medical director.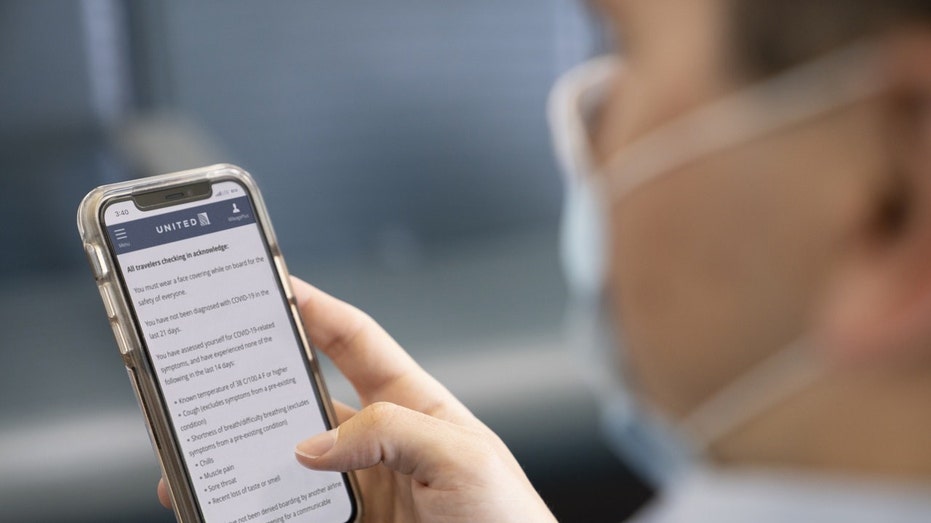 The checklist, completed during the digital check-in process on the United mobile app, online or at a United kiosk, also requires passengers to confirm if they have not been had close contact with someone who has tested positive for the virus in the past 14 days. Additionally, passengers must confirm that they have not been denied by another airline due to a medical screening within the same time period.
UNITED CEO ON CORONAVIRUS MEASURES: MASKS, CLEANING, FILTRATION BETTER THAN BLOCKING MIDDLE SEATS
Customers must also affirm that they are willing to abide by the airline's other safety protocols such as wearing a face-covering, which is now mandatory for all employees and customers on board, the company said.
Customers must confirm that they reviewed the requirements, either online or by verbally confirming with an agent at the airport, before receiving a boarding pass.
GET FOX BUSINESS ON THE GO BY CLICKING HERE
If customers cannot confirm the requirements, they will be allowed to reschedule their flight. However, they may also choose to check-in at the airport for further review.
"As people are returning to their daily activities during the COVID-19 pandemic, their health and safety – as well as the health and safety of others - should continue to be top-of-mind," said Dr. James Merlino, chief clinical transformation officer at Cleveland Clinic.
CLICK HERE TO READ MORE ON FOX BUSINESS
The health self-assessment is part of the airline's CleanPlus program, a partnership with Clorox and the Cleveland Clinic, to provide cleaning, safety and social distancing protocols such as touchless check-in for baggage at select locations, sneeze guards, and mandatory face coverings for crew and customers while on flights.
The move is a first for major U.S. airlines, which are trying to rebound from a decline in passenger travel, in providing self-administered health assessment for travelers.