Popeyes cooks up apparel line in chicken sandwich wars
'This campaign was created to have a little fun surrounding this conversation and offer fans the opportunity to sport some trending orange and maroon apparel'
Popeyes is upping the ante in the chicken sandwich wars that have pitted some of the country's largest fast-food chains against each other by selling a line of clothes culled from the employee's uniforms.
"That look from Popeyes" debuted on Popeyes' website Wednesday, just two days after McDonald's announced it was adding two new fried chicken sandwiches to its breakfast menu.
MCDONALDS ENTERING CHICKEN SANDWICH WARS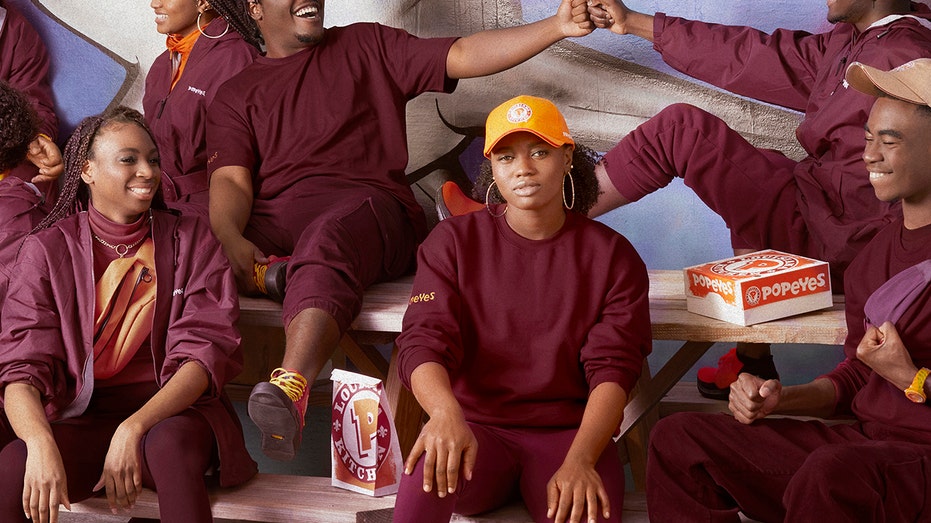 POPEYES LOOKING TO HIRE 'CHICKEN SANDWICH PROFESSIONALS' ON SUNDAYS ONLY
Popeyes' fashion line is based on the chain's employee uniforms.
The limited-edition collection features 10 items ranging from hats costing roughly $10 to hooded jackets for upward of $40. The relaxed-fit style is created with the brand's iconic color scheme, orange and maroon.
Based on the hype surrounding the brand's coveted chicken sandwich, Popeyes is expecting the supply to sell out quickly.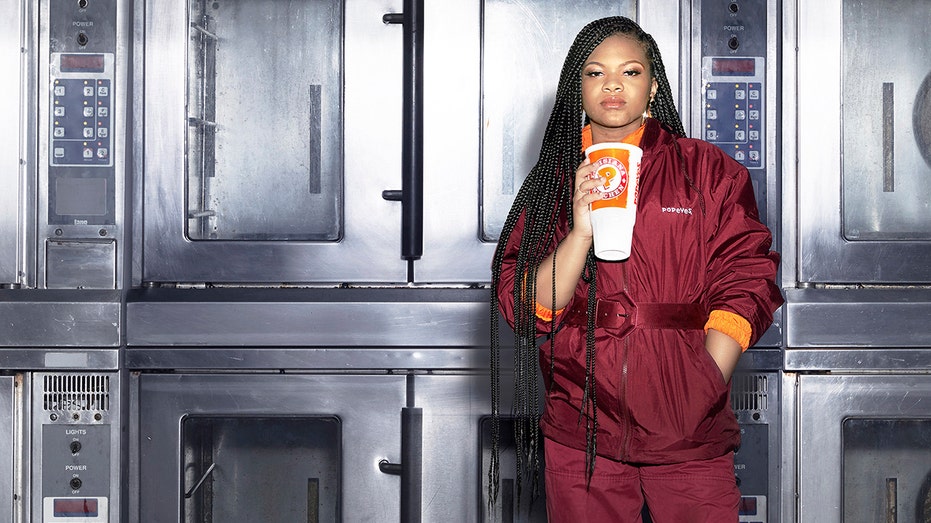 Popeyes has been immersed in the chicken sandwich wars with rivals Chick-fil-A, McDonald's and KFC after the Miami, Florida-based company released its version of a chicken sandwich last August. The fried piece of poultry sparked an outcry among fast-food fans when it sold out, but the shortage only increased demand and hype on social media.
Popeyes' version of the chicken sandwich was so popular, it sold out merely two weeks after its debut. What's more, sales were still 17 percent higher than the average two weeks after it sold out, according to analytics firm Second Measure.
Twitter users drew a resemblance between the Popeyes brand and Beyonce's sold-out Ivy Park collaboration with Adidas, both of which feature yellow, burgundy and orange hues.
POPEYES RIDES SOCIAL MEDIA WAVE, EARNED MEDIA FOR CHICKEN SANDWICH RELAUNCH
"This campaign was created to have a little fun surrounding this conversation and offer fans the opportunity to sport some trending orange and maroon apparel,' a spokesperson for Popeyes told FOX Business.
Popeyes is owned by Restaurant Brands International.
| Ticker | Security | Last | Change | Change % |
| --- | --- | --- | --- | --- |
| QSR | RESTAURANT BRANDS INTERNATIONAL INC. | 54.42 | +0.07 | +0.13% |
Proceeds from each purchase will go toward the Popeyes Foundation which was founded in 2018.
The foundation works to support Popeyes' employees and the surrounding communities through its partnership with No Kid Hungry. The foundation also assists team members and/or their immediate family members who may be victims of natural disasters.
Popeyes is owned by Restaurant Brands International.
Adidas did not immediately respond to FOX Business' request for comment.