McDonald's entering chicken sandwich wars amid increased demand for sandwich-sized chicken breasts
Popeyes' demand overwhelmed its supply last year
The new chicken sandwich at Popeyes Louisiana Kitchen last year was so popular that the chain quickly ran out of the chicken breasts it uses to make the sandwiches.
Now, with fast-food behemoth McDonald's testing a crispy chicken sandwich in some markets and preparing to launch two new chicken-based breakfast sandwiches, suppliers may be hard-pressed to meet the demand from so many chains.
Americans ate an estimated average of 96.2 pounds of chicken each in 2019, according to the U.S. Department of Agriculture. That's more than any other type of meat. That demand has been steadily rising almost every year for decades; the per capita average amount of chicken eaten by Americans was 80 pounds in 2009 and 76.4 pounds in 1999.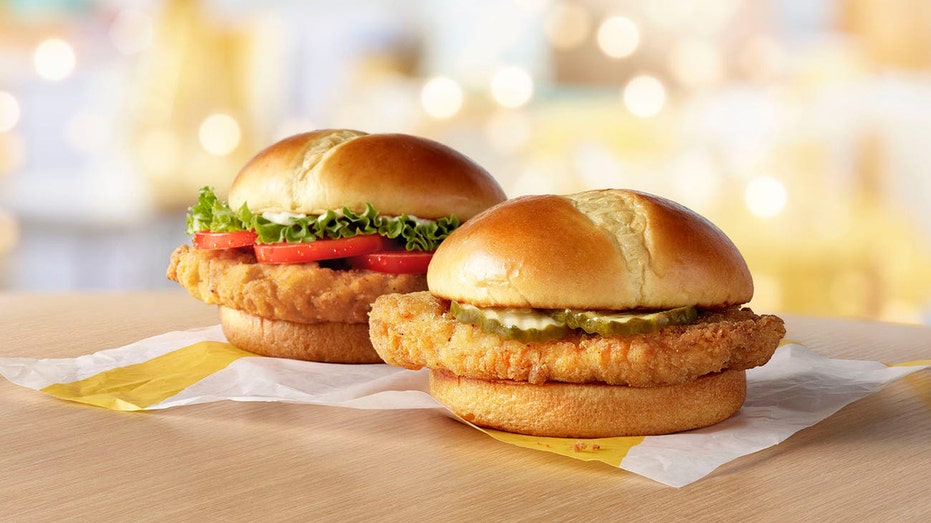 MCDONALD'S TAKES ON RIVALS POPEYES, CHICK-FIL-A WITH NEW BREAKFAST ITEMS
As demand has grown, chickens have gotten bigger. The average chicken market weight was 6.26 pounds in 2018, compared to 3.07 pounds in 1955, according to the National Chicken Council. But those popular fast-food chicken sandwiches rely on smaller chickens weighing less than 4.25 pounds, Bloomberg reported Tuesday. Those smaller birds are ideal for the fast-food sandwiches because they don't need to be cut down into portion-size pieces.
"There is some constraint there, in the availability in the size of birds that end up in the chicken sandwich category," Will Sawyer, lead animal protein economist for CoBank, told FOX Business.
| Ticker | Security | Last | Change | Change % |
| --- | --- | --- | --- | --- |
| MCD | MCDONALD'S CORP. | 226.00 | -3.37 | -1.47% |
| TAST | CARROLS RESTAURANT GROUP INC | 6.63 | -0.06 | -0.90% |
| QSR | RESTAURANT BRANDS INTERNATIONAL INC. | 56.24 | -1.24 | -2.16% |
At Perdue Farms, the maker of the top fresh chicken brand in the U.S., between 25 and 30 percent of its U.S. chickens fall under what it classifies as "small birds," weighing about 4 pounds, according to Eric Christianson, the company's chief marketing officer.
"We've seen a steady demand over the last several years for this size chicken, primarily from foodservice customers," Christianson said.
The introduction of Popeyes' new chicken sandwich sparked a Twitter feud between the chain and Chick-fil-A. Interest in the sandwich saw Popeyes' sales spike the week of the feud in August, according to analytics firm Second Measure. And even after running out of the sandwiches, the chain's sales remained higher than average in the following weeks.
GET FOX BUSINESS ON THE GO BY CLICKING HERE
Even though the sandwich was unavailable for more than two months, Popeyes franchisee Carrols Restaurant Group reported a 21.2 sales increase from October to December.
"I think the industry loves to be caught off guard in a situation like this," Sawyer said. "Too many times we end up with supplies that don't respond as positively as we like, so this is a good problem to have."
For Chick-fil-A, the feud was less notable. The chain did see a slight dip in sales during the first week, but its sales were still 283 percent higher than Popeyes' sales, according to Second Measure.
Growth in the chicken market has been growing at a double-digit pace, according to Sawyer. And while that growth may slow, it's showing no signs of stopping for now.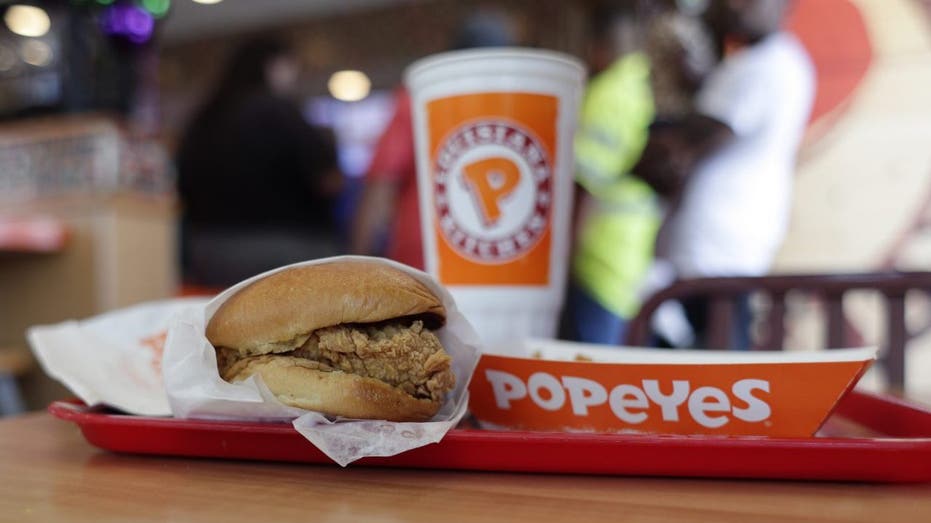 HANKERING FOR POPEYES' CHICKEN SANDWICH SERVES UP SALES FEAST FOR FRANCHISEE
"One thing we wonder about is, at what point can the U.S. consumer not eat any more chicken? And based off these chicken sandwich wars, there's still more to go," Sawyer said.
Even with the increasing demand, Sawyer was doubtful that a chain would run out of supply again like Popeyes did. The industry has been working to meet consumers' appetite for chicken, with three new plants going online in 2019.
And fast-food chains don't even make up the bulk of the domestic chicken market. About 55 percent of chicken consumption takes place at home, according to Sawyer. And while Christianson said Perdue has seen its "small chicken" weight hover at about 4 pounds or so due to foodservice's unique requirements for sandwiches, the industry's average weight of tray pack and large deboned offerings has increased.
"There's a lot of folks that are working to try to help meet this demand because in the food business, trying to find strong demand growth is not that easy all the time," Sawyer said. "So when we see something like these 'chicken wars' going on, it's definitely something the industry is working to respond to."