Passenger on United Airlines flight to Texas allegedly punches flight attendants, attempts to jump from plane
The incident occurred on a flight from San Francisco to Houston
A United Airlines passenger from Texas was restrained by other passengers after he allegedly assaulted a flight attendant and attempted to jump out of the emergency exit before the plane took off from San Francisco International Airport to Houston International Airport.
According to a dramatic video posted by Naya Jimenez, the passenger, later identified as 47-year-old Cody Benjamin Lovins, become upset at a United Airlines flight attendant and began repeatedly punching her.
Jimenez shared she and her family boarded the 11:59 p.m. departure flight to Houston, Texas to return home from their vacation in California. As she walked toward her assigned seat, she noticed Lovins' wife was sitting in her assigned seat.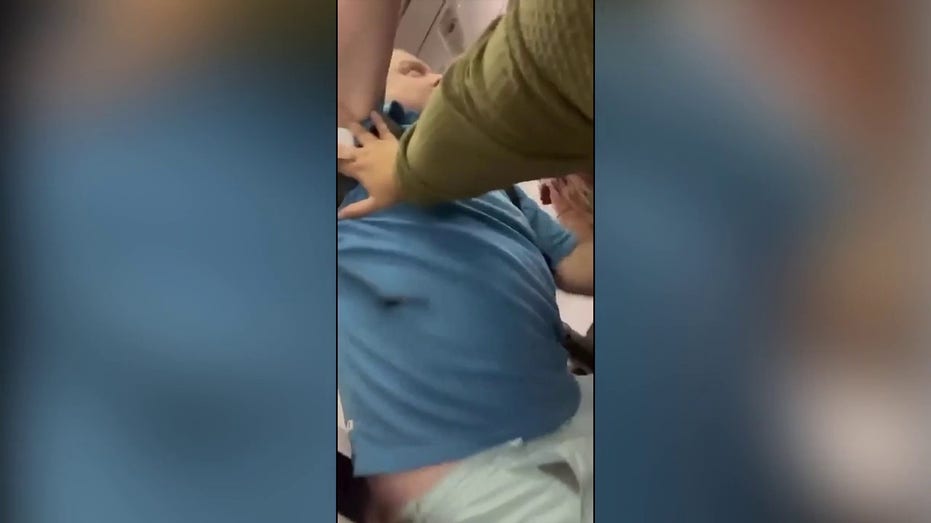 Jimenez said she showed the woman her boarding pass and asked if she could slide past her to sit in the next seat, but the Lovins' wife blocked her, requiring her to sit in a nearby seat. 
"I'm not really a confrontational person, so I sat at a seat that I found nearby and just kind of waited things out because I didn't want to block anybody else from sitting in their seat," she told KTRK.
'WASTED' DELTA PASSENGER IN FIRST CLASS ACCUSED OF FORCIBLY KISSING FLIGHT ATTENDANT: COURT DOCS
Eventually, a flight attendant ventured over and inquired about the disruption. Jimenez said that she quickly explained to the flight attendant the disagreement and the female flight attendant spent 30 minutes attempting to calm the woman down and insist that she sit in her assigned seat. 
A gate employee then boarded the plane and approached Lovins and his wife, telling them the woman was not assigned to the seat she was sitting in.
"Although you can tell at that point his speech was a little bit slurred, he explained that they had a flight delayed and eventually missed their flight and between the waiting time from their previous flight to the flight that we were on, he upgraded both of their seats," Jimenez said.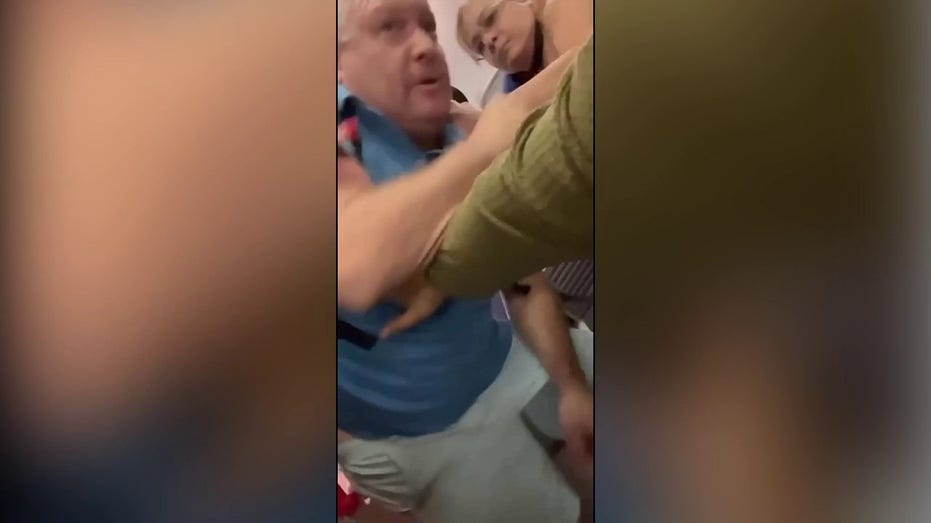 Jimenez said the employee had to explain that the seats were upgraded differently, but Lovins' anger continued to escalate.
"He asked at that time, 'Why are you smiling at me,' to the gate attendant that was there. And that's when we realized, this was probably not going to be good," Jimenez recalled. 
"That's when we realized, this was probably not going to be good."
Lovins' anger eventually grew to a boiling point, and the disgruntled passenger began repeatedly punching the United Airlines employees. 
In the video of the altercation, passengers are seen helping the airline employees by grabbing the out-of-control passenger by his blue t-shirt. 
"Oh my God! Stop! Stop!" other travelers exclaimed amid the brawl.
INTERNATIONAL AIRFARE PRICES SURGE PAST 2019 LEVELS
"After he paused for a minute, he ran toward where the pilot was, where the emergency exit doors are, and attempted to open it," Jimenez told KTKR. "He successfully opened the emergency exit and was about to jump down."
"The flight attendants just kicked in, and everybody pulled him back to safety," she continued
Lovins' was arrested by the San Francisco Police Department, and charged and released on battery charges.
A representative from United Airlines confirmed the incident to Fox News Digital, calling the behavior "unacceptable" and sharing that the passenger has been banned from future United flights. 
"On Sunday night, our team at San Francisco International Airport immediately contacted law enforcement after a disruptive customer assaulted one of our customer service employees during boarding." United Airlines said in a statement. "This customer's behavior was unacceptable, he has been banned from future United flights, and we are working with local law enforcement in their investigation."
CLICK HERE TO GET THE FOX BUSINESS APP
"We're grateful to our team for their professionalism and for looking out for the safety of our customers and their fellow United employees," the airline continued.