Celebrity Secrets: Mercedes Cruises at Volkswagen Prices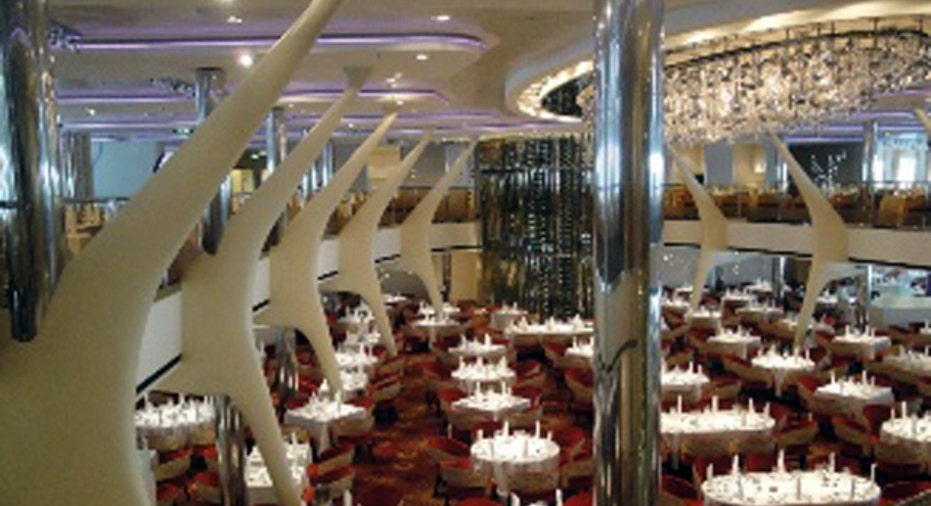 The cruise industry is probably one of the most misunderstood in the world.
People who have never taken a cruise tend to not only be misinformed about the industry, but harbor harshly-negative opinions about the experience. Not that many people are in the middle of the road when it comes to their feelings about cruising: they either love it, or hate it. With that said, the conversion from hater to lover almost always occurs during the first cruise.
The relevance of all this was underscored by Richard Fain, CEO of Royal Caribbean, as we sailed in the North Sea last week on the newly-built Celebrity Silhouette. Most people wont even consider a cruise until they hear about it from someone they know personally, a relative or next door neighbor, he said.
Only 17% of Americans has ever sailed on a cruise. About 10 million Americans cruised in 2010, and about 35% of those were on their first cruise--that means the U.S. cruise market only had 3.5 million conversions last year. But study after study has shown that the vast majority of first-time cruisers come back, with many of them becoming quite passionate about cruise ships.
Celebrity Silhouette is the fourth in the highly-regarded Solstice class of ships built by Celebrity Cruises (which is owned by Royal Caribbean International). It is a stunningly beautiful ship, which is a good thing since Celebrity chose to build five of these ships with identical floor plans (the definition of a class of ships).
During last week's cruise, Celebrity President Dan Hanrahan was asked why these beautiful ships werent commanding higher prices, he replied, cruise prices are never high enough for the cruise line. But every cruise executive also knows that raising prices is a lot harder than lowering them--especially in a tough economic climate. In fact, cruise lines price their cruises to sell the ship out entirely; roughly 25% of their income comes from onboard revenue like drinks, shops, casinos, specialty restaurants, rather than cruise fares.
Suppose I was telling you about a Mercedes Benz vehicle that had all the quality and value the brand's name implies, but was priced like a Volkswagen. You would probably go out and buy one.
That pretty much describes the Celebrity Solstice class: they're spacious, lovely to behold and  ride very smoothly--even in the North Sea. But they are not commanding the premium prices, cabins on these Solstice-class ships, which are regarded as among the best ever built, are selling for about the same price as any average cruise ship because the average consumer doesnt know the difference.
So let me tell you about the Celebrity Solstice's class of ships.
Celebrity now has four Solstice-class ships in service, with one more under construction. Ship classes are usually named after the first vessel in the series and Celebrity Solstice was introduced in November 2008. Celebrity Equinox was inaugurated in February 2009 followed by Eclipse in April 2010. The fifth and final ship in the class, Celebrity Reflection, will arrive in November 2012.
Cruising is a tough business and profits can be found in unexpected ways, like hedging fuel costs and currency conversion benefits. In December 2012, Celebrity Solstice will relocate to Australia where the Aussie dollar has gone from 60 cents U.S. to $1.09 in less than two years. Solstice will be joined there by several other ships -- some leaving the California market--which has dwindled from more than a million cruisers per year to about half that number since 2008. The  ships heading Down Under hope to cash in the Aussie currency conversion gold mine.
Equinox is currently in the Mediterranean, where it will stay until almost December. The November cruises are good bargains at under $100 a day for verandah staterooms.
Eclipse, currently in the Mediterranean, will relocate to Florida in November for the winter Caribbean season. Next summer she will sail the North Atlantic, including Iceland, Scotlands Faroe Islands and Norway.
Silhouette is also heading to the Mediterranean for Holy Land Cruises which I recommend highly. These cruises spend four days in Israel, a place with so much to see you want all the time possible. Jerusalem is a holy city for three major religions and northern Israel has Nazareth, Capernaum, Masada and the Dead Sea. The 12-night Sept. 3 cruise has veranda staterooms as low as $1,299.
Silhouette then relocates to New York City for the winter season, sailing 12-day cruises from Bayonne, N.J., to the Southern Caribbean from November 2011 through April 2012. The best prices are in January.
All cruises are bargains right now, but as long as were shopping we might as well get the best value for our money. Celebrity is considered a premium cruise line, which puts it above mainstream cruise lines like Royal Caribbean, but not as upscale as the smaller ships that carry far fewer passengers, which allows them to offer much more personalized service.
Cruising 101
As always if you need to know more about cruising we urge you to consult our Cruising101 FAQ.
I started writing about stock market investing for Motley Fool in 1995, but previously I worked aboard cruise ships. I co-founded the CruiseMates.com cruise travel guide on the Internet in New York City in 1999. CruiseMates was acquired by Internet Brands in 2006. Once CEO, I am now the editor of CruiseMates