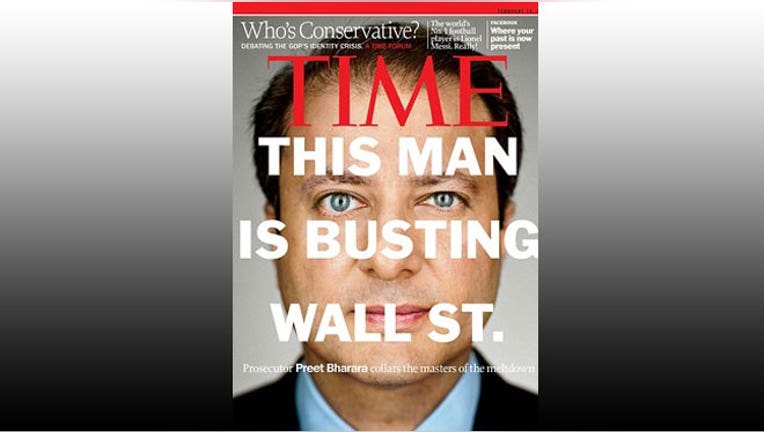 All of the good publicity flowing from the crackdown on insider trading has one of the nation's top law enforcement officials looking at what he might do in the future, and he's seeing a lot of green.
Preet Bharara, the US Attorney for the Southern District, is telling friends that if he should leave his job today, he could earn as much as $6 million in the private sector, according to people with direct knowledge of these conversations. Bharara's private statements come as speculation grows in Washington that the politically savvy prosecutor might also replace his boss, US Attorney General Eric Holder, if President Obama wins re-election.
A spokeswoman for Bharara wouldn't deny the conversations about Bharara's private sector ambitions -- or the possibility that he might replace Holder. In a statement, she told the FOX Business Network:  "As Preet has made clear on countless occasions, he loves his job more than anything except his family and has zero interest in pursuing any other opportunity, public or private, so long as the President will have him."
Bharara, of course, wouldn't be the first person from that office to have both political and private sector ambitions -- and be successful at both. Rudy Giuliani famously used his record as a corporate crime fighter in the 1980s to join a private law firm, earn a big salary and then run successfully for mayor of New York City. He is now the chief executive of his own consulting firm, Giuliani Partners.
But Bharara has ruffled feathers of late among long-time prosecutors who believe he is taking undue credit for his office's high-profile investigation into insider trading. President Obama appointed Bharara to the job in May of 2009, but the roots of the investigation began during the Bush Administration in 2007.
The Securities and Exchange Commission that year began developing a case against former Galleon Group chief Raj Rajaratnam, and then turned over its evidence to the Federal Bureau of Investigation, which decided to infiltrate both Galleon and the entire hedge fund business through the use of wiretaps, which up until then were only used to make cases against mobsters and terrorists.
Bharara's critics in the law enforcement community say that his office is hyping his role in the insider trading probe with a massive public relations campaign that includes selective leaks about upcoming arrests and most recently a Time magazine cover story titled "This Man is Busting Wall Street."
They point out that the case against Rajaratnam and many other targets of the wide-ranging probe were well underway before he became Southern District chief.
Bharara is widely regarded as an able lawyer and most people who know him from his days working on the staff of US Senator Charles Schumer say he's dedicated to public service. They also give him high marks for running the Southern District office in a largely professional manner.
But one problem for Bharara is that the carping over what some say is excessive publicity just doesn't come from the usual quarters, namely other law enforcement agencies that think he's taking too much credit for the insider-trading crackdown, but from prosecutors in his own office, according to a senior law enforcement official with direct knowledge of the matter.
That said, private law firms seek out prosecutors of Bharara's level primarily because of the high-profile clients they can attract.
"I have no doubt he would be a star in the private sector," said former SEC chairman Harvey Pitt, who also worked as a high-profile private-sector attorney. "Bharara deserves enormous credit for the insider-trading effort, the cases his office has brought, and what his office is accomplishing. I just think it would be better if other people said that."