Analysis: As Patients Put up With Pain, Device Sales Suffer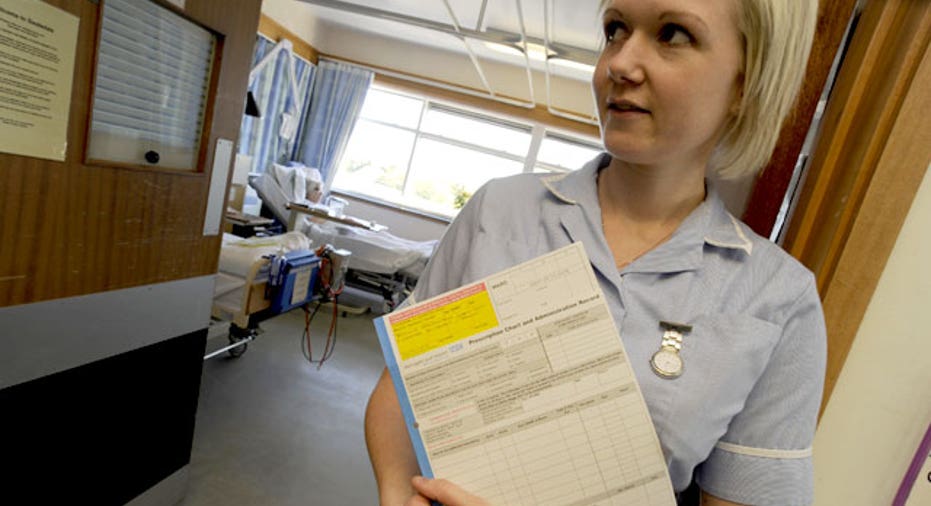 Orthopedic surgeon John Tongue sees more patients these days who are in pain and deciding to do nothing about it.
As it gets harder for them to walk, some find hip or knee replacement surgery a compelling option. But many of Tongue's patients have another worry, one that is causing some to delay treatment and live with the pain awhile longer.
"We have more people who are anxious about losing their jobs if they have elective surgery. They are anxious about returning to work," said Tongue, who practices near Portland, Oregon, referring to the time they would need to take off to recuperate. He does up to 400 procedures a year.
With 14 million Americans searching for work, lack of health insurance is one reason some people are putting off medical procedures such as joint surgery.
For those who do have jobs and insurance, the fear of being expendable at work combined with sticker shock from rising out-of-pocket expenses is a deterrent to getting care. Some older patients are even waiting until they are eligible for the government-funded Medicare program at the age of 65.
"They are concerned about higher deductibles and costs. They want more information about what their total bill will be if they have the procedure," Tongue said. "We're seeing people trying to put things off until they get to Medicare, with the impression that they will have a lower cost."
As the economy struggles to avoid recession, sales of medical devices such as artificial hips and knee joints are expected to remain sluggish into next year.
The new projections confound expectations by companies that had bet a recovery would come earlier, on the assumption that patients could not wait too long for treatment. Some could reset their forecasts as they report quarterly financial results, starting this week, analysts said.
"People are putting off any sort of non-acute, nonsymptomatic care. Even if it is symptomatic, until it becomes acute they are not taking the time to come in," said Morningstar analyst Debbie Wang. "Especially if unemployment stays at 9%, a lot of folks are going to clench their teeth and ignore the pain."
A "NEW NORMAL" FOR HEALTHCARE?
Some analysts have scaled back growth forecasts for the big orthopedic and cardiac device makers in recent days, throwing in the towel on hopes for a modest pickup in demand next year.
A report by Ernst & Young last month cited a "new normal" for the medical device industry, extending a term more often tied to credit card use or discretionary shopping patterns. In healthcare, that shift is partly based on patients turning down treatment when they question its necessity.
"We no longer expect a procedural rebound in 2012," said Mizuho Securities analyst Michael Matson. "Analysts' estimates still assume some sort of recovery next year, and that isn't going to happen."
Matson cut his forecast for hip and knee procedure growth in 2012 to 1% from his prior expectation for growth of 3%, a field led by Johnson & Johnson, Stryker Corp and Zimmer Holdings.
For the spine device market -- a major business for Medtronic Inc and others -- he now expects flat volume next year, down from his previous forecast for slight growth of 1%.
The slowdown is being felt beyond orthopedics, in specialties ranging from urology to cardiology.
Morningstar's Wang expects volumes in one of the industry's top markets -- implanted heart defibrillators -- to decline by 2% to 4%, affecting Medtronic and rivals Boston Scientific Corp and St Jude Medical Inc, two large healthcare companies with significant device businesses, as well as Intuitive Surgical Inc, Stryker, St Jude, Boston Scientific and Baxter International Inc all report quarterly earnings this week.
Expectations for many medical technology companies in the third quarter have already been lowered to reflect the ongoing weakness in surgical procedure volumes, with the focus now turning to companies' projections for 2012.
According to research from J.P. Morgan, which keeps a database of 8,000 U.S. physicians, office visits in September declined 8% from a year ago, following a 7% drop in August and a 4% slump in July.
Visits in the third quarter fell to the lowest level since the bank began collecting data in the first quarter of 2008 and mirror a drop-off in U.S. consumer confidence.
Device makers are also under pressure with the implementation of a U.S. healthcare overhaul, which is expected to bring cuts to Medicare reimbursement rates for hospitals.
That means doctors and other healthcare providers are likely to take an even harder line on the pricing and use of medical technology.
With an aging population and more baby boomers approaching retirement age, physicians and analysts alike believe some bounceback in procedures is inevitable.
"If you need a hip replaced, you are going to get a hip replaced eventually. Otherwise you are going to be in a wheelchair," said Morgan Keegan & Co analyst Jan Wald.
"I don't think this is a secular trend that is going to impact the markets forever. When the economy comes back, we'll see a pickup," Wald said.
The timing, however, continues to elude industry watchers.
"Historically it was not the case that this group was tied to the economy, but they definitely are now," said Leerink Swann analyst Rick Wise.