Airbus: We're Upping Production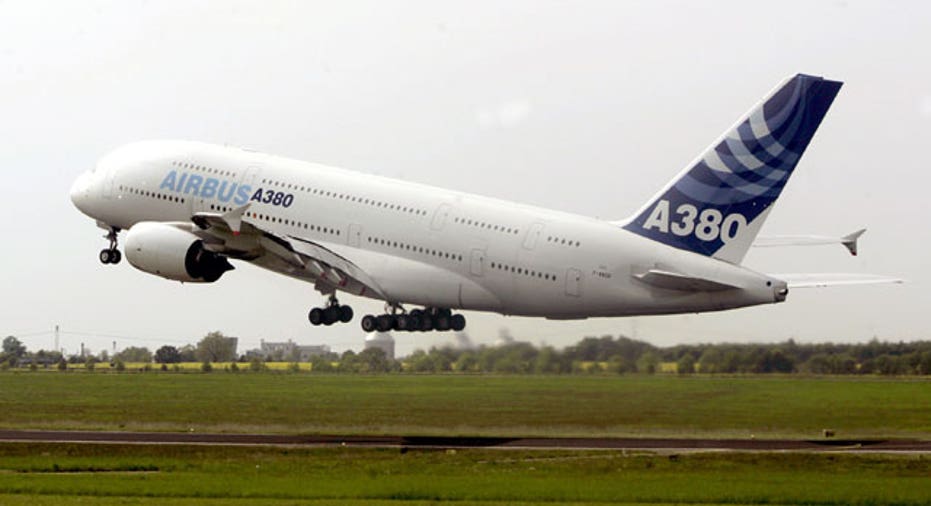 European planemaker Airbus on Wednesday confirmed plans to increase production of its best-selling A320 family of aircraft to a record 42 planes a month, underlining signs of a global economic recovery.
The increase cements Airbus's position as the world's largest planemaker ahead of Boeing and coincides with a WTO appeal verdict over European government subsidies which Boeing says bankrolled its rival's success.
Civil aircraft demand is picking up faster than expected as air traffic recovers and funds return to the leasing market, coupled with oil prices that force airlines to renew fleets.
"Demand is strong because we are at the right price point on oil, where it is driving people to get more efficient planes, without having gone to the point where it would be driving down demand for air travel," Tom Williams, executive vice president of programmes at Airbus, told Reuters.
"The demand is there for 42 and we would have liked to have gone to 44 and we're still evaluating whether to do that," Williams said in a telephone interview.
The Airbus A320 competes with Boeing's 737 for sales estimated at $1.7 trillion over the next 20 years.
The two competing 100-200 seat aircraft are the backbone of most airlines' medium-haul fleets and are credited with powering the dramatic growth of low-cost carriers.
Airbus produces 36 A320 planes a month now and was already planning to reach 40 a month in early 2012. The new rate of 42 will come into effect from the fourth quarter of 2012.EADS said last week it was considering an output increase.
Airbus recently announced a new version of its A320 with newer and more efficient engines from 2015, to be known as the A320neo. Boeing is pondering how to respond to the threat.
NEW COMPETITION
Preparations for a production hike were first disclosed in November, when sources told Reuters that both Airbus and Boeing were consulting suppliers over separate plans to take combined output of popular models above 80 a month within 4-5 years.
The historic upswing in production could see Airbus building as many as 44 A320 single-aisle planes by 2014 or 2015 and Boeing rising to as many as 42 of its 737 planes a month, aerospace industry sources have told Reuters.
The aim is to be ready for a stronger-than-expected recovery and gain the flexibility to counter new competition as China, Canada, Russia and Brazil challenge the transatlantic duopoly.
However, there are concerns over whether suppliers, weakened by the aviation recession and in some cases also battered by the slump in the car industry, are ready to produce flat out.Williams said suppliers were in "pretty good shape."
For now, Boeing produces 31.5 of its 737s a month and targets a rate of 38 a month in the second quarter of 2013.