Airbus Expands Order Record, Boeing Set to Rebound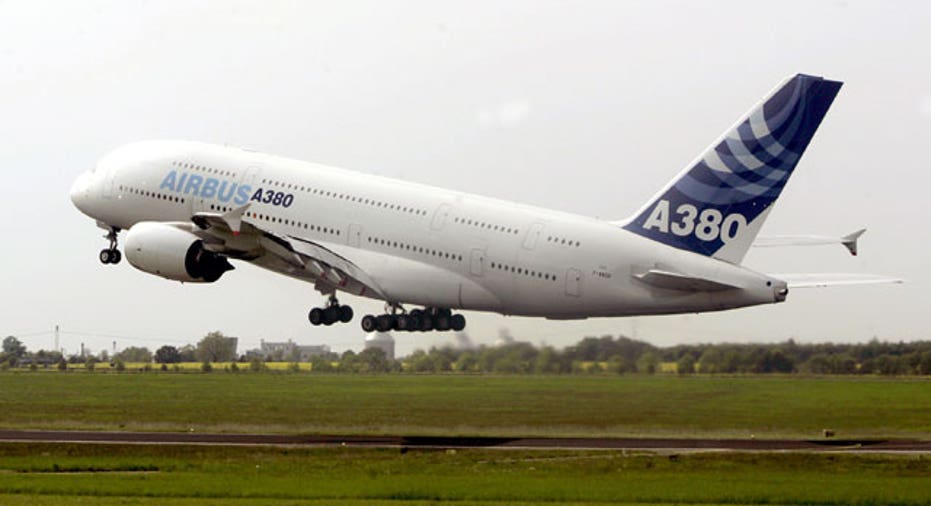 Airbus is on course to end 2011 with well over 1,600 orders, pushing Boeing (NYSE:BA) to the lowest market share of their 40-year rivalry, but Boeing has stored up momentum for a comeback as both companies put fresh vigor into their most-sold jets.
Although Boeing took a year longer than Airbus to revamp a key model to meet demand for lower fuel costs, both enjoy strong demand as Asian growth and the replacement of old aircraft in the United States blot out the euro crisis, at least for now.
The dominant jetmakers track each other more closely in deliveries, which drive revenues and are considered a gauge of competition. Airbus is expected to remain ahead for the ninth year running as it meets a record goal for 520-530 deliveries.
Airbus has 1,529 firm orders so far this year, including an eight-plane deal announced since its November data.
The number already represents a new record for the European planemaker, which outsold Boeing for most of the past decade, sparking trade friction between Europe and the United States.
This year's lead is particularly pronounced because of demand for the revamped version of its 150-seat A320 jetliner.
The jazzed-up A320neo aims to provide 12-15% in fuel savings due to new engines. Boeing has responded with the 737 MAX, a refresh of its most popular model that also involves new engines. Armed with data, both companies say their offering is better.
Underlying Airbus orders are higher still at 1,609 including a previously announced 80-plane deal with Republic Airways that did not immediately enter the order book.
That leaves 174 provisional A320neo orders still to be confirmed, many of which may trickle through in coming days judging by a pattern of chasing deadlines in previous years.
They include provisional orders for a total of 63 airplanes from Mexico's Volaris and Colombian AviancaTaca.
The industry will also be watching to see whether U.S. lessor Air Lease Corp (NYSE:AL) completes a draft order for 36 A320neo planes this year after its influential founder Stephen Udvar-Hazy expressed skepticism even while ordering the jet.
The California-based company has said it is negotiating with Airbus over its future A350, providing some potential leverage.
2012 REBOUND
Boeing, by contrast, has 894 orders so far this year. Business is up since 2010, but Boeing slumped behind Airbus in the 2011 race as it hesitated over whether to match the A320neo or build a more ambitious new aircraft at the expense of near-term sales. It chose the first option by launching the 737 MAX.
"For nine months as Boeing hesitated, they left the A320neo almost alone on the market," Louis Gallois, chief executive of Airbus parent EADS told analysts in remarks released this week.
Boeing has effectively ceded 2011 in volume terms to its arch-rival, but may spring further orders before the end of the year.
The only real suspense is over whether Boeing will achieve a 40% market share in 2011, the lower end of a 40-60 band that many analysts regard as the framework for a stable duopoly.
Currently it has a volume share of 37% and would need to sell over 180 aircraft by end-year to get back to 40 percent, with the target moving away from it as Airbus closes more deals.
The picture for Boeing may not be as bleak as a single year's figure would suggest. On average the rivals remain close.
Boeing has almost 800 provisional contracts for the 737 MAX waiting to be completed, including 462 for which the names of the buyers have not yet been disclosed.
Some may come through in coming days, but the bulk are expected to slip beyond the New Year, giving the company a head start for what many analysts expect to be a bounce-back in 2012.
The company also stuck close to its rival in value terms after a record slew of more than 200 orders for its 777 mini-jumbo.
The $300 million 1990s long-range jet is enjoying a second honeymoon with airlines after Airbus failed to allay criticism of its competing A350-1000, due out in 2017. While Airbus has been in the driving seat for narrowbodies this year, analysts say Boeing is still setting the pace for many larger jets.
The two companies are preparing for a major battle over a $16 billion order expected to cover approximately 180 aircraft from United Airlines (NYSE:UAL) in the first quarter, including possibly 130 of the latest generation of revamped 150-seaters.
The aircraft makers are also expected to push hard over the holiday season to complete aircraft deliveries for 2011.
Airbus has already said it will beat a previous record of 510 deliveries and is expected to reach its goal of 520-530, though this implies its second-busiest December schedule after 2009.
Steady deliveries are seen as the lifeblood for both planemakers in 2012 as doubts gather over the economy and the ability of airlines to pay for their aircraft. Barring global recession, the industry insists for now financing is secure.