Nancy Pelosi rips Facebook over altered Trump speech-shredding video
Footage 'deliberately designed to mislead and lie to the American people,' spokesman says
House Speaker Nancy Pelosi's office is condemning Facebook and Twitter for refusing to remove a video of the State of the Union address that was altered to show her ripping up President Trump's speech after each story he shared about his guests, one of whom was a Tuskegee airman.
In actuality, Pelosi tore a paper copy of the address into pieces only after Trump finished, describing his comments as a "manifesto of mistruths."
GET FOX BUSINESS ON THE GO BY CLICKING HERE
During the 78-minute speech, the president had credited his administration with driving an economic boom, described his policies as pro-worker and inclusive and awarded a Medal of Freedom to Rush Limbaugh. The conservative talk radio show host, frequently accused of hate speech, has been diagnosed with advanced lung cancer.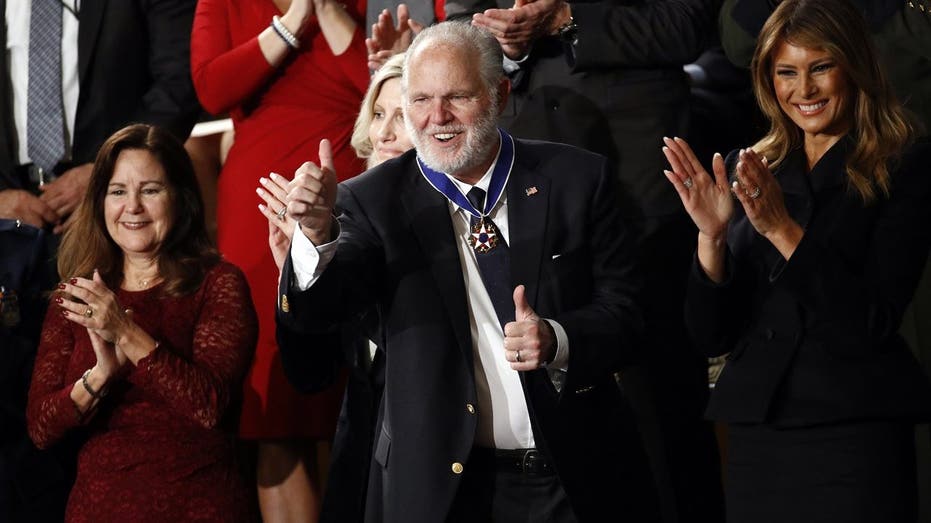 Pelosi's non-verbal commentary, caught on camera since she was situated directly behind Trump for the ceremonial event, was cheered by some Democrats and blasted by Republicans, who described it as an insult to Americans whose stories Trump included in his speech. Those included a soldier returning from Afghanistan, a fourth-grade student seeking a better school and Tuskegee Airman Charles McGee.
The Tuskegee Airmen, who served in combat during World War II, were the first black fighter pilots in the U.S.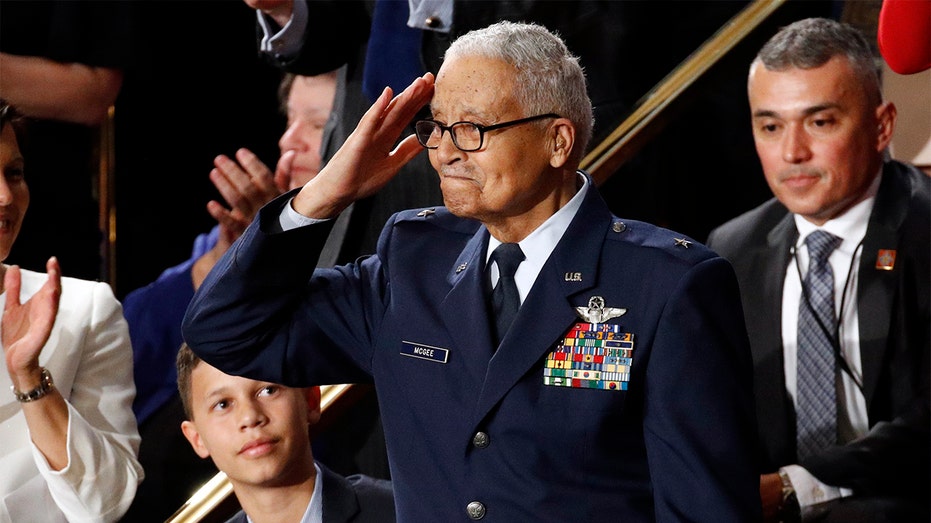 Some Twitter users suggested that the video, which Trump shared, was created to back up the Republican characterization of events. Regardless of intent, it highlighted the ongoing debate over false content on social media, which has been raging since U.S. intelligence agencies said Russian operatives used the platforms to inflame and influence voters in the 2016 presidential election.
"The American people know that the president has no qualms about lying to them – but it is a shame to see Twitter and Facebook, sources of news for millions, do the same," Pelosi's Deputy Cheif of Staff Drew Hammill tweeted Friday.
"The latest fake video of Speaker Pelosi is deliberately designed to mislead and lie to the American people, and every day that these platforms refuse to take it down is another reminder that they care more about their shareholders' interests than the public's interests," he added in a second post.
FACEBOOK WOULDN'T TAKE DOWN EDITED PELOSI VIDEO UNDER NEW 'DEEPFAKE' RULES
A Facebook spokesperson told FOX business that the video "does not violate" criteria that must be met for edited footage to remain on the site.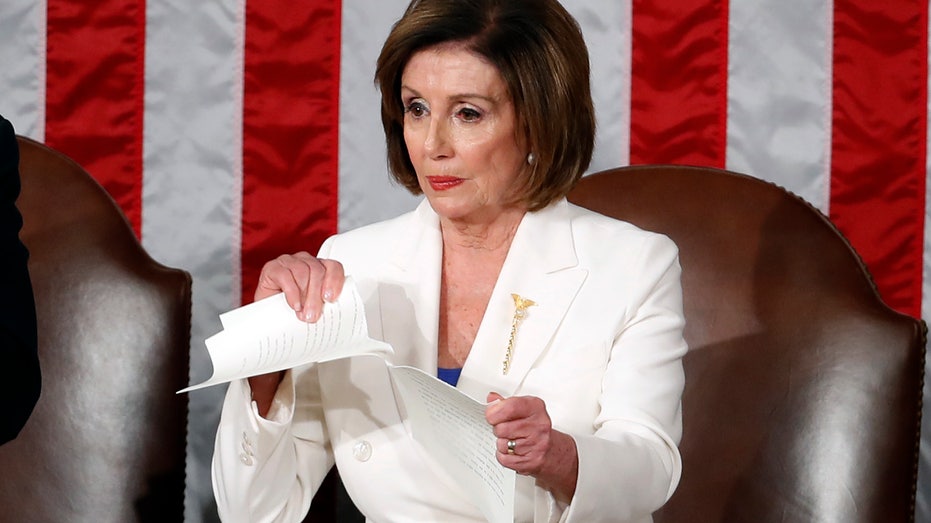 Facebook will only remove media that have been "edited or synthesized – beyond adjustments for clarity or quality – in ways that aren't apparent to an average person and would likely mislead someone into thinking that a subject of the video said words that they did not actually say," the spokesperson added. The prohibition covers so-called deepfakes -- illegitimate videos edited to look real using advanced technology.
Perhaps the most relevant part of the policy for Trump and Pelosi, whose strained relationship deteriorated further when the House impeached the president, is the specification that it "does not extend to content that is parody or satire, or video that has been edited solely to omit or change the order of words."
'COMFORTABLY SMUG' TWITTER ACCOUNT SUSPENDED FOR 'HARASSMENT' 
Facebook spokesman Andy Stone pushed back at the Democratic Speaker on Twitter. "Are you suggesting the President didn't make those remarks and the Speaker didn't rip the speech?" he asked. "The reason I was making the point about the fact that the things featured in this video actually happened is because that's a key element of our policy on content like this."
Hammill replied to Stone again, demanding Facebook remove the video. "What planet are you living on?" he asked. "This is deceptively altered."
A Twitter spokesperson told FOX Business the company wouldn't comment on its decision to keep the edited Pelosi video up but pointed to the company's new policies that go into effect on March 5.
ZERO HEDGE: TWITTER BAN OVER CORONAVIRUS ARTICLE 'ARBITRARY AND UNJUSTIFIED'
The new rule says users "may not deceptively share synthetic or manipulated media that are likely to cause harm. In addition, we may label Tweets containing synthetic and manipulated media to help people understand the media's authenticity and to provide additional context."
Rep. Ro Khanna, D-Calif., who represents Silicon Valley, shared the video, insisting that Twitter should remove it.
"Social media platforms are a place where people come for news [and] information," he wrote. "They need to have certain standards. Falsity has never been part of our First Amendment tradition."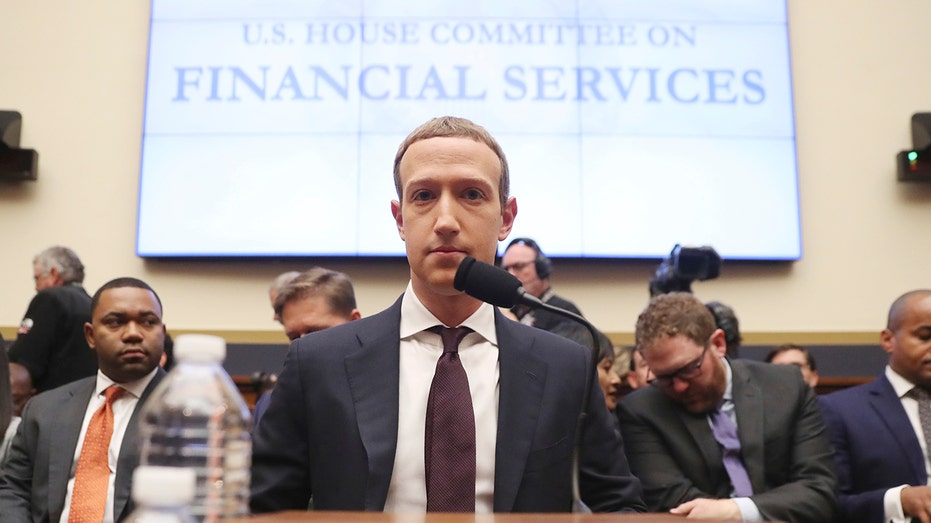 Others suggested the video is a creative way to depict what Pelosi's actions meant to those who enjoyed or were part of the speech.
Jody Jones, one of the president's guests and the brother of a man killed by an illegal immigrant, told FOX News that Pelosi's action was "probably the most disrespectful thing" he has ever seen.
"It felt like she ripped our hearts out," he said. "Everybody there. All of the guests. We couldn't believe it."
CLICK HERE TO READ MORE ON FOX BUSINESS
While the president's allies accused Pelosi of disrespecting the commander-in-chief, too, his critics have been quick to point to Trump's own behavior. They cite a litany of complaints, including the president bestowing belittling nicknames on political opponents, making disparaging comments about women and announcing Secretary of State Rex Tillerson's firing on Twitter before the former Exxon CEO himself had been informed.