Biden, Bezos among hacking victims in Bitcoin tweet 'scam'
Elon Musk, Bill Gates also among Twitter users hit
Twitter CEO Jack Dorsey said it's been "a tough day."
From a former head of state to current heads of companies, several prominent Twitter accounts were hacked Wednesday with tweets soliciting donations in Bitcoin.
Dorsey wrote that the company was in the process of diagnosing what happened.
"We all feel terrible this happened," he wrote.
Late Wednesday night, a Twitter Support tweet gave further detail on what the company says happened.
Business leaders' accounts including Bill Gates, Elon Musk, Jeff Bezos and Mike Bloomberg shared the tweets, which were later deleted. Accounts belonging to presumptive Democratic presidential nominee Joe Biden and former President Barack Obama tweeted them too.
"I am giving back to the community," some of the tweets stated. "All Bitcoin sent to the address below will be sent back doubled! If you send $1,000, I will send back $2,000. Only doing this for 30 minutes." They are then followed by a code for a Bitcoin wallet.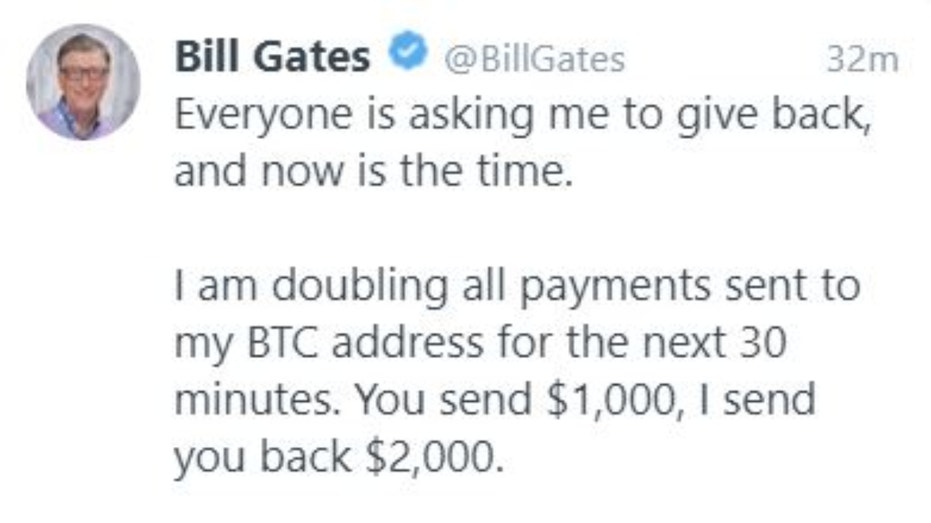 GET FOX BUSINESS ON THE GO BY CLICKING HERE
Twitter accounts for companies like Apple and Uber also shared the tweets, as did reality TV star Kim Kardashian West, boxer Floyd Mayweather and rapper Wiz Khalifa.
A spokesperson for Bill Gates confirmed to FOX Business that he had not sent the tweet.
"We can confirm that this tweet was not sent by Bill Gates," the spokesperson said. "This appears to be part of a larger issue that Twitter is facing. Twitter is aware and working to restore the account."
Ticker
Security
Last
Change
Change %
TWTR
TWITTER, INC.
62.24
-3.16
-4.83%
TWITTER BITCOIN HACK: LIST OF AFFECTED ACCOUNTS
Twitter said it was investigating a security incident.
"We are investigating and taking steps to fix it," the company wrote in a tweet.
Cryptocurrency-related accounts including Gemini, Coinbase, Binance and Coindesk were also hacked and sent scam-related tweets, according to Tyler Winklevoss, the CEO of Gemini and tech investor known for the legal battle he and his brother fought against Mark Zuckerberg over the creation of Facebook.
"DO NOT CLICK THE LINK," Winklevoss warned.
Bitcoin-tracking website Blockchain.com indicated the Bitcoin wallet linked in the tweets had been involved in more than 300 transactions, though it wasn't immediately clear how many, if any, were donations from people who saw the "scam" tweets. The account had received Bitcoin valued at more than $100,000, according to the website.
Due to the decentralized nature of Bitcoin, the transactions are irreversible.
Some verified users – whose names appear on Twitter with a blue checkmark next to them – were apparently unable to tweet for a time.
Sen. Josh Hawley (R-Mo.) sent a letter to Dorsey in the midst of the cyberattack asking the company to reach out to the Department of Justice and FBI for help securing its platform.
"I am concerned that this event may represent not merely a coordinated set of separate hacking incidents but rather a successful attack on the security of Twitter itself," he wrote. "As you know, millions of your users rely on your service not just to tweet publicly but also to communicate privately through your direct message service. A successful attack on your system's servers represents a threat to all of your users' privacy and data security."
The FBI's San Francisco field office told Fox News that it was aware of the incident.
"The accounts appear to have been compromised in order to perpetuate cryptocurrency fraud," a spokesperson said. "We advise the public not to fall victim to this scam by sending cryptocurrency or money in relation to this incident."