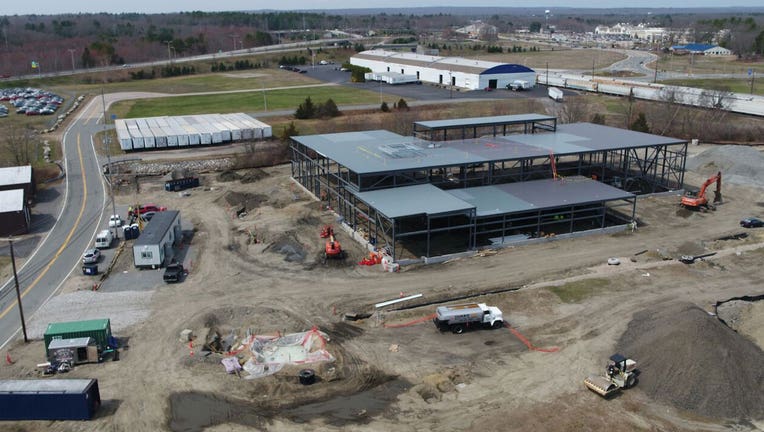 America's smallest state is now the biggest for construction job growth.
That may be an ominous sign for Houston and surrounding areas as the region attempts to rebuild from Hurricane Harvey, likely one of the costliest in U.S. history.
Rhode Island saw a 13.4% jump in commercial and residential building jobs over the past year through June – the biggest annual percentage gain of any U.S. state – based on recent data from the Associated General Contractors of America.
The Ocean State's first ever Commerce Secretary Stefan Pryor tells FOX Business that the 20,300 construction jobs created show the state is on a roll.
More From FOXBusiness.com...
"Rhode Works –is already underway and generating thousands of construction jobs. It is expected in 2017 the Rhode Island Department of Transportation will initiate projects totaling $1B in value," said Pryor, noting the state's roads and bridges have consistently ranked among the worst in the nation.
Rhode Island's progress is being led by Democratic Governor Gina Raimondo  and competitive tax incentives. Already her programs have led to the investment of nearly $1B in private real estate dollars, the relocation or expansion of 17 companies, and 27 real estate transactions.
The state is also benefiting from an uptick in residential and commercial construction helped as new businesses relocate to the state including Finlays,one of the world's largest tea companies. Construction is already underway for its new R&D center. Also Johnson and Johnson (NYSE:JNJ) has converted existing office space for a health-technology unit and GE Digital, a unit of General Electric (NYSE:GE), has established an office in Providence, an off-shoot of its planned new headquarters in Boston's Seaport District.
While Rhode Island's progress is being led by Democratic Governor Gina Raimondo and competitive tax incentives, President Donald Trump doubled-down on his own national infrastructure push earlier this month, rolling out new guidelines to streamline what he described as a "broken" permitting process.
"We're going to get infrastructure built quickly; inexpensively, relatively speaking; and the permitting process will go very, very quickly. No longer will we tolerate one job-killing delay after another," he said during a contentious press conference at Trump Tower in New York City.
---
New England Leads Construction Job Creation
Rhode Island: +13.4% to 20,300
New Hampshire: +11.1% to 28,100
Maine: +6.3% to 28,000
Connecticut: +2.5% to 60,400
Massachusetts: +1.2% to 146,600
Vermont: +0.7% to 15,300
Source: Associated General Contractors of America - June 2016-June 2017
---
As Trump moves to end job-killing bureaucracy, there may be another roadblock.
"The biggest worry is finding qualified workers, it is a wicked combination of aging workers retiring and high schoolers who are not being exposed to construction," warned Brian Turmail, spokesman for the Associated General Contractors of America, during an interview with FOX Business. Turmail also pointed out these jobs on average pay 10% more than standard jobs with a $28.90 per hour rate.
Despite higher salaries, Gilbane Building Company is experiencing a shortage first-hand, after many workers left the profession during the last recession.
"We are trying to replenish the ranks quickly and it is not easy to do," John Sinnott, vice president and Rhode Island business unit leader at Gilbane Building Company, told FOX Business.
The company is in need of workers on both the management side as well as building trade, which includes both union and non-union that work for its subcontractors industry-wide.
"We got a lot of work but we are also turning away work," Sinnott added.
Adding pressure to the hunt for skilled workers is competition from other New England states. New Hampshire saw construction job growth jump 11% through June and Maine 6.3%, bringing 12-month tallies to 28,100 and 28,000 workers, respectively, according to the Associated General Contractors of America.
While Trump and Department of Labor Secretary Alexander Acosta are ramping up vocational apprenticeship programs, Turmail worries the construction industry may be falling through the cracks. 
"We have been pushing the administration since before the inauguration but it is unclear if the administration's vocational push includes construction," said Turmail.
Inquiries to the Department of Labor were not immediately returned to FOX Business.
New England is not the only place construction workers are in demand. Pre-Hurricane Harvey, Houston, one of the nation's largest markets for new homes, was dealing with a similar situation.
Now, when Houston begins its rebuilding process, the nationwide need for construction workers will get even worse, Tim Rood, a former Fannie Mae executive, now chairman of The Collingwood Group, told FOX Business.
"There is no way to automate wiring and plumbing ... you won't have AI (artificial intelligence) or bots laying pipes," he warned.
Still, there is a silver lining, a potential windfall for those willing to take these jobs.
"You are going to have pay people a lot of money to swing a hammer," Rood added.
Suzanne O'Halloran is Managing Editor of FOXBusiness.com and a graduate of Boston College. Follow her on @suzohalloran