Debt battle: Democrats claim GOP will 'crash the economy' to help Trump win in 2024
Hakeem Jeffries said GOP stance shows they're willing to 'shoot the hostage'
House Minority Leader Hakeem Jeffries, D-N.Y., argued Wednesday that Republicans want to "crash the economy" to help former President Donald Trump win back the White House in 2024.
Jeffries and his two deputies in House Democrat leadership held a press conference as debt limit talks between White House aides and Speaker Kevin McCarthy's allies continue to show little progress, despite warnings that the U.S. government could run out of cash to pay its obligations in early June.
"What the House Republicans want is a dangerous default," Jeffries said. "They want to crash the economy. They want to trigger a job-killing recession because they believe that it will improve their electoral prospects for the insurrectionist-in-chief who's going to be their nominee in November 2024."
MCCARTHY DEBT CEILING NEGOTIATORS HEAD TO WHITE HOUSE, BUT HE SAYS GOP AND BIDEN 'STILL FAR APART'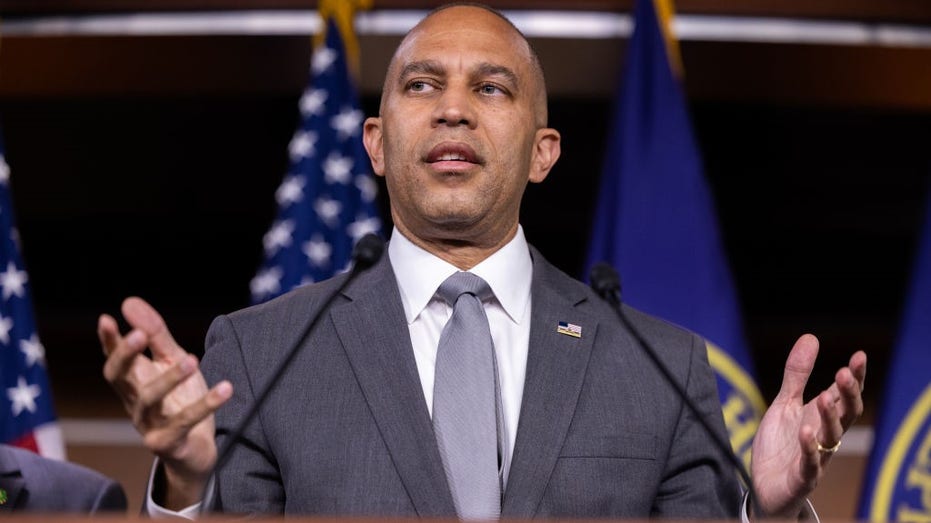 Negotiators for McCarthy and Biden met at the White House on Wednesday after meeting at the U.S. Capitol for several straight days. It's not immediately clear if there was any meaningful movement, but the discussions have primarily remained stuck over the issues of spending limits and work requirements for federal benefits.
Jeffries said Democrats would be open to freezing spending at current fiscal year levels, which would effectively be a modest cut when accounting for inflation. Republicans, however, are calling for a cutback to fiscal 2022 spending levels – roughly $150 billion less than this year. They're also calling for tightening work requirements for some Americans receiving federal benefits, another nonstarter for Democrats.
WHITE HOUSE 'DUG IN' ON DEMANDS IN DEBT LIMIT TALKS, MCCARTHY TOLD HOUSE GOP: SOURCE
Republicans have rejected Democrats' suggested revenue-raising measures to lower the federal deficit, definitively ruling out any tax increases.
"They don't care about spending, they care what ends up in the pockets of the wealthy and well-connected," Jeffries said. "And when the president offered to freeze spending, they said no, not unless you make it easier for the rich to dodge the IRS."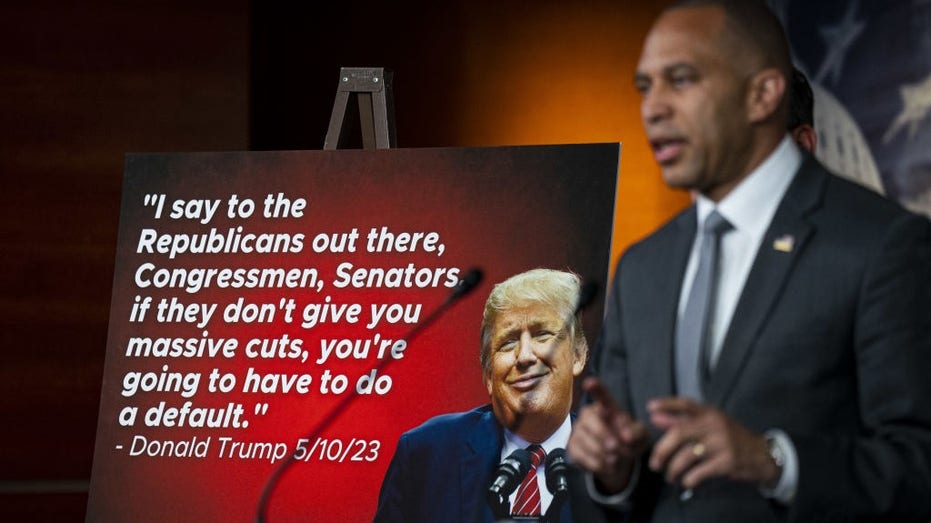 He ratcheted up the rhetoric, calling the American people a "hostage" of the GOP.
"The more that House Republicans talk, the more information and insight the American people have into their true motives, which is that they are engaged in a hostage-taking situation. The hostage is the American economy and everyday Americans," Jeffries said. "And apparently, at the end of the day, they're willing to shoot the hostage."
BIDEN ISSUES TERSE STATEMENT AFTER MCCARTHY DEBT CEILING TALKS: 'AVOID A CATASTROPHE' 
His press conference comes just after members of the Congressional Progressive Caucus held their own media availability to tear into House Republicans' debt limit proposal.
"Unreasonable, extreme, cruel," CPC Chair Pramila Jayapal, D-Wash., said to describe the bill.
Jayapal said the White House informed her that "the Republicans rejected $3 trillion worth of policies that could have gone towards deficit reduction."
CLICK HERE TO GET THE FOX NEWS APP
"Republicans want you to believe that there are only two choices: Their extreme bill that would make you pay for tax cuts for the wealthiest or default that pushes our economy into catastrophe. Both are catastrophic. Don't buy it," Jayapal said.
Rep. Ilhan Omar, D-Minn., accused Republicans of "playing stupid games" with their legislation.
"What Republicans are doing right now is playing stupid games. They are not actually negotiating. They are holding every American hostage while they threaten to wipe out people's savings, take away millions of jobs and plunge the world economy into depression," Omar said.