McCarthy debt ceiling negotiators head to White House, but he says GOP and Biden 'still far apart'
McCarthy told reporters he was confident the U.S. would not default
House Speaker Kevin McCarthy's top allies in the ongoing debt limit negotiations are meeting with President Biden's aides at the White House on Wednesday, as Republicans and Democrats race against the clock to strike a deal before the government runs out of money to pay its obligations. 
The two sides are still "far apart" after days of talks, McCarthy told reporters during a press conference. 
"We think we can make progress today, I'm hoping," the speaker said.
Around the same time, Rep. Garret Graves, R-La., and Financial Services Chair Patrick McHenry, R-N.C., departed for the White House, where they're expected to meet with Counselor to the President Steve Ricchetti and Office of Management and Budget Director Shalanda Young. 
BIDEN ISSUES TERSE STATEMENT AFTER MCCARTHY DEBT CEILING TALKS: 'AVOID A CATASTROPHE'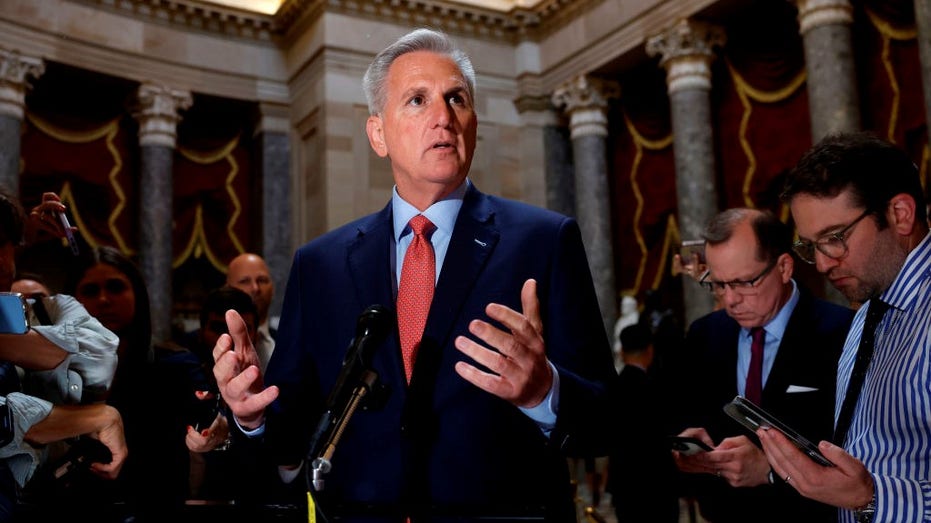 It's a departure from the normal routine they've established in recent days, with White House staff traveling to the Capitol for talks.
"There's differences, we know where it's at. You have to spend less than you spent last year, that's not that difficult to do," McCarthy said Wednesday. "But in Washington, somehow, that is a problem. They have increased spending with Democrats in the majority on discretionary spending by more than 33% — no household's been able to afford to do that."
BIDEN, MCCARTHY TO MEET MONDAY ON DEBT CEILING 10 DAYS BEFORE FUNDING CRUNCH
He added of the ongoing talks, "We can find ways to eliminate that. The president eliminated a lot of places that we can't talk about, but we found a reasonable way to do it."
The U.S. government will likely have to start prioritizing its payments around early June if Congress does not lift or suspend the debt limit. Democrats have insisted on it being done without preconditions, while Republicans are pushing for spending cuts outlined in their Limit, Save, Grow Act. The bill aims to raise the debt limit by $1.5 trillion or through March 2024 in exchange for cutting back spending to fiscal 2022 levels and enacting work requirements for federal benefits, among other points.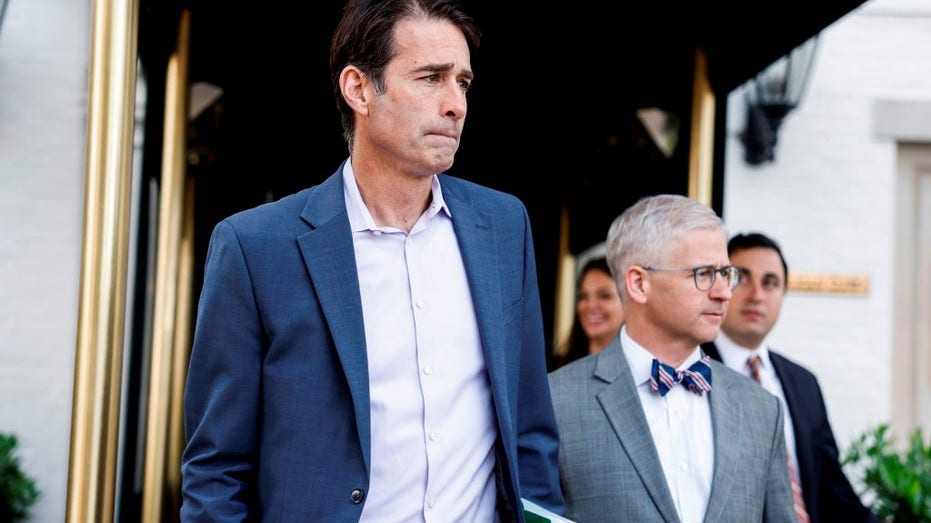 But House Democrats have lined up behind the White House in offering a spending freeze at 2023 levels, something the GOP says does not go far enough to slow deficit growth. 
McCarthy said at his press conference, "They still want to spend more, you cannot do that."
DEMOCRATS TARGET VULNERABLE GOP LAWMAKERS FOR SUPPORTING MCCARTHY'S DEBT CEILING BILL
He said they'd offered "a lot of concessions" to Democrats, pointing out that both spending caps and work requirements have come from the left in the past. McCarthy also reiterated that the GOP would not entertain any tax increases — something Biden's negotiators have floated as a means to reduce the deficit.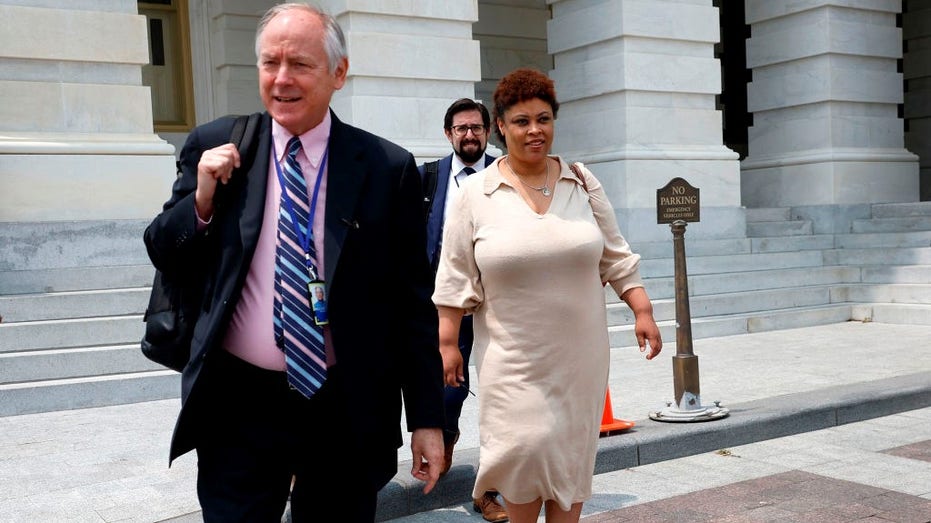 Hard-line lawmakers on McCarthy's right flank have said they will refuse to support a bill that walks back any spending cuts in the GOP's existing legislation. 
House Minority Leader Hakeem Jeffries, D-N.Y., told reporters on Tuesday night that House Republicans are refusing "to be reasonable in trying to find common ground."
"You cannot achieve a bipartisan resolution if House Republicans have taken the position that it's my way or the highway. That is the extreme MAGA Republican position," Jeffries said. "President Biden has indicated a willingness to freeze spending at the 2023 fiscal year level. Extreme MAGA Republicans have rejected that. President Biden has indicated that if we really want to resolve the deficit challenge that we have in America, we have to raise additional revenue. The MAGA Republicans have rejected it."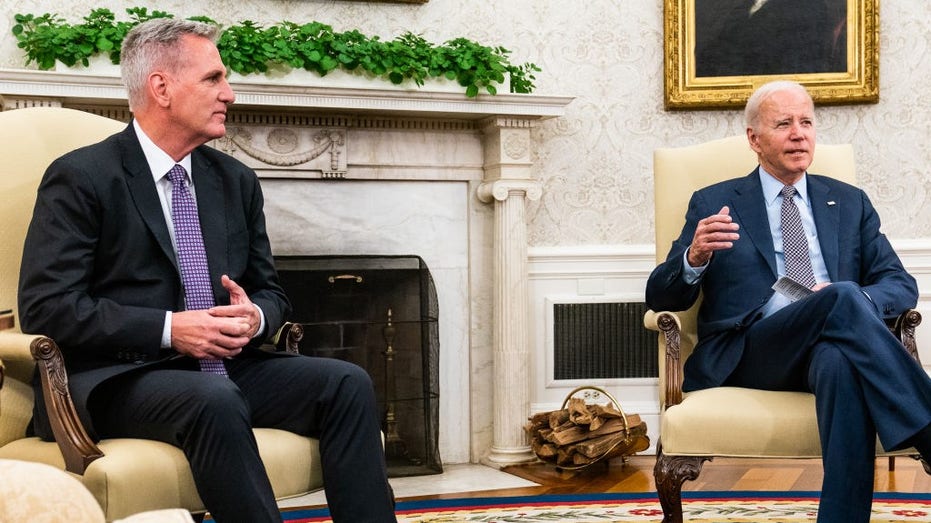 But Democrats' hopes of trying to pressure enough moderate Republicans to support their own effort at raising the debt limit without preconditions, which would need a majority of House members to reach the floor, appears to also be falling flat, a GOP source told Fox News Digital.
CLICK HERE TO GET THE FOX NEWS APP
The source said "everyone was supportive of the speaker" at House Republicans' Tuesday morning conference meeting. 
"There is plenty of unity and I think people realize the appointed negotiators are doing the real work," the source said. "The speaker has said that Biden basically comes out and tells him the same thing each time they have met." 
They said of the general consensus within the GOP conference, according to this source, "The President is a shell of his former self and though he will ultimately have to sign off on the final product, his people are doing most of the work."