Biden announces ban on US imports of Russian oil, warns gas prices will 'go up further'
Biden said the ban has strong bipartisan support in Congress and the country
President Biden on Tuesday announced a ban on all imports of Russian oil, gas and energy to the United States, targeting "the main artery" of Russia's economy amid President Vladimir Putin's war on Ukraine.
Biden, though, warned Americans that the ban would cost American families. Americans are experiencing the highest gas prices since the 2008 financial crisis, with the national gas price average reaching more than $4 per gallon – the highest average to date, according to AAA.
RUSSIA INVADES UKRAINE: LIVE UPDATES 
"Putin's war is already hurting American families at the gas pump since Putin began his military buildup on Ukrainian borders," Biden warned. "And with this action, it's going to go up further. I'm going to do everything I can to minimize Putin's price hike here at home and coordination with our partners." 
The president, speaking from the White House on Tuesday, said the ban has "strong bipartisan support in Congress and, I believe, the country."
"Americans have rallied to support the Ukrainian people and made it clear we will not be part of subsidizing Putin's war," Biden said.
But not all of Europe will be on board with a similar ban because they lack domestic oil production, Biden said.
"The United States produces far more oil domestically than all of Europe and all the European countries combined," he said, adding that the U.S. is a "net exporter of energy." "So, we can take this step when others cannot, but we are working closely with Europe and our partners to develop a long-term strategy to reduce their dependence on Russian energy as well."
Russia is the third-largest producer of oil in the world, but the impact to U.S. oil imports would be "minimal" compared to allies, administration officials told Fox News.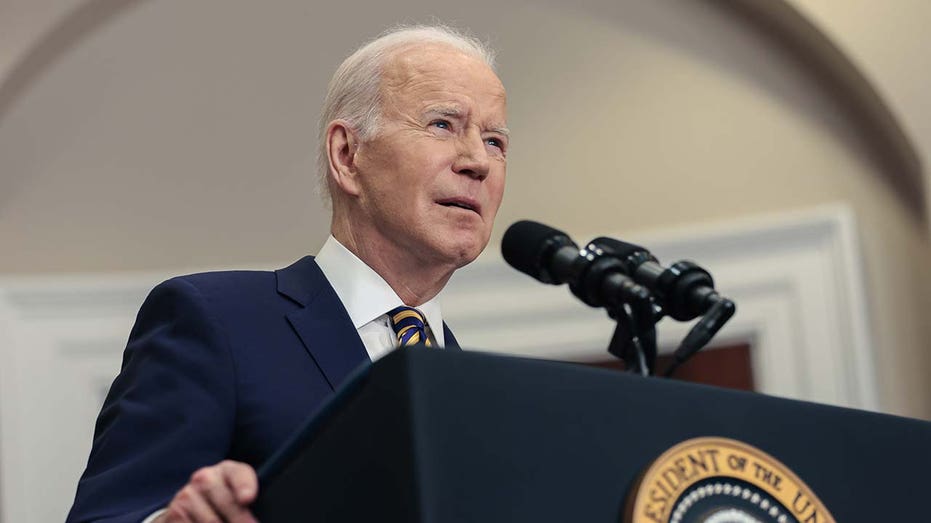 HOW TO FIND CHEAP GAS PRICES IN YOUR NEIGHBORHOOD
Ukrainian President Volodymyr Zelenskyy, on Monday, called for "boycotts" of Russian oil imports to the U.S. and European countries.
Russian oil exports account for about one-third of Europe's oil imports, however, for the United States, Russian exports are just under 10% of U.S. overall imports.
Biden touted the $1 billion in security assistance to Ukraine, saying that "shipments of defensive weapons are arriving in Ukraine every day from the United States."
"We're also providing humanitarian support for the Ukrainian people, both to those still in Ukraine and those who have fled safely to neighboring country," Biden said, adding the administration is working with organizations to send "tens of thousands of tons of food, water and medical supplies into Ukraine."
Biden also said the U.S. and allies are "enforcing the most significant package of economic sanctions in history," and said those sanctions are damaging Russia's economy." 
"It has caused the Russian economy to, quite frankly, crater," Biden said, noting that the Russian ruble is down 50% since Putin announced his war on Feb. 24.
"One ruble is now worth less than one American penny," he said, adding that the U.S. and allies have also cut Russia's largest banks from the international SWIFT financial system, which has "crippled their ability to do business with the rest of the world."
"In addition, we're choking off Russia's access to technology, like semiconductors, that sap its economic strength and will weaken its military for years to come," Biden said.
Pointing to the private sector, Biden said major companies, like Visa, Mastercard, American Express, Ford, Nike, Apple are suspending operations and pulling out of Russia "entirely, without even being asked."
"The U.S. Stock Exchange has halted trading in many Russian securities, and the private sector is united against Russia's vicious war of choice," Biden said.
The Biden administration announced this week that it is releasing "60 million barrels of oil from our joint-oil reserves," with Biden noting that half of that is "coming from the United States."
Biden also maintained that his administration is taking steps to ensure the "reliable supply of global energy," and is working with "every tool in our disposal to protect American families and businesses."
"We understand Putin's war against the people of Ukraine is causing prices to rise—we get that," Biden said, directed at "oil and gas companies and the finance firms that back them."
"But it's no excuse to exercise excessive price increases or padding profits or any kind of effort to exploit this situation or American consumers," Biden said. "Russia's aggression is costing us all, and it's no time for profiting or price gouging." 
LIVE UPDATES: STOCKS REBOUND, GAS PRICES CLIMB, BIDEN TO BAN RUSSIAN OIL
He warned that he wanted "to be clear about what we will not tolerate," but also wanted to "acknowledge those firms and oil and gas industries that are pulling out of Russia and joining other businesses that are leading by example."
"This is a time when we have to do our part and make sure we're not taking advantage," Biden said.
The president, though, went on to say that it is "simply not true" that his administration or his policies "are holding back domestic energy production."
"Even amid the pandemic, companies in the United States pumped more oil during my first year in office than they did during my predecessor's first year," he said.
"We're approaching record levels of oil and gas production in the United States and we're on track to set a record of oil production next," he said, adding that in the U.S. "90% of onshore oil production takes place on land that isn't owned by the federal government." 
"And the remaining 10% that occurs on federal land, the oil and gas industry has millions of acres leased—they have 9,000 permits to drill," he said. "Now, they could be drilling right now. Yesterday, last week, last year, they have 9,000 to drill onshore that are already approved."
"So let me be clear: they are not using them for production. That's their decision," he said. "These are the facts. We should be honest about the facts." 
Biden went on to say that this "crisis" is a "stark reminder" that, in order to "protect our economy over the long term," the United States needs "to become energy independent."
Biden noted that he has had "numerous conversations" with European allies over the last several months "about how they have to wean themselves off Russian oil."
"It's just not tenable," he said.
Biden added, though, that the crisis "should motivate" the United States to "accelerate the transition to clean energy."
For American families, though, Biden admitted investments in clean energy "will not lower energy prices for families," but said that transforming the economy to "run on electric vehicles powered by clean energy with tax credits to help American families winterize their homes, and use less energy, that will help." 
"If we do what we can, it will mean that no one has to worry about the price of gas in the future," Biden said. 
"That will mean tyrants like Putin won't be able to use fossil fuels as weapons against other nations, and it will make America a world leader—manufacturing and exporting clean energy technologies of the future to countries all around the world." 
GET FOX BUSINESS ON THE GO BY CLICKING HERE
Biden added: "This is the goal we should be racing toward."
The president, shifting to the people of Ukraine, said they have "inspired the world" in a "literal sense."
"They've inspired the world with their bravery, their patriotism, their defiant determination to live free," he said, adding that Putin's war has "caused an enormous suffering and needless loss of life of women, children, everyone in Ukraine."
Biden said that Ukrainian leaders, and leaders around the world, have "repeatedly called for a ceasefire," for humanitarian relief, and "for real diplomacy."
US GAS PRICE AVERAGE HITS NEW RECORD HIGH
"But Putin seems determined to continue on his murderous path, no matter the cost," Biden said.
But the president maintained that "Ukraine will never be a victory for Putin," saying he "may be able to take a city, but he'll never be able to hold the country."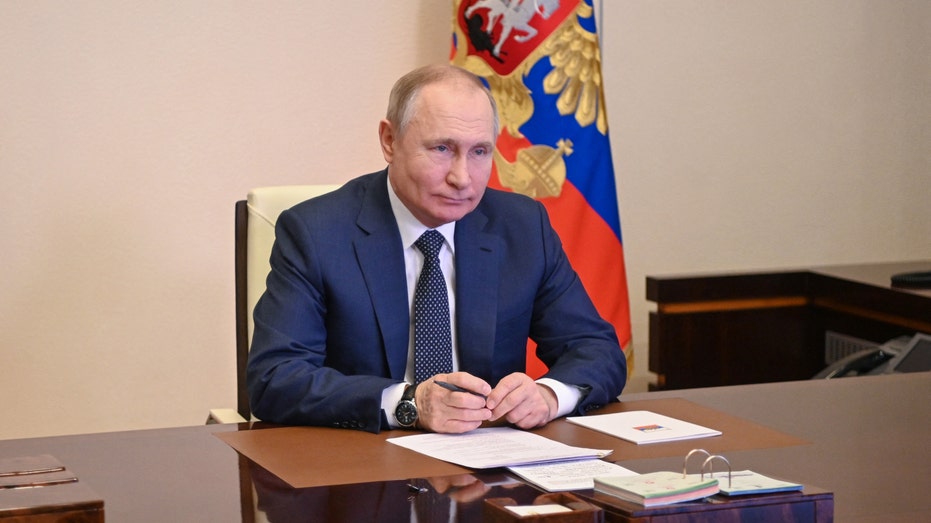 "If we do not respond to Putin's assault on global peace and stability today, the cost of freedom and to the American people will be even greater tomorrow," Biden said. "So we're going to continue to support the brave Ukrainian people as they fight for their country." 
Biden called on Congress to pass the $12 billion Ukraine assistance package he has requested, saying the Ukrainian people will "defend their freedom, their democracy, their lives."
CLICK HERE TO READ MORE ON FOX BUSINESS
Biden said the United States is going to continue "providing security assistance, economic assistance, humanitarian assistance," and will support Ukrainians "against tyranny, oppression, violent acts of subjugation."
"Putin's war on Ukraine will have left Russia weaker and the rest of the world stronger," Biden said. "And God bless those heroes in Ukraine."