6 personal loans for veterans
A personal loan can be a valuable financial tool for veterans who need to pay down debt, finance a home improvement project, or for any other reason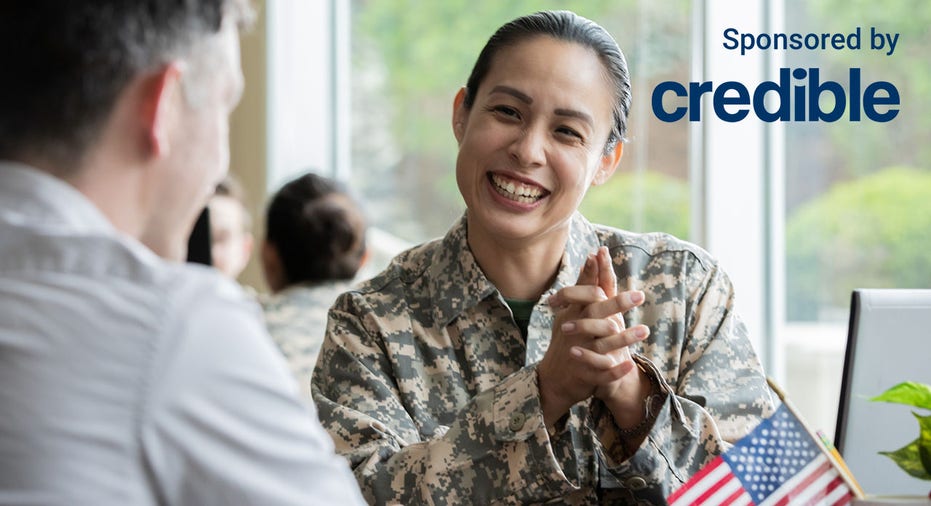 Many personal loan lenders provide loans to veterans who need funds to pay off debt, finance a home improvement project, or pay medical bills. Some lenders work specifically with veterans and offer special perks for military service, while others might also offer interest rate discounts for being an existing customer or setting up automatic payments. 
If you're a veteran looking for a personal loan, consider what mix of benefits, discounts, annual percentage rates (APRs), and loan terms will best suit your needs. These six personal loans for veterans are a great place to start your search.
Credible makes it easy to see your prequalified personal loan rates from multiple lenders in minutes.
Lenders that work specifically with veterans
Two financial institutions that specialize in lending to veterans are Navy Federal Credit Union and USAA. These organizations offer personal loans for just about any use, but you'll need to become a member before you can apply for one of their loans.
Navy Federal Credit Union
In 1933, seven Navy Department employees started Navy Federal Credit Union to help themselves and their colleagues achieve their financial goals. Navy Federal now serves 11.5 million members and has 26 international locations, including 186 branches on or near military bases.  
Active-duty service members, reservists, veterans, retirees, Department of Defense (DoD) civilian employees, and their immediate family members are eligible for membership with Navy Federal Credit Union. Being a Navy Federal member also gives you access to member-exclusive offers and discounts. 
Since credit unions often have less-stringent lending requirements than traditional banks, you may find it easier to qualify for a loan, particularly if your credit is less than ideal.
Loan amounts: $250 to $50,000
Loan terms: Up to 60 months
Fees: No origination fee or prepayment penalty
Funding time: Can receive same-day funding in most cases
USAA
USAA, which stands for United Services Automobile Association, is a full-service bank that was founded in 1925 by 25 Army officers who decided to insure each other's vehicles. Today, USAA has 13 million members and provides much more than automobile insurance and services. Veterans and active military members, along with their eligible family members, can access banking, investing, insurance, and other financial services catered specifically to veterans.
You must be a USAA member to qualify for a loan. You're eligible to join USAA if you're a U.S. active-duty military member, veteran, or pre-commissioned officer or a spouse or child of one. USAA membership perks include travel deals, shopping rewards, and security monitoring.
Loan amounts: Up to $100,000
Loan terms: 12 to 84 months (must meet higher credit standards for terms over 60 months)
Fees: No application or prepayment penalty fees
Funding time: Within 24 hours after loan closing
15 OF THE BEST PERSONAL LOANS FOR BAD CREDIT
Lenders that work with veterans with bad credit
You'll typically qualify for better interest rates and pay lower (or no) fees to take out a loan if your credit is good. But it's still possible to qualify for a personal loan even if you have bad credit. These two Credible partner lenders may be an option if your credit isn't ideal. 
Avant
Avant is an online lending platform that may work with you if you have a lower credit score. You may be eligible for a loan with a credit score as low as 550. The lender charges an origination fee of up to 4.75% for processing the loan, but you won't pay a prepayment penalty if you pay off your loan ahead of schedule. You can also receive a discount for setting up automatic payments.
Loan amounts: $2,000 to $35,000
Loan terms: Two to five years
Fees: Origination fee
Funding time: As soon as the next business day (if you're approved by 4:30 p.m. Central time on a weekday)
LendingClub
LendingClub is a peer-to-peer lending platform that allows investors to loan money to borrowers. You can find out if you're approved in minutes, and loans are often funded within 24 hours. LendingClub may be worth considering if your credit score needs work, as its minimum credit score requirement is 600. LendingClub charges an origination fee of 3% to 6% of the loan amount, but there's no prepayment penalty. 
Loan amounts: $1,000 to $40,000
Loan terms: Three or five years
Fees: Origination fee
Funding time: About two days
With Credible, you can easily compare personal loan rates from various lenders — and it won't affect your credit score.
Lenders that work with veterans with good credit
If you have good credit or better — generally a credit score of 700 or higher — you should be able to qualify for the best personal loans with the lowest APRs. Start with these two Credible partner lenders who provide good credit loans.
LightStream
LightStream — an online lending division of Truist Bank — offers competitive APRs to borrowers with good credit, though you may be able to qualify with a minimum credit score of 660. The APR you receive will depend on the type of personal loan you choose and whether you enroll in automatic payments. On top of that, LightStream says it'll beat any qualified offer from a competitor. 
Loan amounts: $5,000 to $100,000
Loan terms: Two to seven years (up to 20 years for home improvement loans)
Fees: No origination, late payment, or prepayment penalty fees
Funding time: As soon as the same business day
SoFi
Online lender SoFi can be a solid option for veterans, but you'll likely need good or excellent credit to qualify. SoFi doesn't disclose the minimum score needed to qualify for its loans, but recent data analysis suggests the average credit score for SoFi borrowers is 753. SoFi offers benefits to its borrowers, including unemployment protection, loan forbearance options, and job placement assistance.
Loan amounts: $5,000 to $100,000
Loan terms: Two to seven years
Fees: None
Funding time: Three business days
HOW TO PREQUALIFY FOR A PERSONAL LOAN
How to apply for a personal loan as a veteran
Applying for a personal loan as a veteran is a pretty straightforward process. Follow these five steps: 
1. Review your credit score
Your credit history directly affects interest rates you'll receive. Generally, the better your credit score, the more favorable your interest rate is. Having a good credit profile may also make it easier for you to qualify for a larger loan amount. 
Before you apply for a loan, consider checking your credit. You can request free copies of your credit reports from the main credit bureaus by visiting AnnualCreditReport.com. If you spot any potential errors, dispute them with the appropriate credit bureau. You can also take steps to improve your credit if necessary.
2. Gather all required documents
Filling out a loan application is easier when you have the required documents ahead of time. Every lender has different requirements, but you'll typically need to submit proof of your military service, income verification like pay stubs or tax documents, and personal identification, such as a driver's license.
3. Prequalify with multiple lenders
It's wise to prequalify with several lenders to identify which one best suits your needs. As you're reviewing different loan offers, compare interest rates, repayment terms, fees, minimum credit score requirements, and other eligibility requirements.
4. Watch out for scams
Some lenders may try to entice veterans with "special deals." Before you sign for any loan, it's essential to read the fine print to make sure you're dealing with a reputable lender. 
5. Apply for a loan
Once you've selected a lender, you'll need to submit a full application and any required documentation. If your loan is through an online lender, you can quickly complete the application on the lender's website. Otherwise, you may have to visit a bank branch to apply for a loan in person.
If your credit isn't where you'd like it to be, consider applying with a cosigner with good credit. This may improve your approval odds and could help you snag a better interest rate than you would by applying independently.
When you're ready to apply for a personal loan, visit Credible to easily compare personal loan rates from various lenders in minutes.
Additional financial resources for veterans
While a personal loan may give you access to the funds you need, it's also a good idea to explore options from other organizations that provide financial support to veterans.
Department of Veterans Affairs
If you're looking for funds to pay off debt, pay for home improvements, or most other reasons, you might consider getting a cash-out refinance VA loan backed by the  Department of Veterans Affairs. With a VA cash-out refinance, you may be able to tap into 100% of your home's equity and receive it as cash back at closing, although some lenders cap loans at 90% of your equity. Since your home serves as collateral to secure the loan, you may be able to qualify for a low interest rate.
Additionally, the VA offers this helpful list of veterans benefits, including financial resources, for veterans and their dependents.
2-1-1
2-1-1 is a nationwide network of more than 200 agencies that can provide short-term financial support for veterans who need help paying their bills. The organization responds to more than 20 million requests each year.
If you need help with housing, food, healthcare, utilities, or other expenses, call 211 or visit 211 online to get connected with local organizations that can help.
Veterans of Foreign Wars
The Veterans of Foreign Wars agency offers grants of up to $1,500 to assist veterans through its VFW Unmet Needs program. The funds help veterans cover necessary expenses that result from their deployment or other military-related activities. And since the funds are a grant, you'll never have to repay them.