Student loan refinancing rates going down - here's why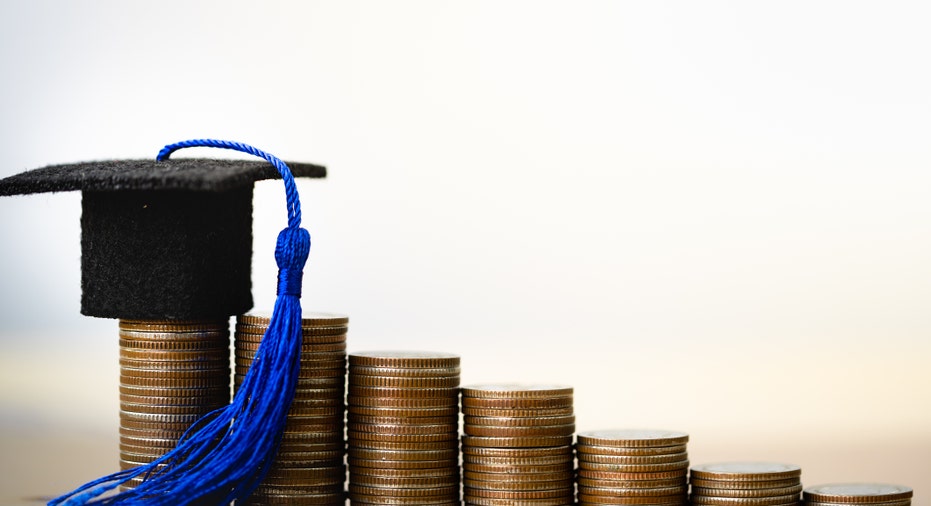 Refinancing your federal and private student loans today would be a smart move if you're looking for a lower interest rate and more affordable monthly payments. Student loan refinancing rates are down, which means those loans you got in college can be paid off by refinancing them into one new loan with more manageable terms.
With lower student loan refinancing rates, you could have more money in your pocket each month and pay off that college debt sooner than you thought.
The Federal Reserve is responsible for government lenders, private banks, credit unions and other lending institutions significantly lowering their student loan refinancing costs. When the Fed cuts interest rates, it impacted everything from mortgages to auto loans, credit cards, and student loans.
HOW STUDENT LOANS CAN AFFECT YOUR CREDIT SCORE
The Fed lowers rates to help bolster the economy by enticing consumers to spend and borrow more. This will affect anyone seeking a loan, including the millions of borrowers looking to refinance their current college loans in favor of one that will give them lower monthly payments.
Many borrowers with a variable interest rate use this opportunity to refinance their loan into a more stable fixed interest rate loan while the rates are low. PLUS loans, which typically carry a higher interest rate, are also eligible for a refinance
The downside of refinancing a federal loan into a new private student loan is that it makes you ineligible for certain loan forgiveness programs if you run into trouble, and other payment flexibilities the government may offer.
Borrowers with high-interest rates will benefit the most from refinancing. However, even a slight interest rate decrease can make a big difference in what you wind up paying to finance the entire loan.
WHAT QUALIFIES YOU FOR STUDENT LOAN FORGIVENESS
The government sets the federal student loan rate in July of each year. Federal undergraduate loan rates dropped from 5.05 percent during the previous academic year to 4.53 percent in 2019-2020. Graduate student loan rates went from 6.60 percent to 6.08 percent, and graduate student and parent PLUS loans decreased from 7.60 percent to 7.08 percent.
Student loan refinancing rates for private loans are determined by each individual lender. This makes it crucial to shop around. Some lenders have reported rates as low as 1.99 percent. Keep in mind that most lenders will require a credit score of at least in the mid-600s, in order to qualify for a refinance. They will also want proof of income. If you've defaulted on a student loan, you won't be eligible for refinancing.
This is a good time to check the interest rate on all your student loans.
When rates are low and you decide to refinance your student loan, here's what you should do:
Compare lenders through one of the many lending sites that will take your basic information and give you a preliminary rate quote.
For most borrowers, this decision is easy - Look for the bank, credit union or other lending institution that can offer you the lowest rate. 
Once you select your lender and the loan terms, you're ready to submit the completed application. The application will be a bit more in-depth than the brief one you used to prequalify.
Once approved, you'll then be asked to provide a number of documents such as your loan statements, government-issued identification and employment income.