Applying for a student loan? 3 things to know before borrowing for college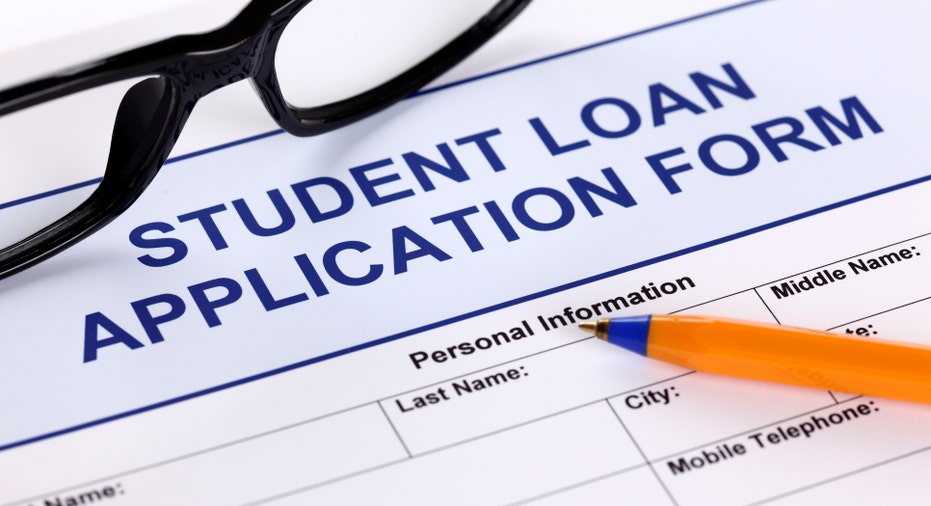 A college degree can lend job-seekers a competitive edge in the workplace, but earning one may come at a steep price. 
The average cost for out-of-state tuition and fees for students attending a public four-year university was $26,820 for the 2019-20 academic year, according to CollegeBoard. Students attending four-year private universities paid $36,880 on average. 
When college savings are scarce, students and their families may look to student loans to help cover education costs. 
"Student loans are, in essence, funds that can be borrowed from several different sources to allow individuals to attend college or university," said Sean Stein Smith, a member of the AICPA Financial Literacy Commission. 
HOW STUDENT LOANS CAN AFFECT YOUR CREDIT SCORE
What's key to understand is that those funds must be paid back with interest.
The difference between federal and private student loans
There are generally two paths students can pursue when borrowing for college: federal student loans and private student loans. Applying for federal student loans begins with completing the Free Application for Federal Student Aid (FAFSA). 
This form is used to determine eligibility for federal student loans, Pell grants, work-study and scholarships. Students can qualify for federal Direct Subsidized and Unsubsidized Loans; parents and graduate students are also eligible for PLUS Loans. 
With subsidized loans, the government pays the interest due on the loan while students are enrolled in school, during the six-month grace period after graduation and when loan repayment is deferred. With unsubsidized loans, interest accrues on the loans during enrollment and afterward. This interest is added to the principal balance that must be repaid. 
STUDENT LOAN DEBT FORGIVENESS COULD JUICE THE US ECONOMY, BUT CREATE POTENTIAL PROBLEMS, TOO
Repayment under federal student loans and private student loans
Repayment begins six months after graduation, though students can pay on their loans while in school. Typically, students are enrolled in a standard 10-year repayment plan, unless they request an income-driven repayment option. Income-driven repayment can make paying loans more manageable for students who are just getting started on the career ladder and aren't earning a high salary yet.
With private student loans, borrowers apply for funding directly with private lenders. Lenders review a student's financial situation, including their credit history, to decide whether to approve for them loans. In cases where a student doesn't have extensive credit, the lender may require a cosigner for approval. 
Private lenders may or may not offer a grace period when it's time to repay student loans. While federal student loans have their interest rates set by Congress each year, private lenders can base their rates on creditworthiness. 
UNEXPECTED CREDIT REPORT ITEMS SHOWING UP? THIS COULD BE WHY
Another key difference in repaying federal and private student loans: federal borrowers can take advantage of deferment and forbearance programs if they need to temporarily pause repayment. Private student lenders can offer similar programs but are not required to do so. 
How to manage the cost of college
Americans collectively owe $1.61 trillion in debt, according to the Federal Reserve Bank of St. Louis. Data from The Institute for College Access & Success puts the average student loan balance at $29,200.
Rising levels of student loan debt parallel the rising costs of attending college. For the 2019-20 academic year, CollegeBoard estimates that the average tuition and fees increased by 2.3 percent for students paying in-state tuition at public four-year universities. Those paying out-of-state rates saw a 2.4 percent increase while private university tuition and fees rose 3.4 percent.
Student loans offer an entry point for earning a degree that may be necessary to stay competitive in a growing economy. According to a Georgetown University study, 35 percent of job openings in 2020 will require at least a bachelor's degree, while 30 percent will require some college or an associate's degree. 
One possible avenue for managing student loans after college is loan forgiveness. Public Service Loan Forgiveness, for example, is available to students with eligible loans who are pursuing public service careers. Loan forgiveness may also be an option for students entering the military or those who work for private employers that offer loan reimbursement programs. 
As students prepare to apply for loans or make the move from college to the real world, it's important to leave no stone unturned when researching repayment. 
"Paying back student loans is going to be different for every loan, and making sure that you understand the terms, restrictions, and other clauses included with a student loan," Smith said. "Fine print matters, and working with a financial professional should be at the top of any repayment conversation."