What qualifies you for student loan forgiveness?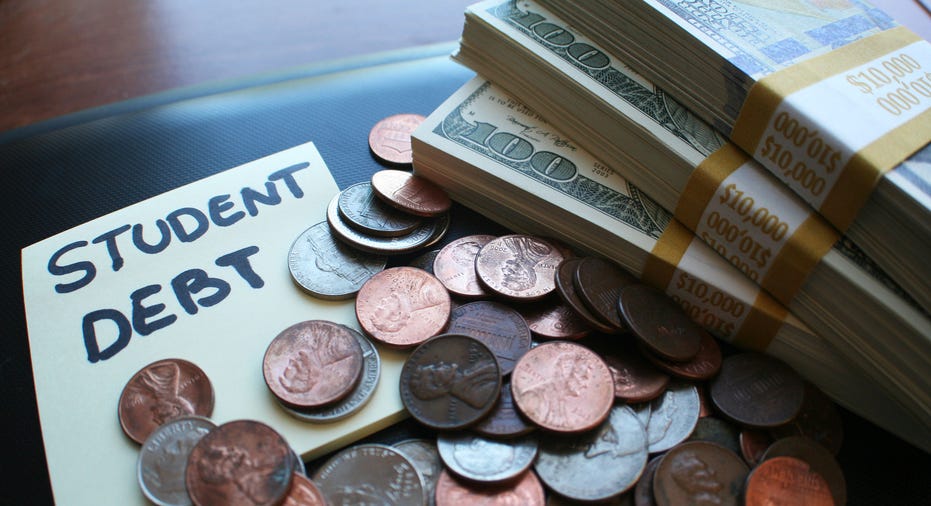 Repaying student loans can be a hurdle. However, there are a variety of programs for graduates looking to have their loans forgiven.
Based on the career choice made by the graduate, they may benefit from one of the following services:
Federal Public Service Loan Forgiveness (PSLF) 
Student loans can be forgiven for people who have qualifying public service jobs and made 120 on-time payments on an income-based repayment plan.
The program has reportedly denied 99 percent of applicants, but students can improve their odds, said Leah Young, director of financial aid at Dickinson College in Carlisle, Pennsylvania. 
5 WAYS TO PAY FOR COLLEGE WITHOUT STUDENT LOANS
Graduates should utilize the PSLF Help Tool to start the process after they are employed. They should also complete an Employment Certification Form annually that will confirm that they are maintaining eligible employment and a qualified repayment plan, she said.
Teacher Loan Forgiveness
The program targets teachers who serve in low-income schools for five years and will forgive a maximum of $17,500 in loans. Graduates must teach math or science at the secondary level or special education at any level. 
National Health Service Corps Students to Service Loan Repayment Program
Graduates can apply in their last year of medical school if they work for at least three years. They could qualify for up to $120,000 toward the loans. "Usually, this means practicing in a remote rural area," said Nathan Hamilton, co-founder of The Ascent, a division of The Motley Fool, a financial website. 
Enlist in the military
Each branch offers programs and will pay varying amounts of the principal amount borrowed, but not the interest accrued from the loan. 
HOW STUDENT LOANS CAN AFFECT YOUR CREDIT SCORE
Income-Driven Repayment Forgiveness
Federal student loan borrowers can qualify for loan forgiveness under one of four Income-Driven Repayment (IDR) plans and become eligible for loan forgiveness after 20 or 25 years. These include the Revised Pay As You Earn (REPAYE), Pay As You Earn (PAYE), Income-Based Repayment (IBR) and Income-Contingent Repayment (ICR) programs.
But there's a catch. 
"Make sure you save for the tax bomb at the end," said Alex Wilson, a Lawrenceville, Georgia-based certified financial planner. "The major con is that once the loans are forgiven that amount is treated as taxable income."
Here are tips to avoid scammers:
Paying fees 
Hang up the phone if the company says a fee is involved. "There is no charge for choosing the correct repayment plan or applying for loan forgiveness," Young said. 
Scammers try to trick victims into wiring a payment, but the criminals use the trick to steal information such as Social Security numbers.
Avoid the too-good-to-be-true offers like a $60,000 student loan that is "forgiven" with a one-time payment made immediately to the company, said Jason Glassberg, co-founder of Casaba Security, a Redmond, Washington cybersecurity company. The fraudsters threaten to levy high penalties or criminal prosecution for non-payment or require payment via wire transfer or with cryptocurrency and initiate contact via non-traditional channels like social media or text messages.
APPLYING FOR A STUDENT LOAN? 3 THINGS TO KNOW BEFORE BORROWING FOR COLLEGE
"The best advice is to never share personal information or make a payment without first verifying the authenticity of the company," he said. 
Providing personal/financial information via unsolicited phone calls
Student loan scammers make unsolicited phone calls to defraud people and leave messages asking graduates to input their Federal Student Aid (FSA) ID to receive information on how to save money on student loan repayments. 
"Asking for your FSA ID is a big red flag," said Alex Guirakhoo, a strategy and research analyst at Digital Shadows, a San Francisco-based provider of digital risk protection solutions. "Your FSA ID should be kept secure and never shared. The U.S. Department of Education will not ask for your FSA ID over the phone."
Lower or consolidate debt
In September, the FTC charged the operators of several student loan debt relief schemes with stealing millions of dollars from unsuspecting victims. Student loan scams include promises to reduce, remove, or consolidate debt for an upfront or monthly fee, said Guirakhoo.
"Familiarize yourself with the tactics that these scammers use and trust your gut," Guirakhoo said. "If you see a claim that seems too good to be true, then it probably is."