Cashless business ban threatens another major US city
New York City businesses may soon be required by law to accept cash.
City lawmakers approved a bill Thursday that prohibits businesses big and small from refusing paper cash, joining San Francisco, Philadelphia and the entire state of New Jersey.
"We in the City Council have real concerns that an increasingly cashless marketplace would have a real-world discriminatory effect on low-income communities — especially communities of color that lack access to credit or debit," Councilman Ritchie Torres, the bill's lead sponsor, said at a Thursday press conference.
The law will take effect after New York City Mayor Bill de Blasio, who said on Wednesday that he supports "the intent" of the legislation, signs the bill after review. Businesses that break the soon-to-be law face fines up to $1,500, The New York Times reported.
Some argue that cashless businesses exclude customers who do not have access to credit or debit cards.
AMAZON PRESSURED INTO ACCEPTING CASH AT CASHLESS GO STORES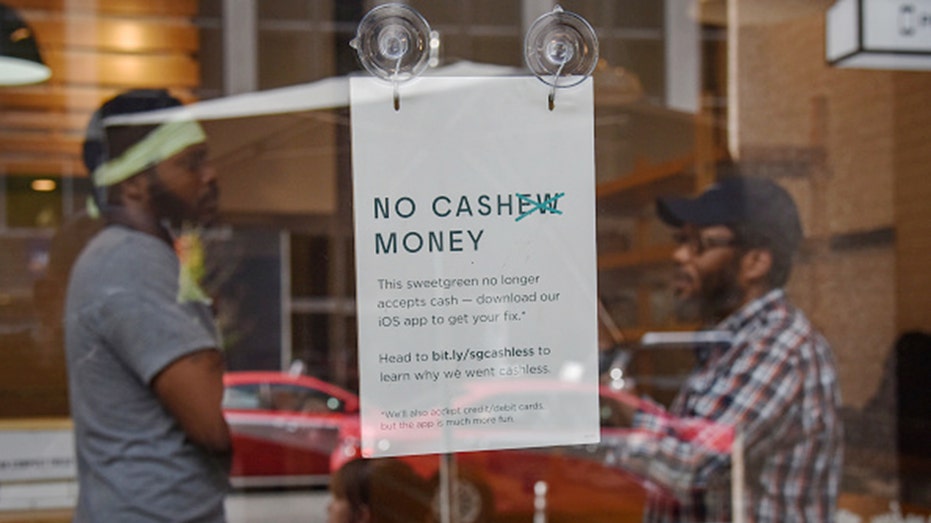 The popular salad restaurant chain Sweetgreen, for example, stopped being cashless last year, saying in an April 25 statement published to Medium that "while being cashless has advantages, today it is not the right solution to fulfill our mission. To accomplish our mission, everyone in the community needs to have access to real food."
Torres told CBS MoneyWatch that even those who do have access to credit and debit cards, some people, "especially senior citizens ... prefer cash because it's a familiar or habitual form of payment."
"Whatever their reasons, consumers ought to have the right to choose their preferential method of payment," he added.
GET FOX BUSINESS ON THE GO BY CLICKING HERE 
Others argue that the benefits of going cashless include faster and more convenient transactions, environmental interests, larger consumer purchases and safer working capital storage since the risk of a cash robbery and counterfeit payments are lower, according to Visa.
"People would hide in bathrooms, and managers who were there alone late at night with cash were robbed," New York City restaurant owner Michael Ryan, who went cashless in 2015, told CBS Money Watch.
CLICK HERE TO READ MORE ON FOX BUSINESS
Ryan added that restaurant employees also benefitted from the efficiency of cashless systems.
"Managers were spending 20 hours a week counting money and going to the bank," he said.
Businesses with "cash conversion machines" that turn cash into cards that never expire, free of charge, will be exempt from the new law.