Corporate tax breaks surge in push for chip and electric-vehicle factories
Deals topped $1B eight times last year as battery and solar-panel makers sought US sites, too
States and cities, flush with pandemic-stimulus cash, are ramping up their pursuit of new jobs by showering companies with big tax breaks. 
States and local governments, including in Georgia, Michigan and West Virginia, agreed to give out at least $1 billion in subsidies eight times in 2022, according to an analysis from Good Jobs First, a nonprofit research group that is often critical of subsidies. These tax breaks, cash grants and other incentives went to companies in return for opening a factory. 
Those are the most subsidies of that size ever in a single year. Just one deal of that size occurred from 2018 to 2021. 
The surge in these incentives shows how federal spending during the Covid-19 pandemic continues to trickle down to the local level. It also shows how fierce competition among states is strengthening the hand of big companies in their negotiations over subsidies.  
BIDEN TOUTS MANUFACTURING JOBS, AS INDUSTRY PUSHES FOR MORE ACTION IN STATE OF THE UNION FOLLOW
When Ohio was competing for an Intel Corp. computer-chip factory, state officials realized that other states in the running could offer as many as 30 years of payroll-tax credits, according to J.P. Nauseef, chief executive of the state's private economic-development corporation, JobsOhio. Under state law, Ohio could offer only 15. 
So in 2021, the state legislature voted to pass a law extending its own limit to 30 years for megaprojects. Ohio ended up winning the Intel project. The state and JobsOhio sweetened the deal with about $2.1 billion in grants and tax credits. Ohio Gov. Mike DeWine later said 40 states competed for the facility.
One reason why big incentives are on the rise is that there are more projects under way. 
TIM COOK SAYS APPLE WILL BUY U.S.-MADE CHIPS BUILT AT TSMC'S ARIZONA FACTORY
Manufacturers, scarred by shipping disruptions and geopolitical tensions, are looking to move factories to the U.S. Producers of electric vehicles, batteries, computer chips and solar panels are racing to find U.S. sites to meet booming demand and land generous federal subsidies. More companies are thinking about moving their headquarters from expensive cities to cheaper places. 
"The number of extremely large projects out there has never been bigger," said Gregg Wassmansdorf, senior managing director of global strategy and consulting at real-estate firm Newmark. 
It isn't just $1 billion-plus deals that are on the rise. State and local officials agreed to 23 subsidy deals valued at $50 million or more in 2022, according to Good Jobs First, the most such deals in seven years. Good Jobs First's numbers include only state and local subsidies and don't include federal tax breaks under the Chips and Science Act and the Inflation Reduction Act.
State officials and economic-development professionals argue that subsidies are unavoidable and pay off because they create jobs and boost economic growth, leading to more tax revenue in the long run. JobsOhio, citing an economic-impact study, said it expects Intel's new factory to create 20,000 jobs and add $2.8 billion to the state's annual output. 
BIDEN CHAMPIONS 'WORKFORCE OF THE FUTURE' AT NEW OHIO INTEL SEMICONDUCTOR PLANT
"There is a fierce competition for this type of investment," Mr. Nauseef said. "We need to participate in that process whether we like it or not."
Critics say these subsidies are often wasteful and that states tend to overestimate the benefit. 
In a 2018 review, Timothy Bartik, a senior economist at the W.E. Upjohn Institute for Employment Research, analyzed 30 economic studies on the impact of incentives and concluded that in three out of four cases, companies would likely have picked the same location even without the subsidies. States often ignore that adding jobs and people also requires public investment in schools, roads and other public services, he added. 
State governments also are sitting on record cash reserves, according to the National Association of State Budget Officers, thanks to a strong economy and an influx of federal stimulus money during the pandemic. 
MICRON TO INVEST $15 BILLION TO BUILD MEMORY MANUFACTURING FACTORY IN IDAHO
Federal funds often come with restrictions preventing states from using them for corporate subsidies, Mr. Bartik said.
"But in practice, money is fungible," he said. States using federal cash for some expenses have more of their own money left over to give to companies. 
In last year's biggest reported deal, chip maker Micron Technology Inc. said it secured commitments for about $5.5 billion from the state of New York in return for building a factory outside Syracuse. 
Ticker
Security
Last
Change
Change %
MU
MICRON TECHNOLOGY INC.
73.93
+4.32
+6.21%
"States have been willing to cough up a lot more money," said Arthur Jackson, senior vice president of economic development at the Tulsa Regional Chamber.
Initial negotiations are often steeped in secrecy. Company representatives, wary of media attention before a site is chosen, sometimes don't disclose their client's identity until late in the process. 
"When the site selector sits down in the room, there's no business cards," said Newmark's Mr. Wassmansdorf, who has represented a number of big companies in negotiations with states. "There are no names, no logos or anything else. We have a code name."
CLICK HERE TO GET THE FOX BUSINESS APP
That secrecy means state lawmakers often don't know whose subsidies they are voting on. When Ohio lawmakers voted on the 30-year cap for tax credits, they didn't know the change would benefit Intel, according to Mr. Nauseef, because at that point the potential factory was known only by the code name "Project Slice." 
Ticker
Security
Last
Change
Change %
INTC
INTEL CORP.
29.00
+1.60
+5.84%
Even skeptics acknowledge that states have become better at withholding subsidies until jobs are created. "We're not just handing out coupons to folks," said Brad Chambers, Indiana's secretary of commerce.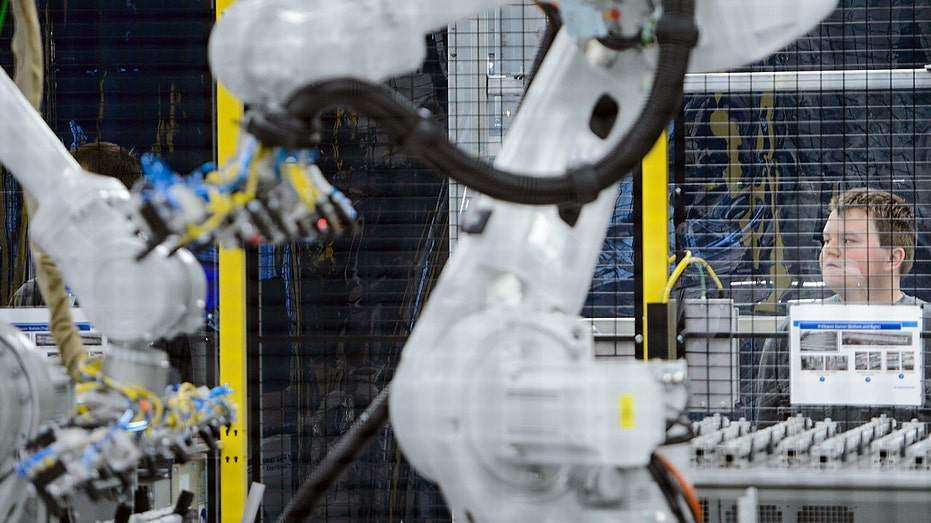 Officials say they learned their lesson from deals such as Wisconsin's 2017 agreement with Taiwanese electronics manufacturer Foxconn Technology Group, formally known as Hon Hai Precision Industry Co. The state invested hundreds of millions of dollars in infrastructure around Foxconn's plant, only to see the company sharply scale back its pledge to invest $10 billion in Wisconsin. 
"Even if you think you are only giving this big incentive package to Foxconn or Amazon, some other firm will demand that you match it," Mr. Bartik said. "And it's hard to say no once you've said yes to others."