Teamsters union hits Uber, Postmates for lawsuit challenging California gig worker law
"Greedy corporations are filing this lawsuit," a Teamsters leader said
The international Teamsters union on Monday accused Uber and Postmates of waging "war" on working people after the companies asked a U.S. court to block Assembly Bill 5, a California law requiring many businesses to treat their gig workers as employees.
"This recent lawsuit filed by major corporate interests seeking to invalidate AB-5 is the most recent demonstration on the war that is currently being waged against working people in our country," Teamsters international Vice President Ron Herrera said in an official statement.
CALIFORNIA FREELANCE WRITERS FIGHT STATE LAW FORCING VOX MEDIA TO DROP 200 SPORTS BLOGGERS
Herrera is also secretary-treasurer of the California-based Teamsters Local 396. Teamsters has 1.4 million members across many industries in the U.S. and Canada.
"The Teamsters supported the passage of AB-5 in order to protect workers in the State of California from misclassification and wage theft," he said. "Greedy corporations are filing this lawsuit to increase their profits regardless of the impact it has on people's livelihoods. Teamsters Local 396 and the broader American Labor Movement must use all of the resources at our disposal to ensure that AB-5 is protected and that workers have a voice at the table."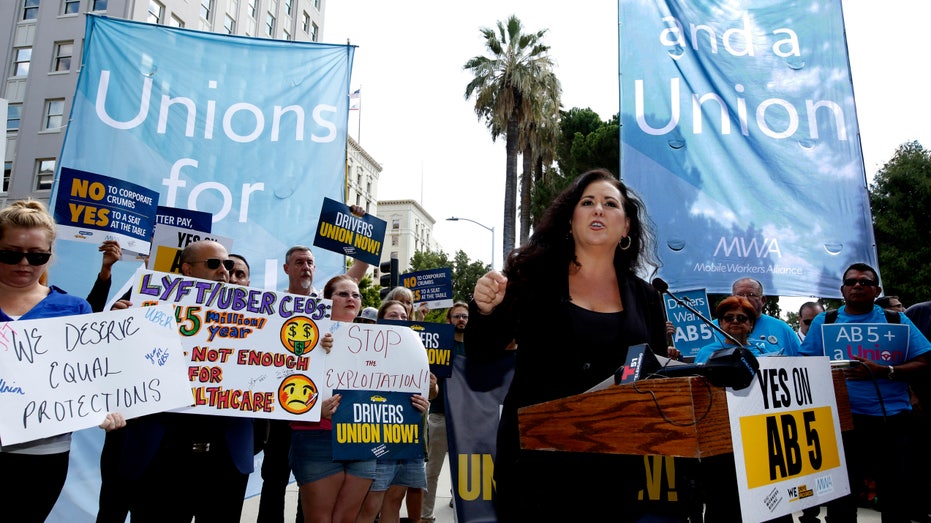 Uber and Postmates filed the suit in Los Angeles federal court on Monday before AB-5 goes into effect on Wednesday. They say the law is irrational and vague.
"State legislators had the opportunity to expand benefits for hundreds of thousands of independent workers in California, a step Uber has been advocating for and one that other states already have taken," Uber said in a statement to FOX Business on Tuesday. "Instead, they passed AB5 using a biased and overtly political process ... We are joining a growing group of companies and individuals suing to ensure that all workers are equally protected under the law and can freely choose the way they want to work."
A Postmates spokesperson said the suit underscores a serious constitutional problem with AB5 and similar legislation in other states, "it is not an attempt to skirt the law but underscores a call by drivers for modern laws and benefits reflecting what 89% of gig workers tell us they want in on-demand work. Our ask to labor [and] lawmakers is simple: California's workers, businesses, and economy requires restarting the negotiations you walked away from this past summer."
Postmates driver and Los Angeles resident Miguel Perez is a named plantiff in the suit and explained his position in a Medium post on Monday.
"The politicians responsible for AB5 have targeted gig companies and workers like me and are trying to eliminate my freedom to be an independent contractor and continue the way I am," Perez wrote. "I have no idea how our own elected representatives decided who AB5 should apply to, but I know they certainly weren't thinking about the needs of workers like me."
People earning income via gig work provided by Uber and Doordash aren't the only ones unhappy with AB-5. Freelance writers in California are grappling with rejection letters — and decisions by sites like SB Nation to drop about 200 contractors — as part of the fallout from AB-5.
GET FOX BUSINESS ON THE GO BY CLICKING HERE
Protesters have focused their wrath on the bill's sponsor, state Assemblywoman Lorena Gonzalez, even demonstrating at a diaper giveaway she participated in earlier in December.
"It's Christmas Eve Lorena Gonzalez," writer Jenna Busch wrote on Twitter in December. "Hope you're spending it with your family. Because of #AB5, I'm spending mine applying for jobs outside my field so I can pay my rent. Hope you're dreaming of sugar plums. I'm having nightmares about my future."
Gonzalez, a Democrat, counters that AB-5 will help California's workers and said Uber is filing suit because of "greed."
"#UberGreed so big that they think they can file a lawsuit crying that I called them bad employers. (*spoiler alert - I did, and do) — Do you even get how being a legislator works, Uber Comms?" Gonzalez wrote on Twitter on Tuesday.
CLICK HERE TO READ MORE ON FOX BUSINESS
FOX Business' Susan Li contributed to this report.