Investors hope Tom Brady's Super Bowl win changes stock market indicator's fortunes
Tom Brady in the Super Bowl can be iffy for stocks
Stock market investors hope Tom Brady winning Super Bowl LV as a member of the Tampa Bay Buccaneers turns around their fortunes.
Ticker
Security
Last
Change
Change %
SPY
SPDR S&P 500 ETF
389.63
+0.17
+0.04%
The S&P 500 previously underperformed in years that Brady won the big game as a member of the New England Patriots, and has done even worse when he lost.
"Stocks don't do well when he [Brady] is in the game, wrote Ryan Detrick, chief market strategist at LPL Financial.
The index has averaged a 6% gain during Brady victories and returned an average of 0.5% in years that he appeared in the game, as tracked by LPL. The S&P 500 has averaged an 8% annual gain since its founding in 1928.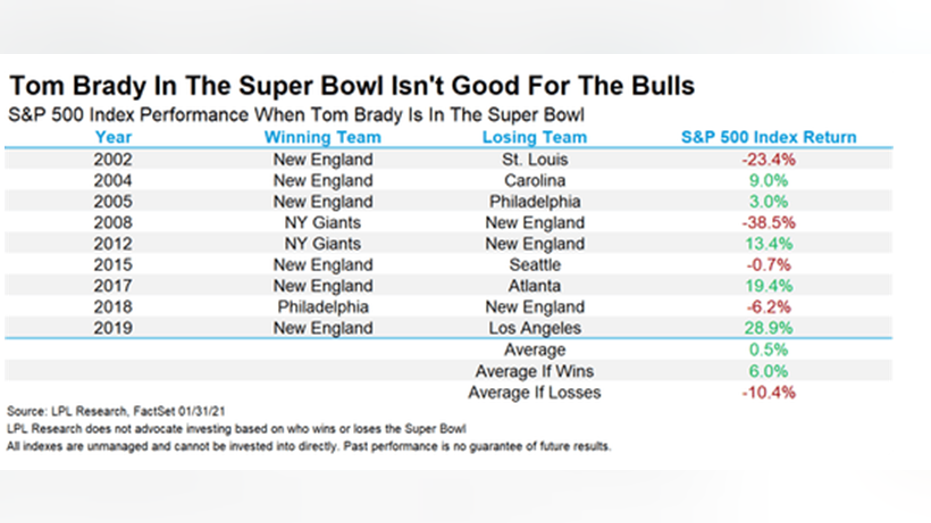 Among those years was 2002, where the S&P 500 lost 23% (Brady won) at the tail end of the bursting of the dot-com bubble. The index fell 39% during the 2008 financial crisis (Brady lost).
ANTONIO BROWN PADS POCKET WITH BUCS' SUPER BOWL LV VICTORY
But Brady winning as a member of Tampa Bay could be a good omen as the "best stock market performance happens after the Bucs win the big game," Detrick wrote.
The S&P 500 index soared 26% in 2003, the only previous year that Tampa Bay won the Super Bowl. The stock market typically performs better when a team from the National Football League (now National Football Conference), like Tampa, wins the big game.
In those instances, the S&P 500 has rallied an average of 10.2% for the year compared with a return of 7.1% when an American Football League (now American Football Conference) team was victorious, according to LPL data.
BIDEN CLIMATE ACTIONS TO JOLT ELECTRICITY PRICES
The S&P has posted an annual gain in 22 of the 28 years, or 79% of the time, an NFC team has won. It has gained annually 65% of the time over its 92-year history. 
Of course, the Super Bowl winner and stock market's performance are not correlated. Just because a team from one conference wins or loses doesn't mean stocks will perform a certain way as their performance is dictated by fundamentals, technical and sentiment.
The S&P 500 has climbed a wall of worry in recent weeks as investors fret about stretched valuations and the possibility that herd immunity from COVID-19 may not occur as quickly as originally hoped. The index has climbed 3.48% this year through Friday, extending the gain off the March low to 74%, as the Fed's loose monetary policy and an unprecedented amount of fiscal stimulus have provided support.
The possibility of President Biden's proposed $1.9 trillion aid package that will include a $1,400 check to most, but not all Americans, is also helping sentiment.