Tax credit on Tesla vehicles to begin phasing out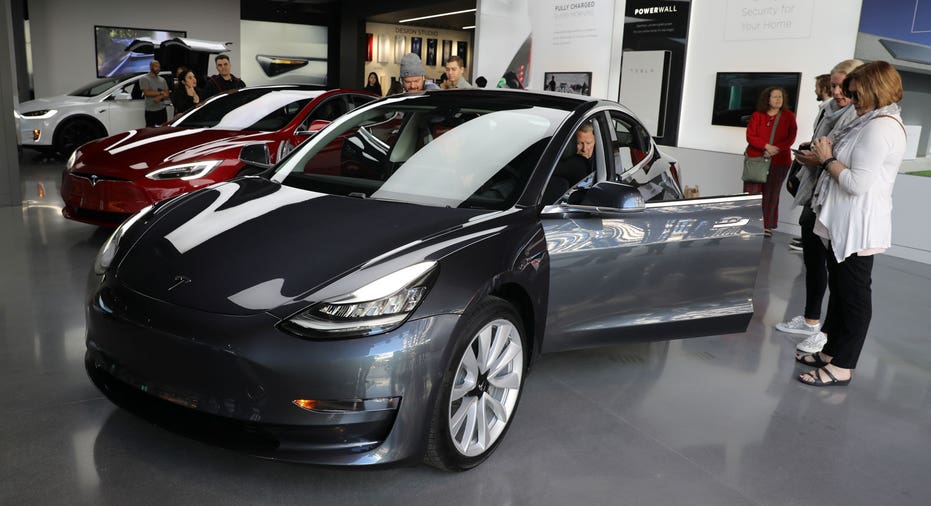 A $7,500 federal tax credit for Tesla buyers will begin to phase out as early as this year.
Electric car buyers can use the full tax credit if the manufacturer has sold less than 200,000 plug-in vehicles in the U.S. Tesla is nearing that threshold, effectively increasing the purchase price for customers and giving an edge to competitors. Shoppers who buy electric cars from General Motors (NYSE:GM), Toyota and other automakers will continue to benefit from the tax break for the time being.
In a filing with the SEC, Tesla said Friday it expects to complete 200,000 deliveries at "some point during 2018." Once Tesla reaches that milestone, the tax credit remains available through the following quarter, after which it phases out over the next 12 months. Buyers can use a $3,750 tax credit for the first six months, and a $1,875 credit is available for the remaining period.
The Palo Alto, California-based company also noted that California has phased out a $2,500 cash rebate for high-income customers. Tesla placed blame on the "oil and gas lobby," saying special interest groups have argued for ending tax benefits on electric vehicles.
The $1.5 trillion tax cut bill, signed by President Donald Trump in December, kept the federal tax credit in place.
Industry analysts have warned that only the earliest Tesla Model 3 buyers would be able to claim the tax benefit. But its loss will come as Tesla looks to expand sales of the upstart automaker's first non-luxury vehicle. The Model 3, which starts at $35,000 before tax credits, has suffered from production delays since it launched in July 2017.
Tesla delivered just 1,764 Model 3 units by the end of last year, falling well short of expectations. More than 500,000 people have placed refundable deposits for the new electric sedan, yet most buyers won't be able to write off $7,500 of their purchase. When the Model 3 made its debut, Edmunds estimated that Tesla had 78,590 sales remaining before hitting the 200,000 mark.
Given the delays, some customers have canceled their Model 3 orders and instead purchased competing vehicles like General Motors' Chevrolet Bolt, according to a Reuters report. GM, which has sold approximately 160,000 electrified vehicles, may follow Tesla as the next manufacturer to start losing the federal tax credit later this year.
Tesla began emailing reservation holders this week to complete their orders, a sign that production is beginning to pick up. The company had said select customers, such as Tesla employees and shareholders, would be the first people to take delivery of the Model 3.
Shares of Tesla gained 1.7% to $352.05 in Friday trading.
This story has been corrected to say the federal tax credit on electric vehicles phases out; part of the full $7,500 tax credit remains available for a period of time after the manufacturer sells 200,000 vehicles in the U.S.