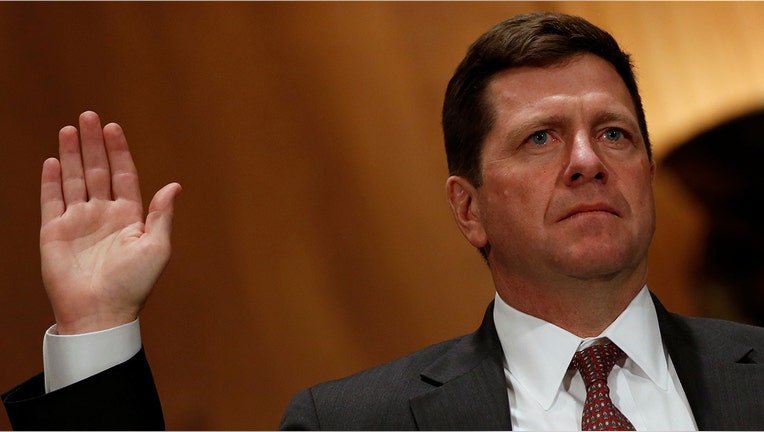 In his first major address, new Securities and Exchange Commission Chairman Jay Clayton sees trouble on the horizon for Mom and Pop investors as more CEOs sit on the sidelines rather than taking their companies public.
"The reduction in the number of U.S.-listed public companies is a serious issue for our markets and the country more generally," said Clayton in remarks he is delivering before the Economic Club of New York on Wednesday. "To the extent companies are eschewing our public markets, the vast majority of Main Street investors will be unable to participate in their growth. The potential lasting effects of such an outcome to the economy and society are, in two words, not good" he said.
More From FOXBusiness.com...
Cumbersome regulatory requirements may be the root of the skittishness among corporate leaders. In his remarks, Clayton notes the average word count for SEC filings, typically used to detail initial public offerings among other corporate disclosures, has more than doubled, alongside a 50% decline in the total number of U.S-listed public companies over the last two decades.
Although investors have gotten a taste of some high profile IPOs this year including Blue Apron (NYSE:APRN) and Snap (NYSE:SNAP) the pace of IPOs remains lukewarm. "There's still a sense…that it's a little too painful to be a public company in this country, that the litigation environment is intense, you know, there is 300, 400 shareholder class-action lawsuits a year" said New York Stock Exchange President Tom Farley (NYSE:ICE) in a recent interview with FOX Business' Mornings with Maria.
Along with convincing more companies to go public, Clayton laid out other priorities for the SEC including deploying more funds to enforcement and exposing fraud; making SEC technology more investor friendly; and ensuring regulations make sense economically as well as operationally.
His speech marks the first time he has laid out a roadmap for the SEC since being confirmed in May. President Trump appointed Clayton, who was a longtime partner at law firm Sullivan and Cromwell.
Clayton praised his predecessor Mary Jo White and the commission's 4,600 staff members for implementing many layers of new regulations tied to Dodd-Frank. While Clayton acknowledged that there is still more to be done with that rulemaking, he did hint that the commission may be more nimble. "I have inherited an agency with considerably more discretion over its agenda."
Suzanne O'Halloran is Managing Editor of FOXBusiness.com and a graduate of Boston College. Follow her on @suzohalloran