Iran's currency plummets to all-time low amid anti-regime protests, sanctions
Inflation has risen to an annual rate of more than 53% in Iran
Iran's currency fell to a new record low on Sunday, plummeting to 600,000 rials to the dollar for the first time in history as the country's economy continues to be roiled by nationwide anti-government protests and international sanctions.
Iranians' purchasing power has been decimated by inflation, which reached an annual rate of 53.4% in January – up from 41.4% two years according to the country's statistics center. The dire economic circumstances have wiped out the life savings of many and caused Iranians to form long lines at currency exchange offices in recent days in an effort to acquire increasingly scarce dollars.
In recent months, Iran's government has embarked on a brutal crackdown against protesters who took to the streets after the death of Mahsa Amini, a 22-year-old Kurdish-Iranian woman who died in the custody of Iran's morality police for allegedly violating the country's Islamic dress code.
IRAN USED BOATS, AIRLINE TO SECRETLY SHIP DRONES TO RUSSIA TO USE IN WAR AGAINST UKRAINE: REPORT
The protests rapidly escalated into a call for Iran's ruling Shiite clerics to be overthrown in one of the most significant internal challenges to their rule since they took power following the Iranian Revolution in 1979. Iran's security forces have sought to suppress the protests, killing hundreds and arresting thousands since the unrest began.
Iran's economy has struggled in recent years following the U.S. withdrawal from the 2015 nuclear accord that had lifted sanctions in exchange for strict limits on and surveillance of its nuclear program. At the time the deal was signed, the country's currency traded at 32,000 rials to the dollar. 
US SANCTIONS IRANIAN DRONE MAKER FOR SUPPLYING RUSSIA'S OPERATIONS IN UKRAINE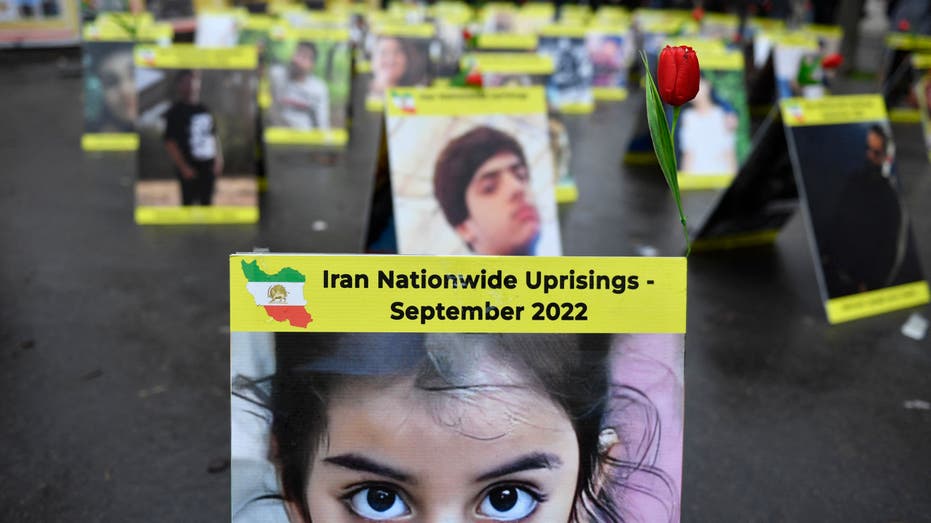 The U.S. pulled out of the nuclear agreement in 2018 under then-President Donald Trump, arguing that Iran was still developing its ballistic missile program, failing to allow sufficient inspections of its nuclear facilities, and funding terror groups throughout the Middle East. 
Following the withdrawal from the agreement, the U.S. reinstated significant banking and oil sanctions that have curtailed the ability of Iranian companies to do business internationally. 
However, Iran has deepened its economic ties with countries like China, Russia, and Venezuela.
GET FOX BUSINESS ON THE GO BY CLICKING HERE
Iran continues to claim that its nuclear program is merely for peaceful, civilian purposes – but experts say it had a nuclear weapons program until 2003 and is developing a breakout capacity that could allow it to quickly build an atomic weapon if the country's leaders choose to do so. 
The International Atomic Energy Agency says that following Iran's recent increase in its uranium enrichment activities, it now has enough material to arm "several" atomic weapons if it moves to develop them.
The Associated Press contributed to this report.