Ford's game plan in focus as new CEO meets Wall Street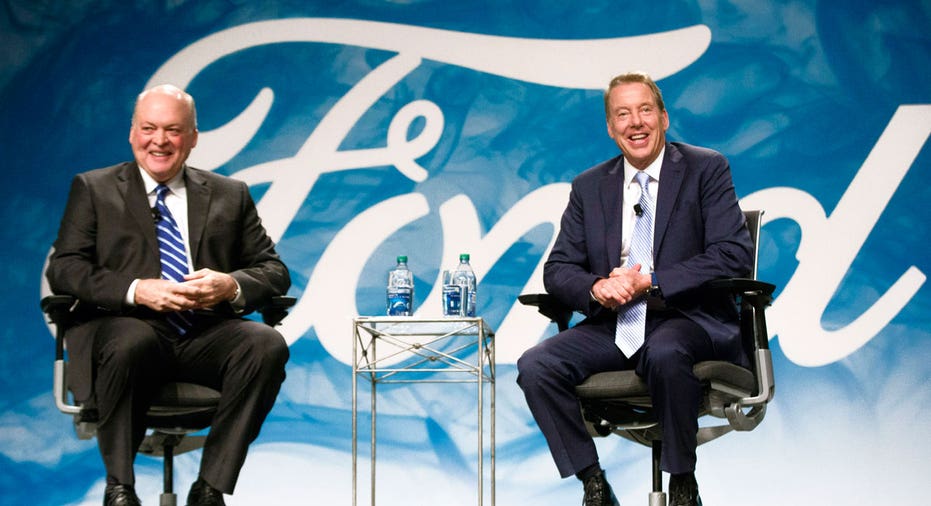 Four months after he grabbed the wheel of America's second-largest automaker, Ford (NYSE:F) CEO Jim Hackett will meet with investors and Wall Street analysts Tuesday to unveil his game plan for the future.
Ford installed Hackett, its one-time mobility chief and the former CEO of furniture maker Steelcase (NYSE:SCS), as its new chief at a time when investors were raising concerns about the company's strategy to develop self-driving cars—and how it would make money from related ventures. Ford has also fallen behind some rivals, including General Motors (NYSE:GM), in the race to build electric cars and fast-growing SUVs.
It remains unclear how much Hackett will divulge from Ford's playbook. There are plenty of questions about Ford's product lineup, production plans, new technologies and internal culture. Overall, analysts expect Hackett to offer a more cohesive vision of Ford's future.
"Ford has to continue to focus on designing, building and selling the product they have now, because we're still going to have a lot of gas-powered cars. That's their bread and butter. At the same time, Ford has to be looking at where they're going in the future," said Autotrader Executive Analyst Michelle Krebs. "They've done work on autonomous and electric vehicles, but I don't feel like they've pulled it all together."
Balancing the present and future is something that Hackett has emphasized in his early days as Ford's CEO. He recently noted that dealers should be pleased with Ford and Lincoln vehicles in the pipeline, and Ford unveiled a premium version of its Super Duty pickup trucks last week.
Meanwhile, Hackett's Ford has already made some moves to accelerate its investment in new technologies. Ford, which has kept much of its autonomous vehicle work in-house, has partnered with Lyft to test self-driving cars in the ride-hailing company's fleet. Ford previously announced that it would offer self-driving cars in fleets by 2021, but details were scarce and prior negotiations with Google's Waymo reportedly fell through. The partnership with Lyft may have surprised some industry insiders given that GM is a major investor.
Also, Ford said Monday a new internal unit called "Team Edison" will research and develop electric cars, including a crossover with a range of 300 miles.  Ford intends to launch a total of 13 battery-powered cars in the next five years.
Ford's development of electric and self-driving cars has long been in motion, but industry watchers are looking for Ford to clarify its strategy, said Stephanie Brinley, senior analyst at IHS Automotive.
"I don't think we're going to see a complete change in direction. Autonomy and electric vehicles are happening, and Ford needs to refine their strategy in that direction," Brinley said.
Analysts have been searching for details on how Ford plans to achieve its goal of providing self-driving vehicles by 2021. Hackett might also offer some clues as to whether Ford will pursue more partnerships with technology players.
The most important thing Tuesday is Hackett "gets the opportunity to state that strategy and say where he thinks the company should be going forward," Brinley added. "What Hackett should communicate is his vision for the company."
Krebs said other companies have thus far done a better job of offering a "bigger picture" for developing electric, autonomous and connected vehicles.
Wall Street is also focused on the here and now, where Ford has been slow to market in certain segments. GM launched a long-range electric car, the Chevrolet Bolt, earlier in the year and a pair of midsize pickup trucks, the Chevrolet Colorado and GMC Canyon, in 2014. Ford expects to bring the midsize Ranger pickup to the U.S. in 2019. In the popular SUV segment, Ford is finally offering its home market a subcompact crossover, the EcoSport, early next year.
Ford's production plans could come under the microscope as well. Automakers in the U.S. have slashed production of slow-selling sedans in response to weaker consumer demand. Last month, Ford said it would temporarily halt some assembly lines to cut its output of small cars and other models. The company also plans to shift production of the compact Focus to China beginning in 2019, and analysts have warned that automakers could eliminate some car models entirely.
"I suspect we are going to see some more consolidation, especially in the car categories. Every manufacturer is dealing with a shift from cars to SUVs. Ford has to be looking at its portfolio and saying, do we need more SUVs and less cars? And how do we adjust our production capacity?" Krebs said.
The presentation, billed by Ford as a "CEO Strategic Update," is set to begin at 4:30 p.m. ET in New York.
Ford shares rose 1% to $12.09 Monday. The stock is down 0.3% since the start of the year, though Ford has gained 8% over the past three months.