Fiat Chrysler's CEO presents future strategy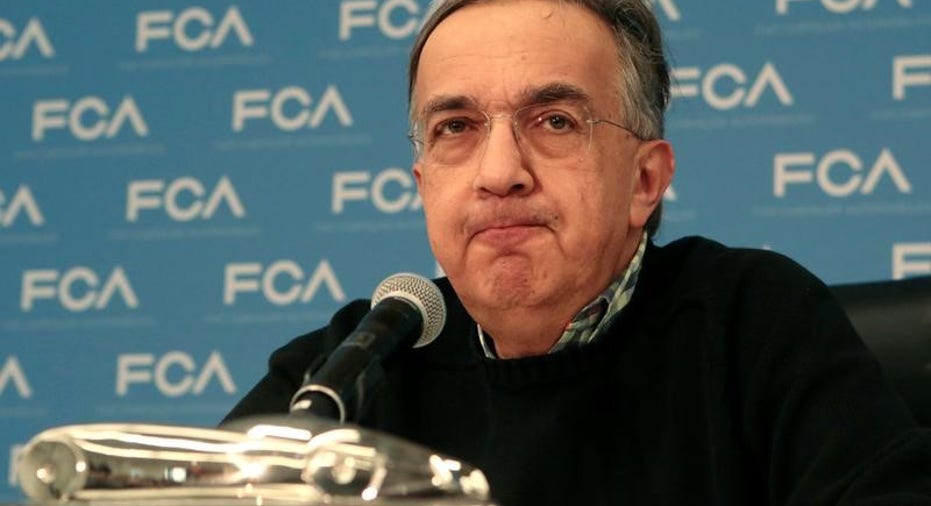 Fiat Chrysler Automobiles CEO Sergio Marchionne will present the company's five-year plan Friday at a time when the industry is shifting attention to SUVs and cutting back on small cars.
Marchionne, who plans to retire next year, has spearheaded Fiat Chrysler's strategy in recent years to expand Jeep sales globally and invest in Italian luxury brands Alfa Romeo and Maserati. The automaker also cut the slow-selling Dodge Dart and Chrysler 200 sedans from its lineup, banking on booming sales of SUVs and pickup trucks. With help from Jeep and Ram, Fiat Chrysler generates three-fourths of its profits in North America.
Investors have cheered Fiat Chrysler's improved financial results, with shares more than doubling over the past 12 months. The stock climbed 4.6% a day before the presentation on news that Fiat Chrysler will expand its partnership with Waymo, Google's self-driving car division.
On Friday, Fiat Chrysler is expected to reveal long-term financial targets and its plans for new products through 2022. Bloomberg reported that Fiat Chrysler will continue to invest in Jeep and luxury cars, while its namesake brands will factor less into future sales. The company is considering ending sales of Fiat cars in North America and China and mostly confining Chrysler to the U.S., according to the report.
There was some speculation that the company would eliminate the Chrysler brand entirely as part of its long-term plans. But a Fiat Chrysler spokesperson denied the rumor, telling FOX Business that Chrysler isn't going away.
Analysts are also looking for Fiat Chrysler to build on its vision for electric cars and self-driving vehicles.
Ticker
Security
Last
Change
Change %
FCAU
n.a.
n.a.
n.a.
n.a.
As part of its partnership with Waymo, Fiat Chrysler supplies the tech company with Chrysler Pacifica minivans that are used in a test fleet. The Italian-American automaker is also part of an alliance with BMW and Intel.
Fiat Chrysler, hoping to keep up with competitors, will electrify half of its fleet by 2022. Marchionne has been skeptical that electric vehicles are a profitable endeavor, even suggesting in 2016 that people shouldn't buy the Fiat 500e because the company sold the car at a loss. As rivals forge ahead with new electric models, the longtime executive has said Fiat Chrysler must commit to "most painful" spending, Reuters reported.