Farmers, manufacturers welcome 'Phase One', but ask Trump for more
The battle is over but the war continues.
The United States and China agreed to a "Phase One" trade deal Friday that would reduce tariffs on some Chinese goods and could be a boon to American farmers who have been hard hit by the 19-month trade war.
"America's farmers and ranchers are eager to get back to business globally," American Farm Bureau Federation President Zippy Duvall said in a statement. "Progress restoring our ability to be competitive in China is a key component of that and this development is welcome news."
"For farmers, this could either be the first ray of hope or another empty promise," Brian Kuehl, co-executive director of the free-trade organization Farmers for Free Trade, said in a statement. "Farmers want sustained access to China's market, not one-time purchases, so it will be critical to see how the retaliatory tariffs that have crippled farm exports are treated in this agreement."
Phase One includes an agreement from China to buy $50 billion worth of U.S. agricultural products, President Trump said during a Friday press briefing. But other sources say the number could be lower at around $32 billion over two years.
Dozens of clothing items were scheduled to fall victim to the round of $160 billion tariffs that were planned to take effect Sunday. Rick Helfenbein, president and CEO of the American Apparel & Footwear Association said the deal was "welcome," but expressed concerns about the future.
"While this is a step in the right direction, it means American businesses, American consumers, and American workers are still being hammered at an unacceptably high level by tariffs imposed on U.S. imports from China, and in retaliation, by China's imports from the U.S." Helfenbein said in a statement. "The administration has imposed one of the largest consumer and manufacturing taxes in American history, most of which remains in place following this agreement. Rising costs are already working their way through supply chains and they will still have a negative impact going into next year."
Several sporting good items were also on the list for the new round of tariffs. But many other forms of athletic equipment and attire have fallen under the original tariffs. These have "have negatively impacted the sport and health industry," according to Sports & Fitness Industry Association President and CEO Tom Cove
TECHNOLOGY THEFT HOLDING UP 'BIGGER PICTURE' OF CHINA DEAL: ATLAS ORGANIZATION FOUNDER
Some negative effects of the trade war are already being felt as factory hiring has slowed. Last year, manufacturers added an average of 22,000 jobs a month, the strongest pace since 1997. But under the strain of the trade war only a meager 5,100 a month have been added according to the November jobs report from the Department of Labor. In November, manufacturers did add 54,000 jobs, but virtually all of that gain came from General Motors employees returning to work after a strike ended in October.
Financially the 25 percent tariffs that remain could increase consumer costs by nearly $105 billion annually, according to a recent study by the American Action Forum which is led by ex-economic advisor to the late Sen. John McCain and the former Director of the Congressional Budget Office Douglas Holtz-Eakin.
GET FOX BUSINESS ON THE GO BY CLICKING HERE
The deal drew criticism from Democrats in the U.S. Senate, which will have to ratify the agreement once it is signed by the administration.
"There are huge structural inequities with China's trade relationships with the U.S."  Sen. Chuck Schumer said in a statement. "At first, President Trump seemed like the only president who would dare tackle this challenge; but now, he has sold out for a temporary and unreliable promise from China to purchase some soybeans."
Chinese officials are expected to sign the Phase One deal in January.
CHINA SAYS 'MAJOR PROGRESS' MADE ON FIRST PHASE OF TRADE DEAL
The largest manufacturing association in the U.S. the National Association of Manufacturers applauded the announcement.  President and CEO Jay Timmons in a statement called the deal "historic" and applauded the parts of the agreement "that protects a broad range of U.S. intellectual property, such as trade secrets, and provides strong, new tools to tackle counterfeiting of our products."
Trump initially mentioned an agreement from China to buy $40 to $50 billion worth of agricultural products after talks in October.
"I suggest farmers have to go and immediately buy more land and get bigger tractors," Trump said at the time. "They will be available at John Deere and a lot of other great distributors."
The second phase of the deal would start almost immediately after Phase One is signed, Trump had said. But Kuehl remained skeptical.
"We'll believe it when we see it," Kuehl said. Even then, a $50 billion agreement wouldn't make up for everything farmers have lost within the last two years because China was buying about $24 billion in agricultural goods before the trade war began in 2017, he said.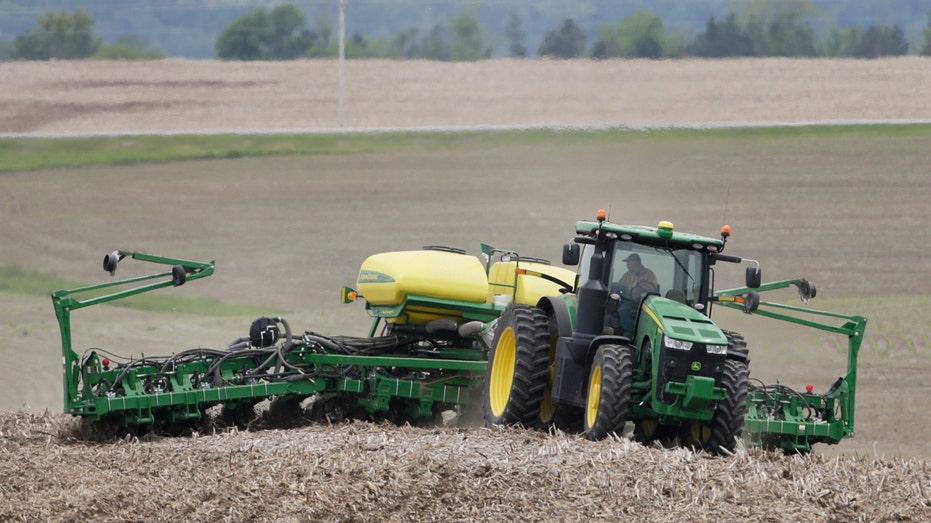 During the past twenty-two months, farmers have experienced an increase in bankruptcies and commodity prices have been pushed down and input prices pushed up -- meaning farmers aren't earning enough money to pay for the supplies they need to manage their farms, creating overall poor conditions for the U.S. farm economy, Kuehl explained.
US-CHINA TRADE DEAL IS A 'REAL BREAKTHROUGH'
Farmers and manufacturers agree that regarding the trade war there is still more to be done.
"Manufacturers look forward to working with President Trump and U.S. Trade Representative Robert Lighthizer to achieve additional concrete outcomes on other key unfair trade practices that translate into a lasting, game-changing agreement," said Timmons
AFBF's Duvall echoes his manufacturing counterpart's point of view.  "American agriculture has been caught in the trade war crosshairs and it's time to turn the page," said Duvall, "We encourage the administration to continue building on today's announced progress and aggressively pursue a full trade agreement with China and other partners around the world."