Euro Uncertainty Weighs on Stock Futures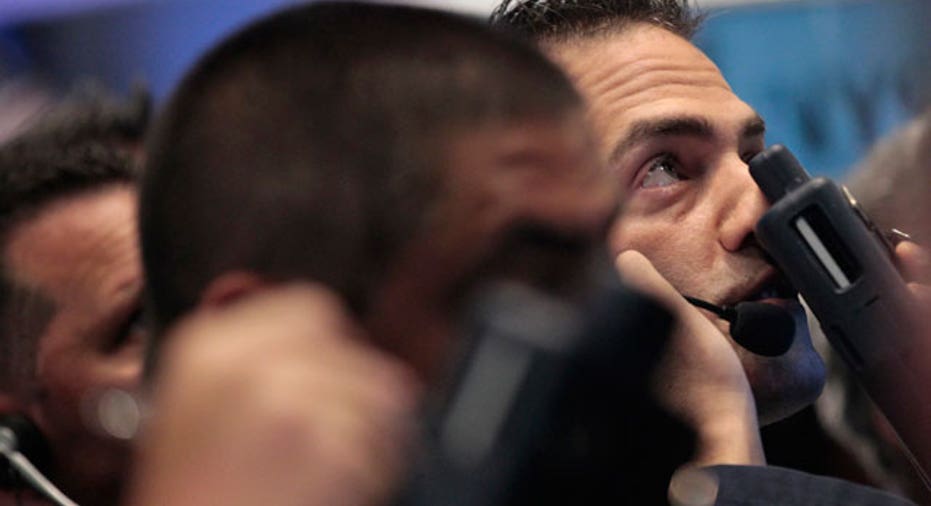 FOX Business: The Power to Prosper
Uncertainty over how soon European authorities will move to tackle the region's sovereign debt crisis, combined with mixed earnings from two big financial firms, pushed stock-index futures into the red.
Today's Markets
As of 9:20 a.m. ET, Dow Jones Industrial Average futures fell 54 points to 11,513, S&P 500 futures slid 6.3 points to 1,213, and Nasdaq 100 futures slipped 18 points to 2,349.
Wall Street is in rally mode: the Dow, S&P 500 and Nasdaq all made their best weekly percent gains since 2009 last week; indeed, the blue-chip average has soared more than 8% in the past three weeks alone.
Developments regarding Europe's twin sovereign debt and financial crises have been a major driver of the markets over that period.  A statement from financial and central bank officials meeting at the Group of 20 summit last weekend giving European policymakers a deadline of October 23 to finalize Greece's much-needed bailout, and make a move to tackle the region's banking issues initially sent stock-index futures and global markets rallying for another day.
However,  a comment on Monday morning from Germany's finance minister, Wolfgang Schaeuble, suggesting that euro-zone leaders won't have crafted a definitive solution by next Sunday quickly sapped that enthusiasm.
"This week we expect the market to remain focused on further policy actions to contain the European debt crisis," analysts at Nomura wrote in a note to clients.
The euro slid 0.68% against the U.S. dollar, while the greenback gained 0.52% against a basket of world currencies.
On the corporate front, Kinder Morgan (NYSE:KMI) unveiled plans to scoop up El Paso (NYSE:EP) for $21.1 billion, in a deal that will create a North American natural gas pipeline giant.  The tie-up, which is expected to close in 2012, is one of the biggest of the year, and highlights the growing demand for natural gas, even as prices have fallen.
Citigroup (NYSE:C) posted third-quarter earnings, excluding one-time charges, of 84 cents a share, zipping past estimates of 81 cents.  The banking giant's revenue came in at $20.8 billion, also beating estimates of $19.3 billion. Wells Fargo said it earned 72 cents a share in the third quarter, missing estimates by a penny. These reports come on the heels of earnings from JPMorgan Chase (NYSE:JPM), the second-largest U.S. bank, that were seen as disappointing by investors.
Industrial production rose 0.2% in September from August, which was inline with economists' expectations. However, industrial production growth for August was revised lower to no change, from a 0.2% increase. These data comes as part of a round of relatively upbeat information on the economy, including last Friday's rosy retail sales data that have lessened worries that the economy may be heading for a double-dip recession.
A manufacturing report from the New York Federal Reserve on the Empire State region showed the sector contracted considerably more quickly than expected in October. The Fed's gauge came in at -8.48 from -8.82 in September, missing estimates of -4.  Reading above 0 point to expansion, while those below 0 point to contraction.  The more closely followed Philadelphia Fed index is on tap for Thursday.
Energy prices have rallied along with equities, with oil prices soaring close to 10% over a two-week period.  Light, sweet crude recently gained 28 cents, or 0.32%, to $87.08 a barrel.  Wholesale RBOB gasoline slipped 1 cent, or 0.18%, to $2.82 a gallon.
Treasury yields have risen from historical lows as investors have moved back into stock markets. The benchmark 10-year note recently yielded 2.228% from 2.248%. Gold rose $2.80, or 0.17%, to $1,686 a troy ounce.
Corporate News
Caterpillar (NYSE:CAT) shares got a boost after Goldman Sachs upgraded the heavy-machinery giant to a "buy" rating.
BP (NYSE:BP) said Anadarko Petroleum (NYSE:APC) will pay $4 billion to settle all claims regarding the oil spill at the Macondo well in the Gulf of Mexico -- the world's worst oil spill.
Foreign Markets
The Euro Stoxx 50 fell 0.09% to 2,353, the English FTSE 100 rose 0.28% to 5,481 and the German DAX slipped 0.31% to 5,949.
In Asia, the Japanese Nikkei 225 jumped 1.5% to 8,880 and the Chinese Hang Seng soared 2% to 18,874.