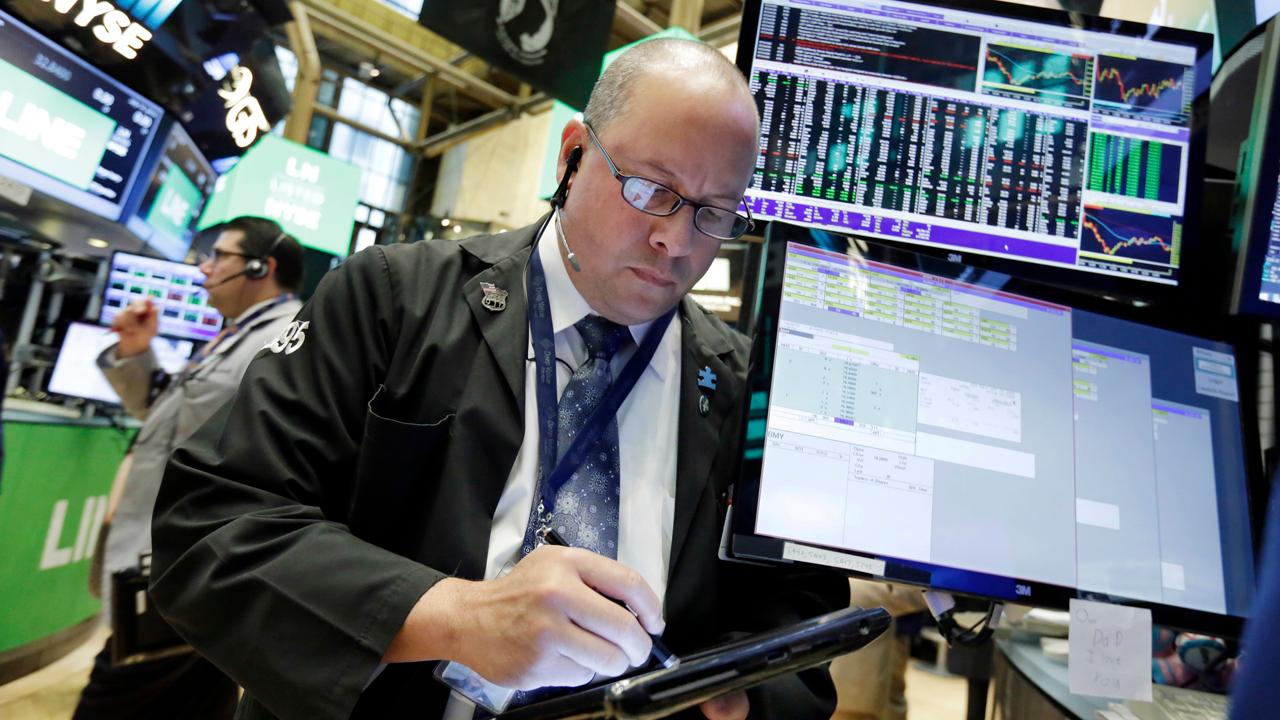 Stocks rallied on Thursday as President Donald Trump touted U.S. economic gains and a plan to boost spending on infrastructure.
The Dow Jones Industrial Average surged 254.69 points, or 1.07%, to 24,103.11. The S&P 500 advanced 36.49 points, or 1.40%, to 2,641.47. The Nasdaq Composite climbed 114.22 points, or 1.64%, to 7,063.44.
Wall Street ended the first quarter of the year on a positive note, although the Dow and S&P still recorded a loss. The Dow shed 616.11 points, or 2.3%, during the three-month period, while the S&P lost 1.2%. The Nasdaq rose 2.3%, closing higher for the seventh quarter in a row.
The quarter included volatile trading in February and March, driven by uncertainty over the long-term impact of higher interest rates and concerns related to Trump's tariff plans. In March, all three major indexes finished with red ink. The Dow fell about 3.5%, and along with the S&P, it completed its first back-to-back monthly drops since October 2016.
Stocks also finished their worst week in more than two years. Equity markets will be closed for Good Friday.
The surge in stocks Thursday came as Trump traveled to Ohio in an effort to promote his $1.5 trillion plan to improve roads, bridges and other infrastructure. Shares of construction and engineering firms rallied on the remarks. Orion Group Holdings rose 4.6%, while AECOM shares were up 2.6%. Meanwhile, U.S. Steel, Martin Marietta Materials and U.S. Concrete also booked gains.
Energy, materials and industrials were among the leading S&P sectors on Thursday, trailing only technology stocks.
Amazon's shares moved into the black after being lower earlier in the session as Trump took to Twitter to repeat his concerns about the e-commerce giant's dominance.
| Ticker | Security | Last | Change | %Chg |
| --- | --- | --- | --- | --- |
| AMZN | AMAZON.COM INC. | 1,861.69 | -3.13 | -0.17% |
| USCR | U.S. CONCRETE INC. | 44.99 | +0.51 | +1.15% |
| X | UNITED STATES STEEL CORPORATION | 16.42 | -0.24 | -1.44% |
| ACM | AECOM | 32.79 | +0.29 | +0.89% |
Economic data released Thursday morning included the Labor Department's report on initial jobless claims, which fell by 12,000 to 215,000, the lowest since 1973. A University of Michigan report showed that consumer sentiment rose in March to its highest level since 2004. An inflation gauge watched by the Federal Reserve creeped higher in February.
"Consumers are finding jobs, making money, and spending — pretty much the bread and butter of a strong economy, so hopefully these signals cut through all the noise out there," said Mike Loewengart, vice president of investment strategy at E*Trade. "Coupled with yesterday's strong GDP revision, the economy is showing real strength."
On Wednesday, the Commerce Department released its final reading on 4Q growth, which came in at 2.9%, above the previously reported 2.5%, and also above the Thomson Reuters consensus of 2.7%. In addition, the latest housing data showed pending home sales increasing by 3.1%.
Commodities were mixed. Gold finished in the red but posted a quarterly gain. Oil futures rose 56 cents, or 0.9%, to $64.94 after Baker Hughes reported a decline in active U.S. rigs for the first time in three weeks.