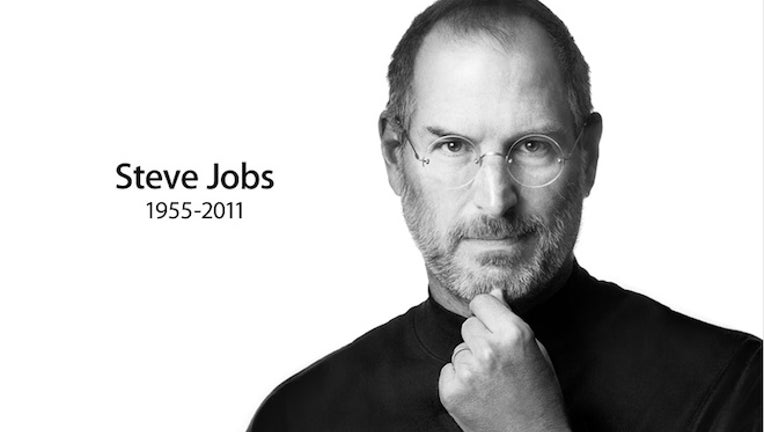 Steve Jobs, the co-founder of Apple Inc. (NASDAQ:AAPL) and one of the technology world's greatest visionaries, has died.
Jobs, who leaves behind a wife and four children, passed away after a long battle with pancreatic cancer and other health issues. Jobs recently gave up the role of CEO at Apple, and had taken his second leave of absence from the company in January, handing day-to-day operations to COO Tim Cook. He had previously taken a leave in 2009 and received a liver transplant in April of that year.
"We are deeply saddened to announce that Steve Jobs passed away today," Apple said in a statement. "Steve's brilliance, passion and energy were the source of countless innovations that enrich and improve all of our lives. The world is immeasurably better because of Steve.His greatest love was for his wife, Laurene, and his family. Our hearts go out to them and to all who were touched by his extraordinary gifts."
Jobs was born Feb. 24, 1955, in San Francisco, to University of Wisconsin graduate students who gave their unnamed son up for adoption. He was adopted by Paul and Clara Jobs as an infant and was named Steven Paul. In 1961, the Jobs family moved to Mountain View, Calif., just south of Palo Alto, a rising center for electronics, which eventually became known as Silicon Valley.
Paul Jobs was a machinist and fixed cars as a hobby, which caught the interest of young Jobs, who learned to take apart and reconstruct electronics at a young age. Jobs spent much time working in a neighbor's — a Hewlett-Packard (NYSE:HPQ) electronic manufacturer — garage workshop. Jobs eventually enrolled in the Hewlett-Packard Explorer Club, where he was able to observe engineers test new products. His desire to work with computers has been said to have stemmed from this point, where Jobs saw his first computer.
As a high school student, Jobs attended lectures at the H-P plant; at one point, he asked H-P president William Hewlett for some parts he needed in order to complete a class project. Hewlett gave Jobs the part and offered him a summer internship at the company.
After graduating from high school in 1972, Jobs enrolled at Reed College in Portland. He stayed there for two years, joining the Homebrew Computer Club during his time there. There he met fellow technical genius Steve Wozniak, who was in the process of trying to create a new computer model.
Jobs, fascinated with the endeavor, formed the Apple Computer Co. with Wozniak in 1976. The name was supposedly in memory of a summer spent picking apples, which Jobs was said to have remembered fondly. The pair was able to raise $1,300 in startup money by selling Jobs' microbus and Wozniak's calculator.
Apple's initial year primarily involved assembling boards in Jobs' garage and attempting to sell them to local computer companies. In the meantime, Wozniak made progress on an improved model, the Apple II. At the conclusion of its production, Jobs sought out venture capitalists to fund their company's expansion. Jobs made a deal with former Intel executive Mike Markkula, who invested $250,000 in Apple.
The Apple II did very well in the market, beating all competitors with its color graphics, large supply of compatible software and new hardware features. The model, which earned $2.7 million, also featured, "VisiCalc," the first spreadsheet program ever brought to the market. The company grew at a fast rate and went public in four years, in December of 1980. The company was already worth $200 million.
The new and improved model, the Apple III, did not do well in the markets, so the company focused its efforts on Jobs' project, "Lisa," which used a graphical user interface instead of a command-line interface. Jobs was released from the project, allegedly being too temperamental of a leader. Instead, Jobs took over a small project, Macintosh, recruiting young engineers to assist him. When "Lisa" did poorly, Jobs' Mac project proved key for Apple's future. The Macintosh was introduced in January 1984, and when it fared badly as well, Jobs resigned from Apple in 1985, though retaining his title as chairman of the board of directors.
In the same year, Jobs created a new hardware and software company, NeXT, Inc., along with purchasing what later became Pixar Animation Studios. Jobs invested $50 million into the company; the studio fared well and merged with Walt Disney Corp. (NYSE:DIS), Jobs later became Disney's largest shareholder in 2006. NeXt, on the other hand, flopped in sales and Apple eventually purchased the company in 1997 for $429 million. Jobs returned to Apple as the interim CEO that same year.
In 1998, Jobs announced the release of the iMac, followed by the iBook in 1999 -- both came in colored models, a first for the industry.
The iPod phenomenon began in early 2001, as Jobs geared his interest toward the new digital music craze, exemplified by Napster's success. The iPod was made Windows-compatible in 2002 and introduced the iTunes Music Store, developing a Windows version of iTunes in 2003. A few years later, in 2006, the company officially changed its name from Apple Computer Inc. to Apple Inc. Mac sales exceeded those of PC at this time.
Jobs unveiled the iPad on Jan. 27, 2010, voicing his opinion that the iPad had begun the post-PC era and that PCs would soon become "like trucks."
"The thing that drives me and my colleagues is that you see something very compelling to you, and you don't quite know how to get it, but you know, sometimes intuitively, it's within your grasp," Jobs told Time in 1996. "It's worth putting in years of your life to make it come into existence."