Administration Pulls Plug on Health Reform Measure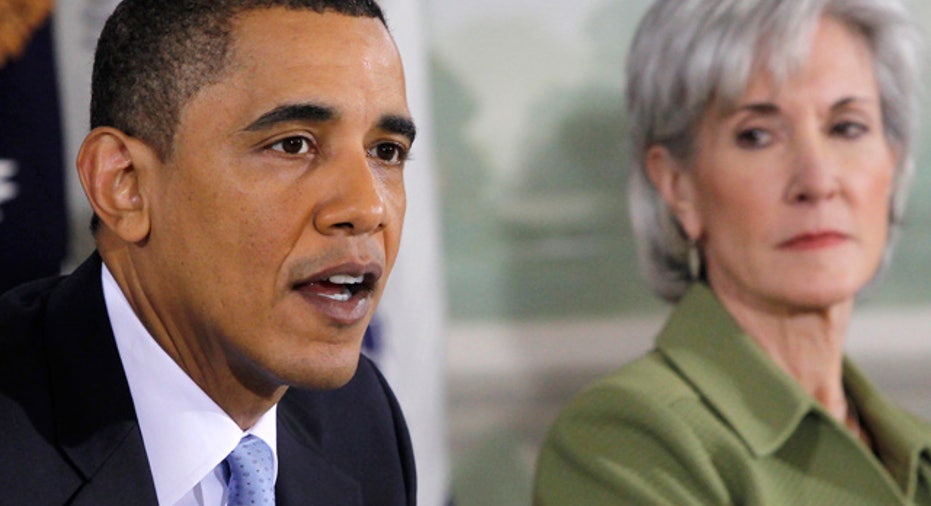 Almost two years ago we told you that the federal government's new long-term insurance program in health-care reform was unsustainable. But the administration added it anyway to make the health care reform law appear to be budget neutral.
Well, now Health and Human Services secretary Kathleen Sebelius agrees with us, and sent a letter to Congress acknowledging that her department has cancelled this big program because it could never be designed in a way that was actuarially sound. It was supposed to launch in 2013 (See letter at bottom)
So, a big pillar upholding health reform--a new government insurance program that was supposed to help pay for health reform--has crumbled.
Under the "Community Living Assistance Services and Supports (CLASS) program," which was a priority of the late Sen. Edward Kennedy, (D-Mass.), active workers would have purchased long-term insurance coverage, usually through their employer.
Under the program, most individuals would be required to pay premiums estimated by the government at $240 per month at inception. Students and individuals under the federal poverty level would pay only $5 per month. If they became disabled, the program would provide a cash benefit of no less than an average of $50 per day, with no lifetime or aggregate limit. That money could then be used to buy nursing or stay-at home care.
How was this new entitlement program going to pay for health reform? The administration argued from the cash flow it would collect in the future. But the program made a bet that healthy workers would pour into the program--if it only attracted sicker workers, then the program could not afford the payouts. FOX News analyst James Farrell has been all over this issue way before anyone else.
However, the federal government couldn't insure that the program would attract a lot of healthy workers. And we said the most likely people to be participating would be individuals who are very sick and would have higher claims. And now the HHS secretary agrees, after two years of contending these problems could be fixed.
Question: What does this conclusion that the HHS reached mean for the health insurance exchanges, that the CLASS program was unsustainable?
Couldn't these exchanges, another pillar of reform, also fall into a death spiral because they would not attract enough healthier individuals to sustain them?
This "CLASS" program is part of the administration's moves to get taxpayers believing health reform "won't add a penny to the deficit," as the president vows, by things like having the health bill pay for six years of reform with 10 years of taxes and fees, more than $400 billion from 18 new taxes and levies. Promises too were made by the drug industry and the nation's doctors that they would help pay for health reform by somehow delivering huge cost savings over the next decade or so.
The CBO estimated back then that the CLASS program would deliver more than half the "deficit reduction" savings arising from the health reform plan (an estimated $70 billion of $124 billion over 2010-2019). And even the federal Centers for Medicare & Medicaid Services said two years ago that the new CLASS program would actually result in a "net federal cost in the longer term" and that the CLASS program would prove to be "unsustainable."
The HHS secretary's letter is below—check out how much government hours and workers went in to figuring something out that we told you wouldn't work ahead of time. Trouble is, an estimated 15 million Americans will need long-term care, and only a fraction have insurance to cover themselves.
Secretary Sebelius' Letter to Congress about CLASSOctober 14, 2011United States Capitol, Washington, DCDear Mr. Speaker:Last year, the U.S. Department of Health & Human Services (HHS) initiated a comprehensive analysis of the Community Living Assistance Services and Supports (CLASS) program. The CLASS initiative -- championed by the late Senator Edward M. Kennedy -- was added as a separate program to health reform legislation with the goal of creating better long-term care insurance options for Americans. The Congressional Budget Office carefully analyzed this legislation and provided public estimates of how it would work and its effects on the Federal budget. And, the Administration worked with Congress to strengthen the program during congressional consideration of the Affordable Care Act.For 19 months, experts inside and outside of government have examined how HHS might implement a financially sustainable, voluntary, and self-financed long-term care insurance program under the law that meets the needs of those seeking protection for the near term and those planning for the future. The work has been groundbreaking in many ways and has taught us a great deal, much of which is captured in the attached report. But despite our best analytical efforts, I do not see a viable path forward for CLASS implementation at this time.In 2009, the actuary at the Centers for Medicare and Medicaid Services released a report to Congress during the consideration of the legislation that raised concerns about the program's viability. Because of such concerns, the law passed by Congress required me to design a plan that would be actuarially sound and financially solvent for at least 75 years. The provision protected both taxpayers and beneficiaries. After all, if CLASS failed, no one would be hurt more than those who would pay into it and would be counting on it the most.With this in mind, experts across HHS – including the CLASS Office, the Office of the Assistant Secretary for Planning & Evaluation and the Office of the General Counsel – have worked steadily to find a path forward on CLASS. We have undertaken a methodical and comprehensive analysis of the statute and plan design options.We have broadly considered how to design potential benefit structures and reviewed those designs carefully to determine if they meet the twin tests of solvency and consistency with the law. We hired a chief actuary for the CLASS Office, engaged with other government actuaries, and worked with two outside actuarial firms in order to maximize the reliability of solvency estimates. I am proud of the careful and thorough approach that we have taken, engaging talented professionals across the Department and in the private sector.Our work is detailed in the comprehensive report being transmitted to Congressional leadership with this letter. In the report, you will find the results of our actuarial and policy analyses of the CLASS Act along with our legal analysis of multiple plan design options. While the report does not identify a benefit plan that I can certify as both actuarially sound for the next 75 years and consistent with the statutory requirements, it reflects the development of information that will ultimately advance the cause of finding affordable and sustainable long-term care options.The challenge that CLASS was created to address is not going away. By 2020, we know that an estimated 15 million Americans will need some kind of long-term care and fewer than three percent have a long-term care policy. These Americans are our family, our friends and our neighbors. If they are to live productive and independent lives, we need to make sure that they have access to the long-term care supports that make that possible.We also know that left unaddressed, long-term care costs to taxpayers will only increase. Without insurance coverage or the personal wealth to pay large sums in their later years, more Americans with disabilities will rely on Medicaid services once their assets are depleted, putting further strain on State and Federal budgets.The CLASS program seeks to address the critical need that Americans have for affordable long-term care services. The current market does not offer viable options for those unable to access private long-term care insurance. We look forward to continuing our work with you and your colleagues in Congress, consumer advocates, health care providers, insurers and other stakeholders to find solutions that ensure all Americans have the choices that best meet their needs.Sincerely,Kathleen G. Sebelius