Texas and Oregon cafés reportedly sell out of $150-per-cup coffee: 'That was fast'
Proud Mary Coffee Roasters, an Australian-owned coffee brand with locations in Austin and Portland, sold out of a pricy award-winning coffee
Two cafés in Texas and Oregon have reportedly sold out of the limited-edition coffee it was selling for $150 per cup, and the brand that operates the two locations say it did so in two days.
Proud Mary Coffee Roasters, an Australian-owned coffee brand that has two retail locations in the U.S., one in Austin, Texas and the other in Portland, Oregon, released a special blend of coffee this week that allegedly sold out within 48 hours of its official debut, according to time-restricted social media posts the brand shared.
"We're sold out! That was fast…" Proud Mary Coffee wrote in an Instagram Story the brand posted to its @proudmaryusa account on Wednesday, Feb. 8.
STARBUCKS TO CHANGE NUMBER OF REWARDS 'STARS' NEEDED FOR FREE DRINKS IN FEBRUARY
The brand's Proud Mary Café in Austin is located at 2043 South Lamar Boulevard and the Proud Mary Café in Portland is located at 2012 Northeast Alberta Street.
FOX Business reached out to Proud Mary Coffee Roasters for comment.
Proud Mary Coffee Roasters released its $150 "deluxe pourover" coffee – the "Black Jaguar BoP winner" – on Monday, Feb. 6, at all of its retail locations, according to a flyer shared by the company's Instagram account.
TOM HANKS ANNOUNCES COFFEE LINE WITH 100% OF PROFITS GOING TO VETERANS: 'PROUDLY SERVING THOSE WHO SERVE'
The Black Jaguar coffee beans were reportedly priced at a premium because it received first place in the Best of Panama coffee competition and auction in 2022.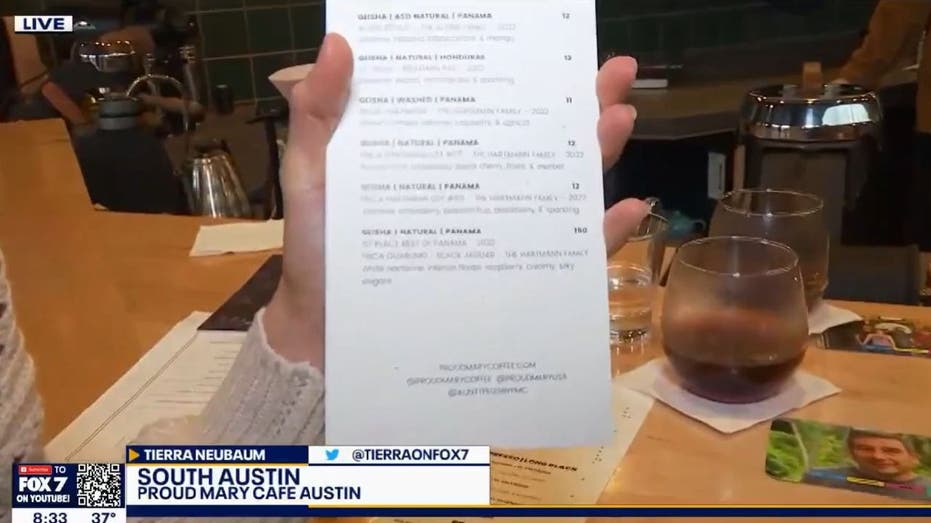 Finca Hartmann, a Panamanian coffee-growing estate grew the high-quality Black Jaguar coffee, which is said to be a "natural geisha," also known as a coffee variety that originated in the Gori Gesha Forest of Ethiopia, according to Best of Panama.
Best of Panama has been ranking coffees made by Panamanian producers since 1996. 
WHY DID DUNKIN' DONUTS CHANGE ITS NAME? FIND OUT WHY DUNKIN'S COFFEE IS CHEAPER THAN STARBUCKS
The Black Jaguar coffee the coffee-ranking group rated in 2022 weighed 100 pounds and received a score of 96.5, according to lot data Best of Panama published.
An auction bid of $2,000.49 per pound brought the prized coffee's value up to $200,049.00, Best of Panama's records show.
GET FOX BUSINESS ON THE GO BY CLICKING HERE
Previous reporting from FOX 7 Austin stated that 22 cups of Black Jaguar coffee were reserved for the two Proud Mary Café locations in the U.S.