Why Sephora is thriving in a retail apocalypse
The makeup retailer is opening 100 stores in 2020
As more retailers continue to shutter, Sephora is making its most sizable expansion to date.
The LVMH-owned beauty company announced earlier this week it would open 100 stores this year, more than doubling its store growth in 2019 with new retail locations outside of malls in cities like Nashville, Tennessee, and Charlotte, North Carolina.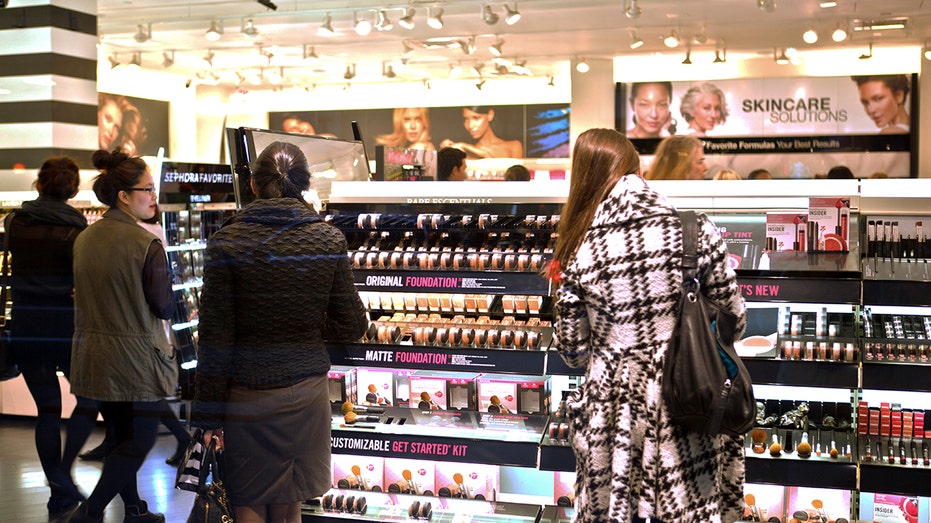 And retail experts say the reason why the beauty giant continues to see rapid growth is because of its digitalized in-store experience and roster of high-profile YouTube stars it partners with for makeup.
"The thing that Sephora has done better than everyone is they've made mobile part of the shopping experience instead of an alternative."
"The thing that Sephora has done better than everyone is they've made mobile part of the shopping experience instead of an alternative," Rob McGovern, chief executive and founder of retail data company PreciseTarget, told FOX Business.
Ticker
Security
Last
Change
Change %
LVMH
n.a.
n.a.
n.a.
n.a.
M
MACY'S, INC.
26.83
+0.24
+0.90%
JCP
n.a.
n.a.
n.a.
n.a.
SHLDQ
SEARS HOLDINGS CORP.
0.02
-0.01
-33.33%
ULTA
ULTA BEAUTY, INC.
371.00
-0.45
-0.12%
The data-driven mobile retail experience
Sephora combined its digital and in-store teams to work together on strategizing ways to bring the digital experience to life in stores through its mobile app. It reworked customer profiles over the years to feature data that tracks in-store purchases, online browsing and online purchasing patterns and interactions with in-store salespeople – whether it's to get makeup done or have a product recommended. The store also tracks purchasing behaviors that ultimately lead to a sale. So the company can see if a customer browses for an item online and then purchases it in the store.
BEAUTY BEHEMOTH SEPHORA TO OPEN 100 STORES IN 2020
"They're getting customers to opt in with information – you put in your photo, you put in your data and consumers are willing to do that if there's a payback and they have the right kind of loyalty program with discounts and promotions," McGovern said.
In-store makeovers also feature a digital component. Customers who opt to get their makeup done in stores will get a login for the Sephora app and the makeup artist will input each product he or she used so customers can have it in their profile. The store also utilizes an augmented-reality technology allowing users to virtually try on eye shadows, glosses, blushes and bronzers. If they like them, the app will tell them which stores they can try them on in person or they can click ahead and buy it instantly online.
Leveraging YouTube celebrity makeup artists to sell products
Sephora has tapped into the Instagram culture over the years, leveraging social media platforms to broaden its audience. Last year, it announced the launch of #SephoraSquad, a partnership with well-known beauty influencers on Instagram to help the brand create content like makeup tutorials and product recommendations with more than 16,000 posts.
"The influencer community is really important, and over 70 percent of millennials and Gen Z say their [purchasing] decisions are impacted by the influencer community," McGovern said.
HERMES ADDS LIPSTICKS, ENTERS COMPETITIVE COSMETICS WORLD
Sephora does exactly that by partnering with well-known celebrities and social media stars selling their makeup in stores. The beauty retailer was the first to sell Rihanna's inclusive makeup line, Fenty, in stores. And in 2013, the company partnered with Dubai-based beauty influencer Huda Kattan, who went from YouTube makeup tutorial star to global beauty entrepreneur with more than 40 million followers on Instagram, raking in a reported $200 million in annual sales with a net worth of $610 million, according to Forbes. And having her products sold at Sephora meant her fans would storm the retailer to buy products.
Ulta, one of Sephora's biggest competitors in the makeup market, has also leveraged beauty influencers to boost its retail platform, partnering with stars like Kylie Jenner and her namesake line of lipsticks, glosses and eye shadows, Kylie Cosmetics, which is valued at around $800 million.
Other retailers have a more difficult time attracting new demographics, McGovern said.
"Unfortunately, some of the other retailers and older brands don't have that influencer reach," McGovern said.
GET FOX BUSINESS ON THE GO BY CLICKING HERE
Sephora's expansion plans come on the heels of more brick-and-mortar store closures. Macy's announced Wednesday its plans to close a fifth of its stores. J.C. Penney closed more than 25 of its stores last year, and Sears' going-out-of-business liquidation sales are slated to end this month.